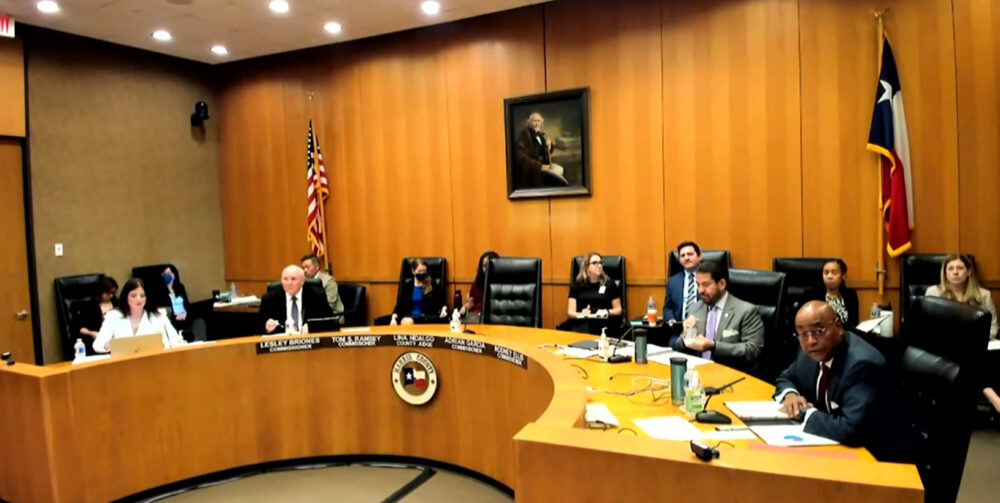 Harris County has adopted a budget for Fiscal Year 2024, along with tax rates for 2023. The votes by commissioners were unanimous, a stark difference from how the budget process played out last year.
County commissioners approved a budget of $2.74 billion for Fiscal Year 2024, which begins October 1. That includes a budget for all departments of $2.395 billion, as well as $345 million in working capital. Commissioners also approved $257 million in appropriations for the Harris County Flood Control General Fund.
The commissioners also adopted a combined new tax rate of just over 53 cents per hundred dollars of valued property, a slight decrease from last year. This marked the fifth year in a row that commissioners have lowered tax rates.
The process could not have been more different from 2022, when the county's two Republican commissioners boycotted court meetings for nearly two months. That denied the Democratic majority a quorum and forced the adoption of no-new-revenue tax rates and an austerity budget.
One of the main reasons Republican Commissioner Tom Ramsey opposed last year's proposed budget was because he felt it did not do enough to support law enforcement. This time, he had nothing but praise.
"This budget provides $119 million for law enforcement," Ramsey said. "It's the most significant increase in commitment to law enforcement in the history of Harris County. So, there's 119 million reasons why I supported this budget. There's 119 million reasons why I'm sitting here today."
Democratic Commissioner Rodney Ellis, who has been leading the court in the absence of Judge Lina Hidalgo, issued a statement saying, "This budget builds a future in which communities are safer, healthier, and better protected from flooding and climate change. It represents a set of investments in a more just legal system, expanded access to health care, housing, and jobs, and the advancement of fair and free elections. With the resources at our disposal, we are proud of the progress we are making and the life-changing investments we have made today."
Democratic Commissioner Adrian Garcia issued his own statement, saying, "Public safety remains a top priority, making up more than half of our budget. I'm also proud that for the fifth straight year, we have lowered the property tax rate, while not sacrificing our ability to rebuild our aging infrastructure, create a workforce for jobs today and into the future, and combat the climate crisis with clean energy. Meanwhile, we are lowering costs by reducing the price of tolls and by shoring up the supply chain with expanded capacity at Port Houston. This budget proves we are working hard for the hardworking families of Harris County."
Democratic Commissioner Lesley Briones commended county budget director Daniel Ramos for making the budget process more open and transparent through the holding of town halls over the past several weeks. "The more transparency and the more performance-based budgeting that we can continue to drive forward in Harris County, the better off we will all be," Briones said.