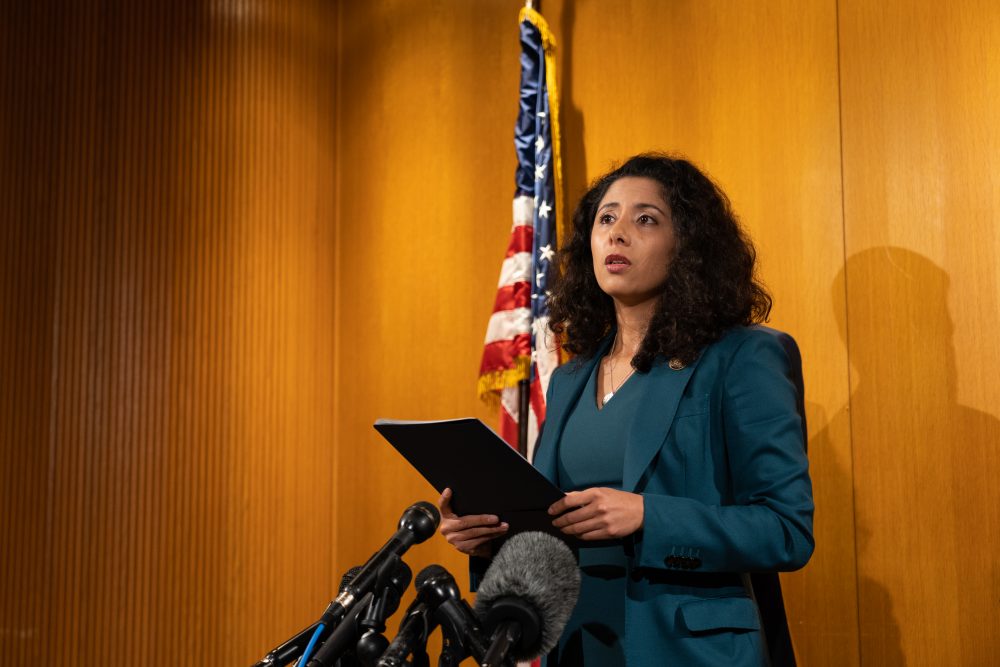 Harris County Judge Lina Hidalgo, who has been on a leave of absence while receiving treatment for depression, announced Thursday she will soon be released from a mental health facility and plans to return to work in Houston on Oct. 2.
Hidalgo, a 32-year-old Democrat who last November was elected to a second four-year term as county judge, previously announced in early August that she was being treated at an inpatient facility in another state. She said at the time she hoped to return to her office in early September, but announced Thursday she expects to be discharged from the facility this Saturday, after which she will begin a "re-acclimatization period."
"The way my doctors explained re-acclimatization to me is that you would not go from heart surgery straight to running a marathon, in the same way that they do not want me to go straight back to my usual schedule," Hidalgo wrote in a letter to constituents that was released by her office. "I am feeling great and looking forward to returning on Monday, October 2, 2023. Thanks to the incredible medical team that has cared for me over the past several weeks, I feel so much stronger than I have ever been."
Hidalgo said she has remained in communication with county staff and can be present in case of an emergency or disaster, if necessary. Harris County Precinct 1 Commissioner Rodney Ellis, a fellow Democrat and the longest-tenured member of the commissioners court, has presided over its meetings in her absence.
Ellis and the two other Democrats on the county commissioners court, Adrian Garcia of Precinct 2 and Lesley Briones of Precinct 4, expressed support for Hidalgo in statements released Thursday and said they are glad to know she plans to return soon. Hidalgo's announcement came one day after her extended absence was questioned and criticized in a Houston Chronicle op-ed written by Alexandra del Moral Mealer, a Republican who lost to Hidalgo last November and subsequently challenged the election results in court.
Mealer wrote that Hidalgo "must return or should resign," partly because new county tax rates will be the subject of a public hearing and potential vote by commissioners at their upcoming meeting next Tuesday. The county is proposing an overall decrease to the tax rate for property owners, from 53.06 cents per $100 valuation to 53.03 cents, although rate increases are being proposed for two of the county's four taxing entities – the Harris County Flood Control District and the county's general fund – and property owners' tax bills are likely to increase because appraisal values have escalated.
Mealer wrote that because state law requires at least four of the five commissioners court members to be present while approving a tax rate, the lone Republican on the court, Tom Ramsey of Precinct 3, could skip the meeting and thereby prevent a quorum and force the county to adopt a no-new-revenue tax rate, which would be lower than what is being proposed and would result in the county receiving the same amount in tax revenue that it got the previous year. Ramsey and Republican Jack Cagle, the former Precinct 4 commissioner, did not show up to several consecutive meetings last year and blocked the court's Democratic majority from adopting a tax rate increase.
"Even if Hidalgo returns in time for the Sept. 19 meeting, it is 100% unacceptable for our county judge to appear just in time to vote to raise taxes on our already financially strapped community," Mealer wrote.
It is unclear what Ramsey's plans are for the Sept. 19 meeting as his office did not respond to an email seeking comment Thursday. Even if he is absent, the proposed tax rate will be revisited as the county has an Oct. 27 deadline to approve a new rate or be forced to adopt a no-new-revenue rate.
Mealer's op-ed drew sharp criticism from Briones, Ellis, Garcia and Hidalgo's spokesperson, Brandon Marshall, who said in a statement that "using the county's annual budget process to try to score political points against someone seeking treatment for a chronic illness is irresponsible."
"Contrary to what her political opponents are hoping for, the sky is not falling in Harris County because Judge Hidalgo is getting medical support," Marshall added. "The day-to-day operations of the county continue without disruption."
Briones, who unseated Cagle last November, called Hidalgo "courageous" for publicizing her battle with depression and said, "Mental health should not be subjected to petty political attacks." Garcia called Mealer's op-ed "nonstop nonsense," adding, "A failed candidate who denies her election loss is not the trusted messenger that Harris County citizens need."
"If folks want to blame someone for derailing our budget process, they should look to Mealer's Republican colleagues who broke quorum in 2019 and 2022, a political stunt that has cost our county $1.9 billion and severely limited our ability to provide essential services," Ellis said in his statement."
Hidalgo's leave of absence is the second she has taken this year. She traveled to her native Colombia in January to visit her ailing grandfather, according to an announcement at the time by her office.
In 2018, when she beat incumbent Harris County Judge Ed Emmett, Hidalgo became the first woman and first Latina elected to the office.
She said in her letter Thursday she is "eager to return to the community and to the job that I love."
"Thank you to my colleagues, family, and the Harris County community for the outpouring of support that I received after I announced I was seeking inpatient mental health treatment for depression," Hidalgo also wrote. "I have been deeply touched by all the messages that I have received, not only from Harris County residents but from across the country. So many people wrote to me to share their own struggles with mental health and their support for my decision to be public about my journey. I am encouraged that so many in our community agree that treatment for mental illness should be normalized just as seeking treatment (for) any illness is accepted and expected."