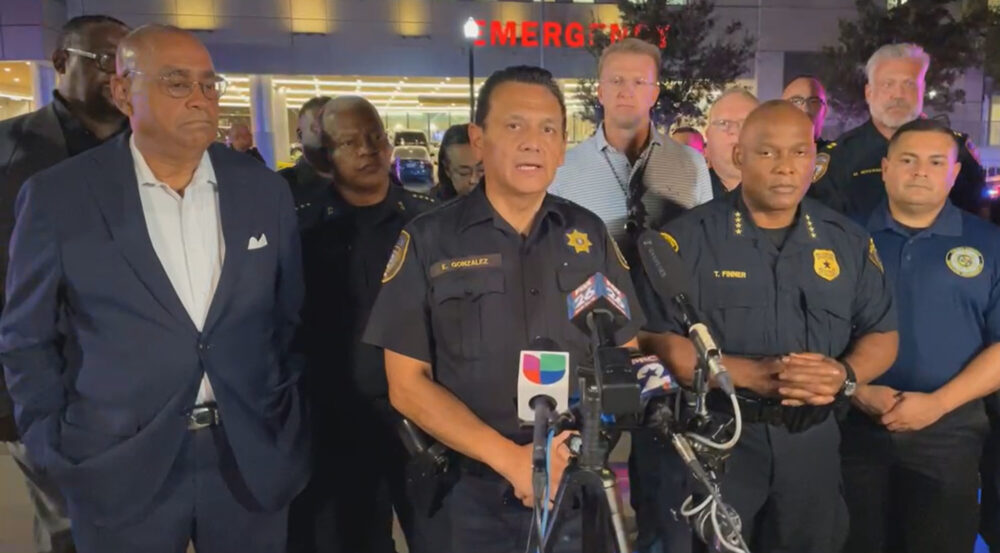 The use of a bulldozer-like armored vehicle helped end an hourslong standoff Thursday night between Houston-area police and a man accused of wounding multiple law enforcement officers with gunfire.
Terran Green, 34, was arrested shortly before midnight in the 11500 block of Silhouette Ridge in Humble, where he had barricaded himself in a home for several hours, according to Harris County Sheriff Ed Gonzalez. Police used a tactical vehicle called a Rook, which has an extendable arm that can be used in high-water rescues, to tear away parts of the exterior wall of the home, with Green eventually exiting the residence by holding on to the vehicle's arm, according to video taken by Houston TV station KTRK.
Gonzalez wrote in a Friday morning social media post that Green is being charged with three counts of attempted capital murder. He allegedly shot a sheriff's deputy during a Wednesday night traffic stop and is accused of shooting more officers – including two deputy U.S. Marshals – during the standoff, according to authorities.
The officers shot during the standoff did not sustain life-threatening injuries and were in "good condition" later Thursday night, according to Gonzalez. The sheriff announced Thursday morning that deputy Joseph Anderson, who was shot multiple times in the upper torso during the Wednesday night traffic stop in northeast Houston, had undergone successful surgery and was in "critical but stable condition and is improving."
Terran Green has been charged with three counts of Attempted Capital Murder. #HouNews https://t.co/fGEXIGPKun

— Ed Gonzalez (@SheriffEd_HCSO) August 18, 2023
Harris County court records show that Green had a warrant issued for his arrest in May after failing to appear for a court hearing. He had been out of jail on bond after being charged in March with aggravated assault of a family member and felon in possession of a weapon, according to court documents.
Police had been actively searching for Green since the Wednesday night shooting, which occurred during a traffic stop at about 7:30 p.m. in the 13500 block of Homestead Road. Gonzalez said during a Thursday night news briefing after Green's arrest that he had been moving around the Houston region during the course of the day Thursday before ending up at the home in Humble.
A blue alert was issued Wednesday night for Green and James Green, 37, who is believed to be Terran's older brother, signifying they were wanted in connection to a violent attack against law enforcement and posed a risk to the public. The sheriff's office located James Green on Thursday morning, questioning and releasing him without any criminal charges being filed.
While Terran Green remained on the loose, rewards of up to $45,000 were being offered Thursday for information that led to his arrest, including $20,000 from the office of Texas Gov. Greg Abbott.
Anderson, who was shot Wednesday night, is a 29-year-old deputy who has been with the sheriff's office for a little more than a year.
"This deputy was out doing his job, serving the residents of Harris County, keeping us safe," Gonzalez said during a Wednesday night news briefing. "So it's unacceptable that would happen to any law enforcement officer, here and anywhere, and we're not going to tolerate it."
Overnight, @HCSOTexas Deputy Joseph Anderson underwent successful surgery. He is in critical but stable condition and is improving. He will need prayers as he battles through this, so keep those prayers coming. 🙏🏼💙#HouNews pic.twitter.com/gVpiFdzuJ1

— Ed Gonzalez (@SheriffEd_HCSO) August 17, 2023
Anderson was transported to Memorial Hermann-Texas Medical Center by Life Flight. Gonzalez said the deputy was shot at least twice in the upper torso.
We continue to work and the manhunt continues.

Overnight, our @HCSOTexas deputy underwent surgery, he remains in critical but stable condition. Please continue to pray for him and his family.

The Ford Escape SUV was located.

Be on the lookout for Terrence and James

1/2 pic.twitter.com/CBWCv6o2GJ

— Ed Gonzalez (@SheriffEd_HCSO) August 17, 2023
Terran and James Green were suspected to have been inside a blue Ford Escape when it was pulled over by Anderson and were alleged to have fled in the vehicle after the shooting. Authorities subsequently found the SUV in another location.
Terran Green was described by police as a Black man with black hair and brown eyes who is 5-foot-4 and 180 pounds. Police described James Green as a Black man with black hair and brown eyes who is 5-6 and 168 pounds.
"I've instructed everyone that all hands are on deck," Gonzalez said Wednesday night. "And we will not stop until we find the person or persons responsible for injuring our deputy."
After his arrests in March, Terran Green was released from jail on bonds totaling $55,000, court documents show. He has been convicted of five felony crimes in Harris County since 2007 – evading arrest in a motor vehicle, theft between $20,000 and $100,000, possession of oxycodone with intent to deliver, possession of hydrocodone with intent to deliver and aggravated assault with a deadly weapon – according to county court records.