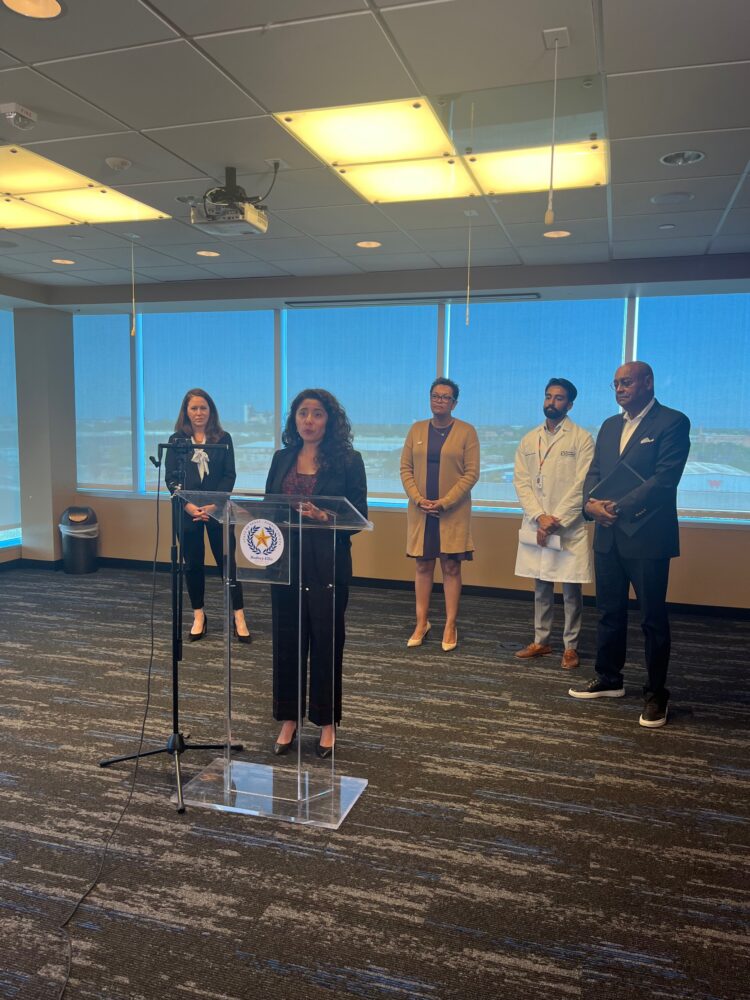 Harris County Commissioners Court is expected to approve $6 million in federal funding Tuesday for the county's Reproductive Healthcare Access Fund. The money will go toward increased access to contraception and screenings at clinics managed by Harris County Public Health.
"For me, this is a vote for reproductive freedom and critical health services that can be life-saving and empowering," Harris County Precinct 1 Commissioner Rodney Ellis said.
Ellis cited the near-total abortion ban instituted in Texas after the Supreme Court's overturning of Roe v. Wade last summer as endangering pregnant people in the state as Texas currently has the eighth-highest maternal mortality rate in the country.
"It is now more dangerous than ever to be pregnant and harder to access reproductive health care in our community," he said.
Funds will be allocated to Harris County Public Health's clinics as well as care providers in areas with high numbers of uninsured residents who may otherwise lack access to reproductive health care.
"The fund will invest in under-resourced health clinics to build capacity for reproductive care services, including contraception," Ellis said. "It will also provide funding to grassroots organizations to educate and promote reproductive health services."
According to the United Health Foundation, Texas has had the highest percentage of residents without health insurance of any state in the country every year for the last decade. Around 18% of Texans do not have health insurance — double the national average. In Harris County, the percentage is even higher. More than 22% of Harris County residents are uninsured.
Harris County Judge Lina Hidalgo said these funds from the federal American Rescue Plan Act could help care providers meet the growing needs of their communities.
"Sometimes these organizations — the ones that are deep in the community, the ones that are in areas where there are a lot of folks who truly need these services because they cannot afford them otherwise — those organizations are very small and don't have the funding to serve the need that's out there," she said.
Free and low-cost reproductive health resources may be even more vital in the coming months as thousands of people could potentially lose their Medicaid coverage.
According to Planned Parenthood, nearly 50% of its patients are covered by Medicaid, but in Texas Medicaid cannot cover services at Planned Parenthood. In fact, Medicaid is the largest payer of reproductive healthcare coverage in the nation and covers things like cancer screenings and birth control. Texas is currently one of 12 states that has not expanded Medicaid under the Affordable Care Act, even though it qualifies for 90% federal funding of Medicaid expansion. According to nonpartisan nonprofit Every Texan, Medicaid expansion could extend coverage to an estimated 1.5 million uninsured state residents.
For the last three years, a federal declaration of a public health emergency during the COVID-19 pandemic has allowed Americans to keep their Medicaid coverage, even if they no longer meet their state's eligibility requirements. This increased the number of Texans currently covered by Medicaid to 5.5 million as of August 2022, according to the Texas Department of Health and Human Services.
However, the public health emergency safeguard is set to expire April 1, after which Texas could purge its Medicaid rolls of anyone who no longer meets the coverage requirements. Residents who make too much to qualify for Medicaid but are still below the federal poverty line, and thus ineligible for subsidies from the Affordable Care Act, could be left without coverage.
If the funding is approved, Harris County Public Health can begin making plans to expand its reproductive health services immediately. Other community organizations will begin receiving funds this summer.