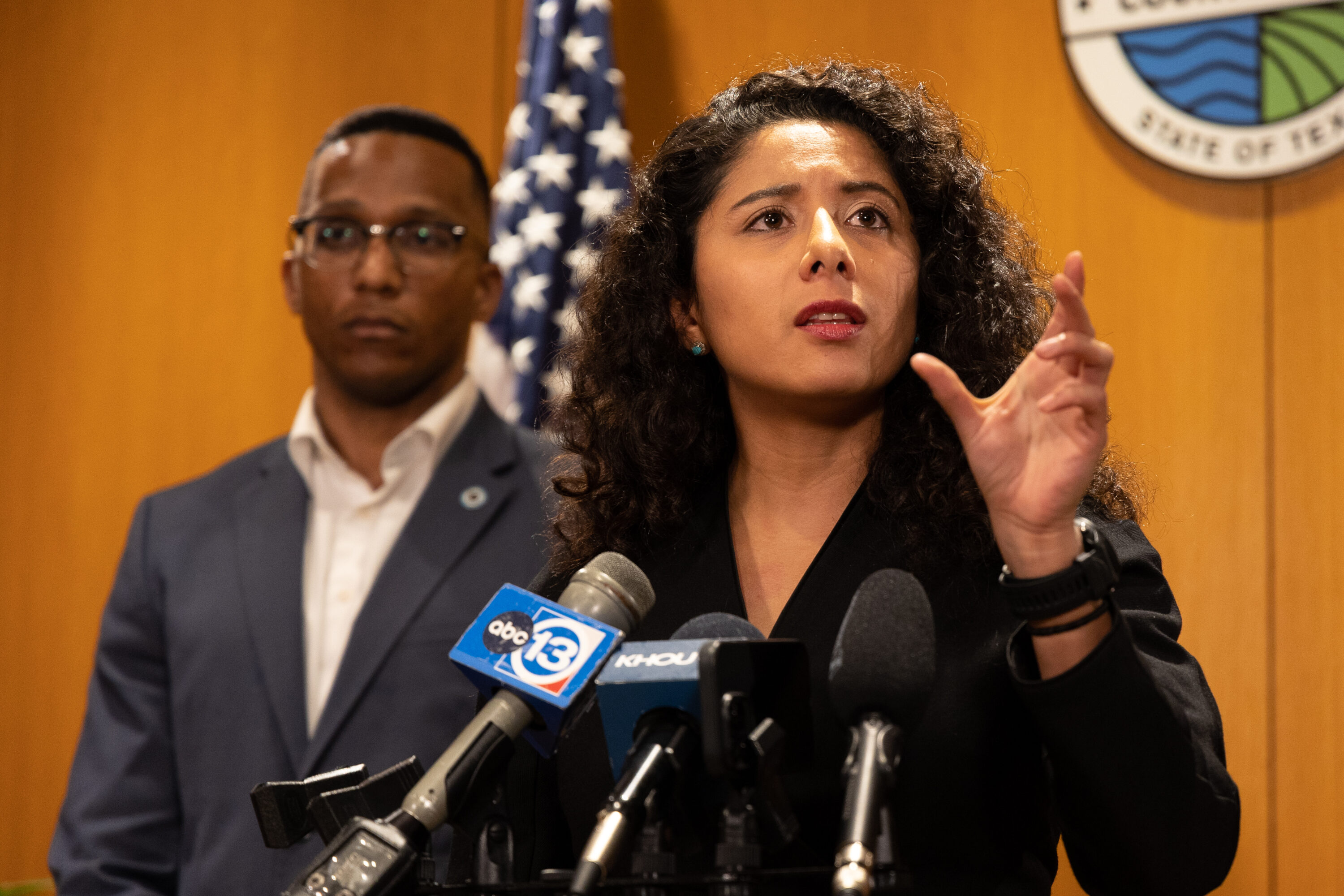 Harris County officials voted to sue Texas Comptroller Glenn Hegar over his latest attempt to block Commissioners Court from adopting a higher tax rate by accusing the county of defunding law enforcement.
During a press conference on Thursday, County Judge Lina Hidalgo said the accusation was a politically motivated miscalculation from the state.
"Comptroller Hegar and his allies seem to be struggling with basic accounting," Hidalgo said. "Unfortunately, this isn't just about a simple error in calculation or in accounting. It's part of a larger threat to democracy."
In December, Hegar's office received a request from Gov. Greg Abbott to look into a complaint from Precinct 5 Constable Ted Heap, who claimed his department was defunded by $2,367,444.86 in the county's fiscal year 2023 budget.
"After careful review, I found that the complaint provides evidence of a reduction of funding for a law enforcement agency when comparing the adopted budget for the current fiscal year to the adopted budget for the preceding fiscal year," Hegar said in December.
The problem lies in the mathematical formulas used to annualize of the county's 2022 short fiscal year budget, which funded the region for seven months, as opposed to an entire fiscal year.
Hegar claims the annualized last year's short fiscal year budget allotted $48,949,795 for Precinct 5. That's about 5% higher compared to this year's full fiscal year budget of $46,582,350, according to data from the Harris County Office of Management and Budget.
However, Hidalgo claims Hegar's calculation is wrong.
According to the county's formula, the annualized short fiscal year budget for Precinct 5 was $46,400,326 — about 0.4% less compared to this fiscal year budget.
During Thursday's press conference, Hidalgo said the proposed 2023 fiscal year budget brought forth by Democrats on Commissioners Court last year would've allowed for more budget increases to public safety. However, that proposal was ultimately blocked after Republican commissioners boycotted several meetings to push for a lower tax rate.
In the end, Precinct 5 missed out on an additional increase of $1,801,446 after the county was forced to accept a "no-new-revenue" tax rate.
Regardless, the dispute will soon make its way to court, where the county will seek to have the courts block Hegar from using his "incorrect mathematical approach to penalize the county," according to a statement from County Attorney Christian Menefee.
Until the dispute is resolved, Hegar says the county won't be able increase its tax rate for next year's budget — a move that could lead to budget cuts down the line.
"The unfounded claims threaten to destabilize our ability to set an appropriate budget for law enforcement, for flood control, for very important basic services," Hidalgo said.