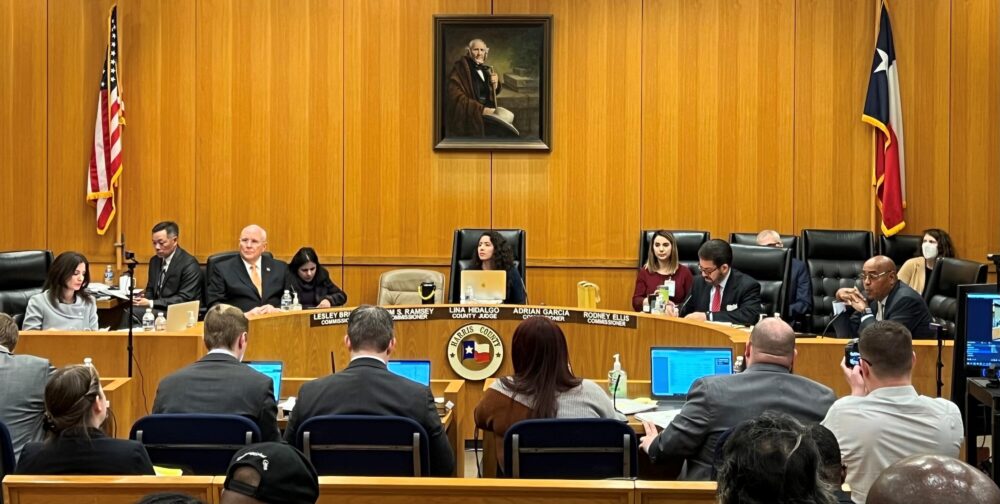 Harris County commissioners voted to provide more than $4 million to the District Attorney's office to hire 15 new prosecutors. The vote followed a revelation the DA's office had exceeded its budget in order to fund raises for current staff.
County budget director Daniel Ramos told commissioners that District Attorney Kim Ogg's office was running a budget deficit of $1.8 million dollars, and the DA was now requesting another $4.3 million for new hires.
Commissioner Rodney Ellis asked Ramos, "Would they have known that these pay raises were unbudgeted?
"They were done over (the Office of Management and Budget's) objection before the tax rate and the budget had been adopted," Ramos said.
Last fall, Harris County's two Republican commissioners – Tom Ramsey and Jack Cagle – blocked the passage of a proposed budget and tax rates favored by Democratic court members by boycotting court meetings for more than a month and denying the Democrats the necessary quorum for a vote. As a result, Ellis, Judge Lina Hidalgo, and Commissioner Adrian Garcia were forced to adopt an austerity budget and "no new revenue" tax rates. Cagle was later defeated for reelection.
Hidalgo pressed Ramos for details on how much of the $4.3 million the DA's office now sought could be accounted for by unbudgeted raises.
"Three-and-a-half million," Ramos answered.
"So, that's the majority of what's being requested," Hidalgo said.
A spokesman for the DA's office told Houston Public Media that Ramos' assertions were incorrect.
Hidalgo likened the additional budget request to extortion and abstained from voting on it. The measure passed 3-1, with Ellis voting no and Commissioners Adrian Garcia, Tom Ramsey, and Lesley Briones voting yes.
Ramos told commissioners about the DA's extra spending request while providing an update on the county's finances after the first quarter of the fiscal year. He said the county was currently running a $9 million surplus.
"It sounds like a lot of money," Ramos said, "but it's actually less than a half a percent from where we are. So, we're still running on a very thin margin when you look at our spending versus our revenue."