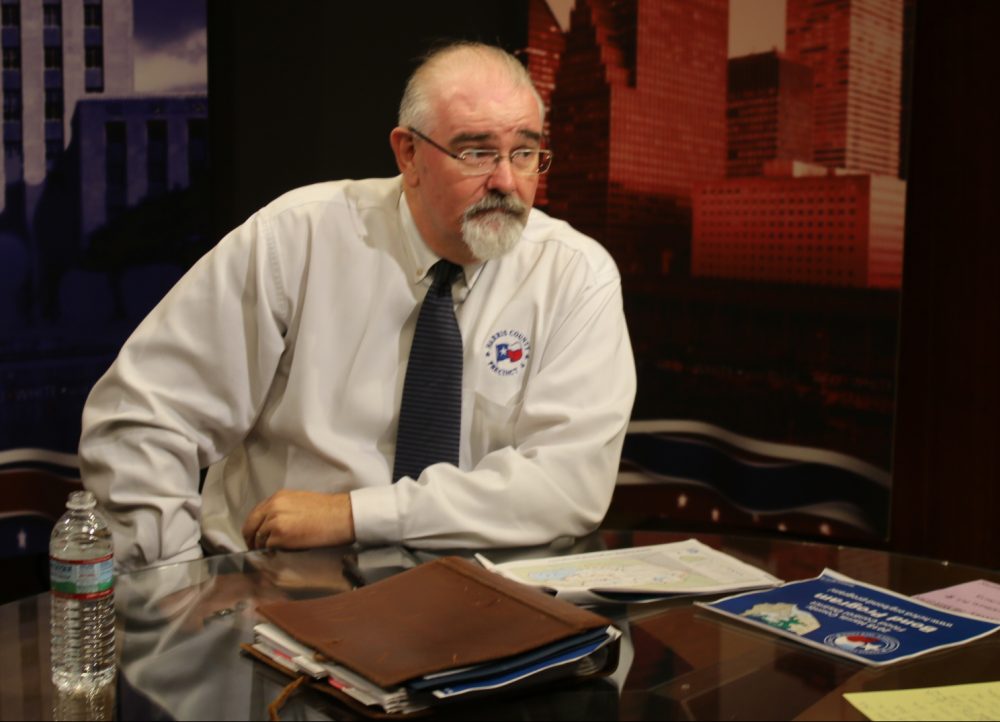 What memories do you have of Jack Cagle's tenure as Harris County commissioner for Precinct 4? Tweet your responses to ASchneider_HPM.
Jack Cagle has served Harris County for 22 years, first for 11 years as a civil court judge, then since 2011 as Commissioner for Precinct 4. This past November, he was defeated by Lesley Briones in his bid for a fourth term. His final day in office is January 1, 2023. Houston Public Media spoke with Cagle about his time on Commissioners Court and his future plans.
This interview has been edited for length and clarity.
What would you say are some of your proudest accomplishments over the course of your 11 years in office?
That's a difficult thing. We naturally compartmentalize the things that we do. In terms of being able to help people, with regard to infrastructure, the Grand Parkway, the expansion of the Hardy Toll Road, the expansion of (Texas State Highway) 249 — which had been deemed to be something that would never, never occur — was able to be done. Numerous roads and projects with regard to allowing mobility to occur so folks could get to work, back from work, and get home.
When I first came into office, 11 years ago, we did a survey, and 2-to-1 over any other issue was the issue, in the north part of the county, of transportation. And when we recently did a research survey, that issue had dropped down to number 11. And so...we achieved, being able to meet the public's desire for those things that allow them to spend more time at home and at pleasure and when they're working to be able to be productive.
In terms of our parks, the grant, the grand vision was an accident of the Spring Creek Greenway. And what happened was that ExxonMobil started to move into the region, and to snap up property that had been the previously undesirable property because it was in the flood zone next to Spring Creek, and a piece of property that had been on the market for like $45,000 had suddenly gone an almost excess of $600,000, because of the demand that was there. And we realized that if we were to preserve the wildlife, the greenspace and the flood capacity along Spring Creek, we needed to get moving and to get moving quickly.
And so, we started having monthly meetings of inter-departments from across the county, flood control, infrastructure, parks, permitting environmental all moving together once a month to try to figure out how we could acquire both for flood control as well as for parks components, to get Texas Parks and Wildlife involved, the greenspace. And now...the Harris County side of Spring Creek has all of the greenspace with one or two handshakes that still need to be finalized, going all the way from Tomball to Kingwood.
That has multiple benefits to the public. First of all, it's beautiful. Secondly, it's a place where wildlife gets to grow. And thirdly, it's got a flood control component. And you could add a fourth thing: that property, in terms of acquiring park space, is cheaper to acquire because it is in the floodway, than the higher valued property that developers are willing to build homes on. And so, we provide that recreational component as well as the protective environmental components that are all there at the same time. And so, for one taxpayer dollar, we get three wonderful benefits out of that project. And it took a while to do that. But it is now the longest contiguous green space in the country. And that is right here. And you have American bald eagles that are there. You have deer that are there. It's an amazing and beautiful property. Now that's on the old Precinct four.
We also were able to experience to be able to make our county to be more ready for emergencies. The old components, with regard to emergency response, is that it was always someone else's job whenever there was a flood to get in there. And our road and bridge guys, their job had been to go and to clear the trees out of the way. It was their job to after the storm had come through to pull out the debris. During the storm they would put up the barricades. But we found during the Tax Day flood, the Memorial Day flood, and then ultimately through Harvey itself that that was just not enough. Many of the high water vehicles were going down there weren't enough of them.
We trained our folks in Precinct Four to be those actual first responders in there. Our dump trucks that we use to haul away debris and to do the mundane day-to-day job that you see out there of being dump trucks became also our emergency response implements. During the ice storms we put special equipment on that puts out the rock so that folks can drive safely during those period of times, and then during a storm we put lifts on them and so we're able to actually go in now they don't go as deep as the high water vehicles. I sometimes joke and call it the mid-water. But most of our flooding, because we're flat, will be in the mid-water zone and we have now 12 of our dump trucks that are equipped to go into communities, plus we have three actual high-water vehicles that we've added to with the lifts. And the lifts, we learned through experience, are critically important because when you're trying to put people up in those high vehicles, there's all kinds of disasters. We also have boats that go into that component of getting that next mile into the water that's there. So you've got the mid-level, the deep water trucks, you've got our boats, and we have folks that are trained.
It's interesting too on how we reuse your county equipment in times of disaster. After (Winter Storm) Uri, when people didn't have the ability to flush their toilets anymore. We were able to in addition to working with many of our nonprofits and using your county trucks and vehicles to transport water, we took our trucks that have the big containers...we actually took those out into the communities and asked folks to bring out their containers so they can fill up with water to take another homes and flush. It was non-potable water, water that basically came out of a faucet, but once you put it through a non-transferable means you would tell folks, of course, not to drink that water, but you would bring your own, bring your own vehicles. And in fact, I have this visual of Ted Cruz coming out and volunteering — shortly after he had a little bit of a media episode somewhere else — he was out there. And we were he was out there filling in somebody's trash can so that that was the only water receptacle that they had, so that they could then take it home and use it to flush their toilets, which becomes a critical component
And so the ability to take the county equipment, whether it's an ice storm, where we put out rocks, whether it's to provide water afterwards, whether it's to rescue people out of the water, to be in that first responder mode and mindset to protect the people by whatever means that we can however we can became very, very important.
And then another feature that I think that is important is the concept of parks. I'm a fiscal conservative, which means you know, I want to take...two nickels of the county taxpayers' money and try to get a quarter's worth of value out of the two nickels by rubbing them together tightly. And the way that you do that is by forming partnerships, by getting your MUD districts or your super neighborhoods or your community associations or your Texas entities that are involved, Texas Parks and Wildlife or TXDOT, to try to form partnerships and groups to be able to expand and do things. And by doing that we've been able to create trails all over this county that would not have been able to be done otherwise. By finding partnerships and being able to add that extra mile and by moving in house some of those features.
We in Precinct 4 have a program we call Trailblazers. The initial idea was one that I candidly saw (former) Commissioner (Steve) Radack doing in the old Precinct 3. And we realized, well, gee, what can we do? Because the bidding process has gotten crazy. To build a mile of trail, for just regular asphalt trail will cost anywhere from $3-4 million. When you do concrete that would go up to $10 million for a mile of doing trail, and yet, by in-housing it, buying the equipment, and then leveraging trained personnel, we're able to lay down asphalt trail for about $400,000 a mile. And therefore, we could go into a neighborhood and say, "This is a beautiful place for a location for a trail. If you'll donate the materials, we can donate the labor and we can actually build something that's beautiful that can have an impact on our community by working together."
And so, our Trailblazers Program is something that I'm extremely proud of... I think that this vision is one of the reasons why our precinct received the Terry Hershey award is that if you have a trunk line trail that would be ADA compliant, 12 foot wide, so that you know to people with six foot leash can walk their dogs next to each other or a bicyclist can safely pass by somebody, then all the rest could be cut wild and natural. And that would give you the service road to be able to get in and out that would give the accessibility to the public to be able to come and to enjoy it to make sure it's ADA compliant. And therefore, you could have nature that's being made available to everyone.
And along the sides of the trails, we're planting trees, native Texas trees, and preferably food-type trees in terms of our pecans, our native walnuts, our native different berry trees, and whatnot. And I have to admit that the inspiration for planting the trees along the side of the roads came because I was reading Marco Polo's Journey to the Great Khan and China. And the Great Khan had fruit trees that were shading all of the great highways of China, and Marco Polo was impressed by that, and the foresight and I thought, "Well, gee, you know, I'm no Great Khan, but wouldn't it be nice, if generations to come, folks could actually go out"...And so along our trails, we have sort of the edible orchards that, when my kids or my grandkids are of age, they can walk in the shade...and collect the pawpaw trees in the pawpaw season or go and catch the Mexican plum and the Mexican plum season. Or you could catch pecans when it's pecan season. And you could walk her trails in the shade and enjoy the bounty that the God through nature provides to us.
What would you like to have accomplished if you'd had more time?
We're running out of space for water to go. And so we have to move to the big things. And that's something that I leave to is unfinished business, business that I'd wanted to serve for another 10 to 20 years to be able to complete, and the big business is how do we fulfill the vision...of making this Bayou City a safe place. And the 'make room for a river' approach of the Dutch. We've got the preliminary studies that are in with minimal infrastructure investment, and we've already begun to negotiate with Waller County to our west, where you pay farmers to farm, you pay land to be left to where it's tiled or grazed as opposed to built up. You rebuild the rice levees that used to be existing. And you can stop tons, acres and acres, hundreds of acres of water that would flow into Harris County in the city of Houston and the other 34 cities in this county.
And the tunnels...We like to talk about the tunnels as new technology. But it's actually old ancient technology from the Romans. They used the reverse siphon and a tunnel-type approach to go through the mountain ranges to collect water from the clean, clear springs on the other side of the Apennine Mountains to provide water for the Romans, instead of just trying to get the water further up the Tiber River which Rome was on, which as Rome grew upstream wasn't as clean as it used to be. And so you're drinking your neighbor's upstream's water, which they all drained into that. What we're trying to do is to shift that same type of technology into being able to take water where it's upstream, instead of taking out homes, taking out neighborhoods, taking out communities. But the amount of surface conveyance necessary to protect us is enormous. But by creating just a couple of these tunnels, you can create a network that could be a game changer.
And it's expensive. That is a massive project. And you may have seen earlier this year how I was opposed to nipping away at some edges when I felt like we needed to save our bonding capacity for severe some big projects that could really do game changing work for the future. And among those would be the tunnels. Among those would be the make-room-for-a-river approach, where you take the Katy Prairie, work with our conservation groups of keeping it pristine, and the Katy Prairie has thing called the Katy Prairie grass, which is a marvelous plant created by God that just sucks up all kinds of water and takes it out of the system and can withstand shallow water but would die in deep water.
And we also move into continuing to develop our parks. We're running out of land. We've got 4.7 million people in Harris County. And with what is about to occur, we've now got to figure out creative ways of having our trails and our parks and our other space. So, the Legislature passed and I was proud to be a part of the team to help get this passed in the legislature of allowing our public utility right aways being zones that we can put public trail systems through to where we could use the CenterPoint easement, to have a hike-and-bike trail that goes through those zones, so that we can connect our communities with one another in our trails. And of course, we still have our Trailblazers that could help build that if it's kept.
And so you've got the past of going through the drought, the floods, the pandemic, the redistricting, you've got the present, what we've been able to do in the last year of trying to connect with new communities and do new things and partner with the city of Houston, and our other cities like Katy, that are new to us — six cities in the new Precinct 4, we had seven cities in the old Precinct 4. And then we have the future, and the future needs, I think, for us to continue to think of those who will be generations to come with regard to our greenspaces, yes, our flood control, yes, our mobility, yes. But also our culture. It's all right, to have a few programs in the parks for the kids so that they grow up in a better, brighter place and enjoy the environment that we have.
What are you planning to do next?
Well, I'm young. Our family, you know, we tend to live long and to work hard until our high 80s and then live to enjoy our retirement in our 90s. My grandfather actually wanted to start a fifth business after he was forced to retire from Humble Oil, but my grandmother wouldn't let him when he was 88, so he had to retire at 88.
I have this thing called a law degree. And so before being a commissioner, I was a judge. Before I was a judge, I was trial lawyer. And I've got some opportunities to string a few words together, perhaps in court, for a few clients who are in need of an advocate. And I loved the old work of being a trial lawyer. I love going to court. I love serving people. And then when I got to be a judge, I got to go to court every day. And after trying 727 trials as a judge, I was ready for a new challenge, and this opportunity of service came as a commissioner.
The big difference between being a commissioner and being a judge is as a judge, you try to fix things that were broken, past tense, right the wrongs, and then as a commissioner, you trying to look into the future to see how can you make it better, how can you improve. And the lessons that I learned as a judge allowed me to go forward in that planning. And now as I go back into the practice of law, I've learned a lot as a judge, and I've learned a lot as a commissioner, and I believe that I will be a staunch advocate for anyone that hires Jack Cagle to be their lawyer.