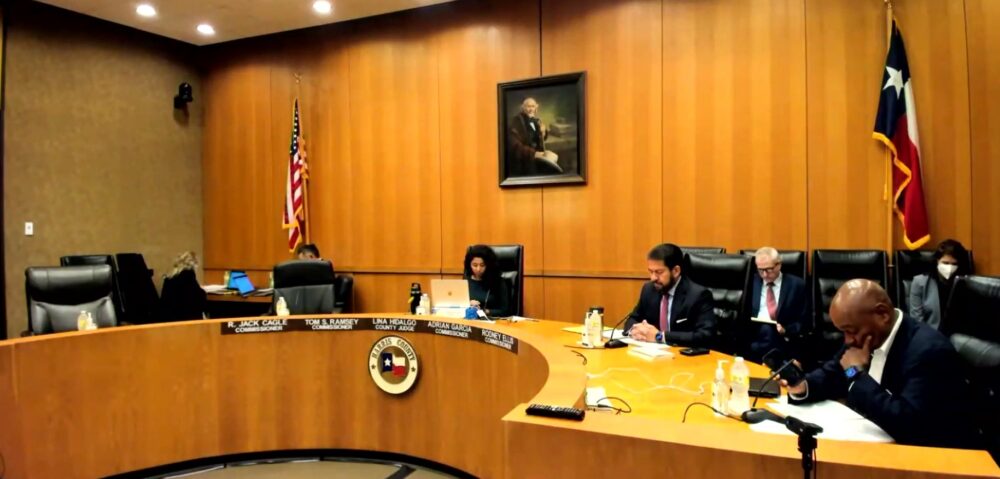 Harris County has now officially adopted tax rates for Fiscal Year 2023 equivalent to those of the last fiscal year, despite rising costs. The result will be across-the-board cuts to the proposed budgets for almost all county services.
The two Republican county commissioners, Jack Cagle and Tom Ramsey, have boycotted commissioners court meetings since the middle of September, arguing that the court's Democratic majority was attempting to force them to adopt a budget and tax rates without their input or consent. Cagle and Ramsey objected to the proposed budget, claiming it underfunded law enforcement. They also objected to the Democrats' proposed tax rates, which they claimed were too high in a time of inflation. The Democrats had already proposed cutting the tax rates to their lowest level since 1990.
Under state law, county governments require a super quorum of four members present in order to vote on tax or budget issues, effectively giving any two members a veto if they choose not to show up. Tuesday's court meetings were the final meetings scheduled before a state-imposed October 28 deadline. Failure to meet that deadline meant the court was compelled to adopt the "no new revenue" rates for Harris County, the Harris County Flood Control District, and Harris Health.
Cagle and Ramsey each declared the result a victory in separate statements.
Cagle, who is running for reelection, declared Tuesday was a good day for Harris County taxpayers. "By 'voting with our feet,' Commissioner Tom S. Ramsey and I were able to stop the $257 million tax increase favored by the court majority," Cagle said. "Now would be a good time for county government to reassess the recent spending increases that have led to so many new and unneeded county agencies run by overpaid bureaucrats. Instead, we can return to a fiscally sound system of providing the basic services that taxpayers expect – public safety, flood protection, parks and constituent service."
"Our constituents have been victims of wasteful spending for four years," Ramsey said, referring to the amount of time Democrats have held the majority on Commissioners Court. "I am proud to have done my part in protecting our residents from the reckless management of their money."
Judge Lina Hidalgo – the Democratic incumbent, who is also running for reelection — lambasted Cagle and Ramsey for forcing what she described as draconian cuts on needed public services in order, she alleged, to score political points.
"Because of the games they've been playing, already this morning, $100 million have been cut from law enforcement," Hidalgo said. That includes reducing a planned 8.25% pay increase to 4%. The county will also be forced to forgo hiring an additional 35 investigators and to cancel a new cadet class for the Sheriff's Office. "We're cutting money to the tune of $16 million for the sheriff, $5 million for the DA," as well as several million dollars for the constables' offices.
"The Harris County Hospital System is now $45 million in the red," Hidalgo said, when it became clear that Cagle and Ramsey would not show up for the second of two meetings held Tuesday. "The Harris County Flood Control District now loses over $20 million."
Democratic Commissioner Rodney Ellis issued his own statement. "There were two empty chairs where Ramsey and Cagle should have been seated at the table, but they never showed up," Ellis said. "Those two empty chairs represent 4.6 million residents who deserve better than Ramsey and Cagle gambling with their lives and livelihoods for a political payout."