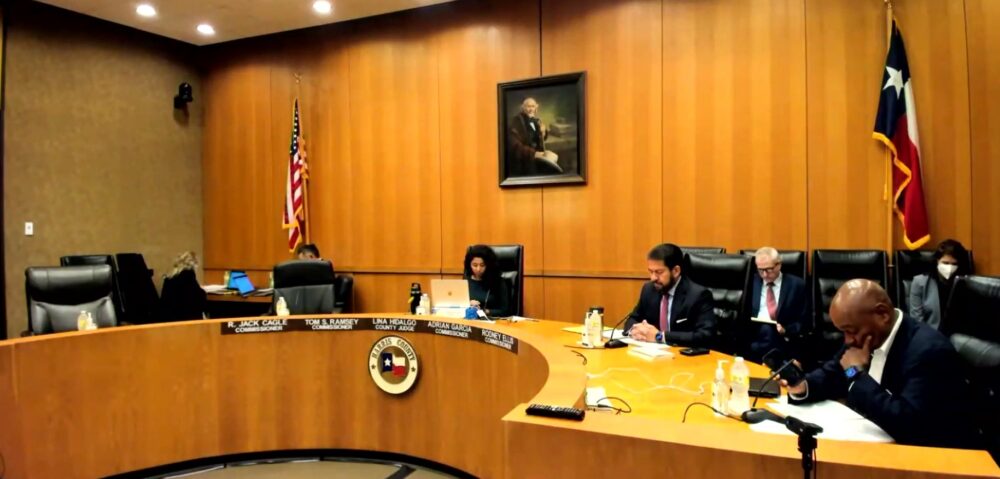 Harris County may be inching closer to a solution of its tax and budget crisis, even though two GOP commissioners boycotted a meeting for a third time on Tuesday.
County Judge Lina Hidalgo sees a proposal from Republican Commissioner Jack Cagle as grounds for optimism. It's been a week since Cagle first offered his alternative tax plan to raise $149 million in revenue — compared to the Democratic majority's proposal, which Cagle said would cost taxpayers $257 million.
Cagle had requested the judge schedule a special meeting of Commissioners Court at which to discuss tax proposals, but at which no vote would be taken. Judge Hidalgo had declined to schedule such a meeting, in part because she said she was waiting on Cagle to provide additional details of his plan to the county's budget office for analysis.
Speaking at Commissioners Court on Tuesday, Hidalgo said, "I got word last night from the budget office that Commissioner Cagle did more recently submit his proposed tax rate. So, I want to thank Commissioner Cagle for that and his team."
Hidalgo said the information had arrived too late for her to schedule a special meeting today to consider Cagle's proposals, "but it does mean that we can have a more informed conversation and negotiation to hopefully try to land somewhere on a budget that can fund the county."
The judge said she was concerned that Cagle's proposal would not provide enough funding for some critical areas of county government.
"It still leaves the Health Department – and I, more than anyone, can speak to the importance of that – underfunded," said Hidalgo, who was recovering from a bout of food poisoning and whose treatment revealed the presence of an ovarian cyst. "There's still sort of questions about where exactly the dollars come from, but I look forward to discussing that at some point in the future with my colleagues, and hopefully with Commissioner Cagle, and we can propose a set of tax rates and a budget proposal that is better than the brutal scenario that we were facing."
The county is currently operating under an annualized version of the short fiscal year 2022 budget. Hidalgo and her fellow Democratic commissioners, Rodney Ellis and Adrian Garcia, have expressed the hope that, if they're able to adopt a new tax rate by the deadline of October 28, they can then adopt a new budget with expanded funding for county services.
Cagle, along with fellow Republican Commissioner Tom Ramsey, have now boycotted Commissioners Court for three successive meetings. Under state law, county governments require a super quorum of four court members present to vote on tax matters.
If commissioners fail to break their impasse over the tax rate by October 28, the county will only be allowed to collect as much revenue as it did in the previous fiscal year. The "no new revenue rate" would leave the county stuck with a budget requiring $106 million in cuts compared to the previous budget.
Garcia placed two items on Tuesday's agenda, one for discussion and possible action on Cagle's alternative tax plan and one for amending the budget to hire additional law enforcement officers and prosecutors. The latter has been a sticking point for both Ramsey and Cagle.
Neither Cagle nor Ramsey, however, rose to the bait. Speaking on Houston Matters, Cagle said he was concerned that if he showed up, the Democratic majority would simply pass their own tax plan without giving his proposals fair consideration.
"There's an old poem: 'Welcome to my parlor, said the spider to the fly,'" Cagle said. "Yes, I've been invited to create the quorum to debate my proposal, which means the minute that I walk in, the quorum would be there, and we would not necessarily have any debate."