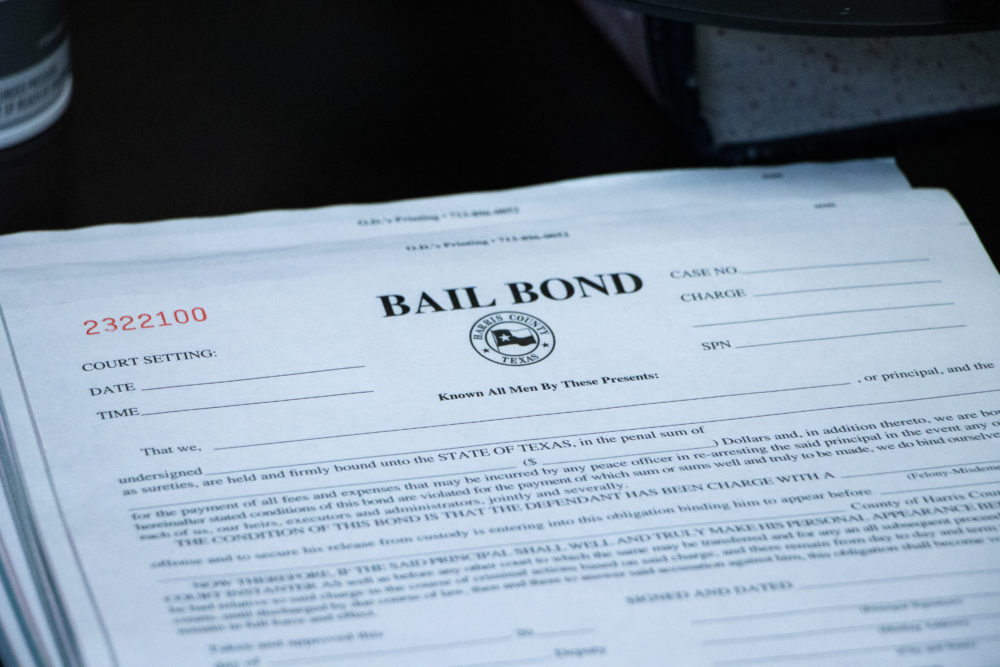 Many Republicans in the Houston area – along with a district attorney who often has been at odds with fellow Democrats – have sung a similar refrain regarding the uptick in violent crime since the onset of the COVID-19 pandemic in early 2020.
They have claimed Harris County's slate of mostly Democratic judges, many of whom were elected in 2018, have gone too easy on defendants accused of violent crimes. Their argument is that judges are not setting high enough bail amounts to keep those defendants in jail and away from the general public while they await trial, which has contributed to repeat offenses and in some cases an escalation in crime.
"We have seen individuals who have been released on multiple bonds, even when charged with violent felonies, commit horrific crimes," Harris County District Attorney Kim Ogg said in August during a wide-ranging interview with Houston Public Media. "We're fighting those bonds – low, insufficient bonds – daily in court. ... It has become the new battleground for public safety."
Ogg's claim was echoed by Harris County Commissioner Tom Ramsey, a Republican who represents the northwest and northeast parts of the county, along with a Republican candidate for a seat in a felony state district court. But the notion that local judges' decisions have significantly contributed to a spike in crime was disputed by a Democratic judicial candidate, the chair of the county's Democratic party and Murray Newman, a former county prosecutor and current defense attorney who is the president-elect of the Harris County Criminal Lawyers Association.
In interviews with Houston Public Media, most agreed that criticism from Ogg and other elected officials as well as from residents concerned about crime has impacted judges' behavior in recent months, meaning they are setting higher bond amounts and granting fewer personal recognizance or free bonds. The rhetoric also figures to have an impact on the upcoming election in November, particularly on the races for Harris County judge and the county commissioners court as well as the scores of judicial races on the ballot.
Rice University political science professor Bob Stein said portraying Democrats and Democratic judicial candidates as too lenient on crime is part of the Republican strategy to win back bench seats and other offices in a county that turned decidedly blue in the last midterm election in 2018.
"I think the crime rate is probably going to be the biggest issue in this race locally as far as judicial candidates and the county judge," said Lori DeAngelo, a Republican who is facing Democrat Katherine Thomas for the 184th District Court seat. "I think it's going to be at the forefront."
Matt Slinkard, the executive chief of the Houston Police Department, said rising crime in the region has followed a national trend since the start of the pandemic and can be attributed to a range of factors, most notably stress and economic instability associated with the pandemic, societal turmoil and what he described as a general decline in civility. The interconnected issues of local bail reform, a case backlog in county courts and overcrowding at the county jail also have been factors, he said, with the increase of cashless bonds for low-level offenders helping to free up space in a jail that includes some defendants who have faced longer-than-usual delays before trial.
RELATED: Harris County courts backlog continues amid finger pointing
Interim director Ana Yanez Correa of the Harris County Office of Justice and Safety, which was created in 2019 to analyze trends in the court system, among other functions, said further study would be needed regarding a potential correlation between the spike in crime and bond amounts set by judges in felony cases. AJ Roy, the deputy director of data and technology for the office, said the Harris County Bail Dashboard it launched in February shows that between 2017 and 2021, felony judges granted a higher percentage of high-value surety or cash bonds and fewer low-value bonds in relation to the overall number of cases.
"Trying to pin the overall system on just the bail practices of the judges, it simply would be an oversimplification of an incredibly complex problem," Roy said. "It'll mislead if we just look at only one factor and not all factors that interact in this pretty complex system."
Bail versus jail
The issue of bail reform has become a topic of heated debate but often has been misunderstood and mischaracterized, according to Gemayel Haynes, a former county prosecutor and current public defender who beat incumbent Judge Chuck Silverman in the Democratic primary in March and will face Republican Kristin Guiney in November for the seat in the 183rd District Court.
In response to a class action lawsuit against Harris County in federal court in 2016, which determined the county's cash bail system penalized defendants for being too poor to pay predetermined amounts of money and therefore violated their constitutional rights, the county adopted a local rule in 2019 in which most defendants are released on a personal bond after arrest without having to face a judge. The ODonnell Consent Decree, the first of its kind in the United States, applies only to misdemeanor offenses and ensures those defendants cannot be detained prior to trial unless a magistrate determines through an evidentiary hearing that they pose a public safety or flight risk.
Haynes said a "big misconception" about the consent decree is that it applies to the felony court system. And he said some members of the public confuse personal bonds with surety bonds, in which a defendant pays a bail bonds company a percentage of the bail amount determined by a judge and the company assumes responsibility for the remainder if its client subsequently fails to appear in court. A judge setting a bail amount, Haynes said, does not mean a judge is freeing a defendant from jail.
"The bail amounts that are being set now (in felony courts) are higher than bail amounts were even just five or six years ago," Haynes said. "So the low bail amount (argument) is a mischaracterization of what's going on."
Duke University School of Law professor Brandon Garrett, the independent, court-appointed monitor for the ODonnell Consent Decree, said his research shows the bail reform has largely been successful. He said it has come with a significant cost savings to the county – which would have saved $93 million had the reform been implemented in 2015 – while the number of misdemeanor arrests has decreased.
Among those released from jail under the consent decree, Garrett said there also has been a decline in the number of re-arrests within one year. There has been a steady decline in the seriousness of subsequent offenses as well, he said.
Garrett said the court monitor's findings were largely corroborated by the Quattrone Center for the Fair Administration of Justice at the University of Pennsylvania. It released a report in August saying it studied 517,000 misdemeanor and felony cases in Harris County between 2015 and May of this year and found there was a 6 percent decrease in new prosecutions in the three years following an arrest along with a 15 percent drop in guilty pleas, a 17 percent reduction in the likelihood of a jail sentence and a 15 percent decrease in the conviction rate, indicating that fewer innocent people are serving jail time for crimes they did not commit.
"The common assumption behind lots of debate about bail is that people are going to offend more if you free them, even if they're not convicted of a crime yet," Garrett said. "In the misdemeanor bail system, we don't see that hold up. … The results have been positive."
DeAngelo, the attorney and Republican judicial candidate, said she thinks bail reform and the county's backlog in the courts – which was exacerbated by Hurricane Harvey and the pandemic and remains at well over 100,000 cases, according to Ogg – have contributed to the increase in crime. Another factor, DeAngelo said, was a trend in the bail bonds industry in response to the consent decree.
Granting cashless bonds to most misdemeanor defendants resulted in a loss of revenue for bail bondsmen, who then started charging less money up front for defendants in other criminal cases as a way to attract more business, according to DeAngelo.
Ken W. Good, a bail attorney and board member for the Professional Bondsmen of Texas, said that practice has not been a factor in rising crime. He instead pointed to the decisions of judges and magistrates, who are appointed by district court judges and hold initial bail hearings after an arrest.
The Harris County Bail Bond Board passed a new rule in April in response to bail bonds companies' practice of charging low percentages of bail amounts in exchange for issuing surety bonds, and an attempt to curtail upticks in reoffending. The rule requires bondsmen to collect a minimum of 10 percent of the bail amount set by judges before their client is released on bond.
"I think we're seeing less of it now," DeAngelo said. "I think the bonding companies are starting to back off. For a while, they were making bonds for very small amounts, which allowed a lot more people to get out."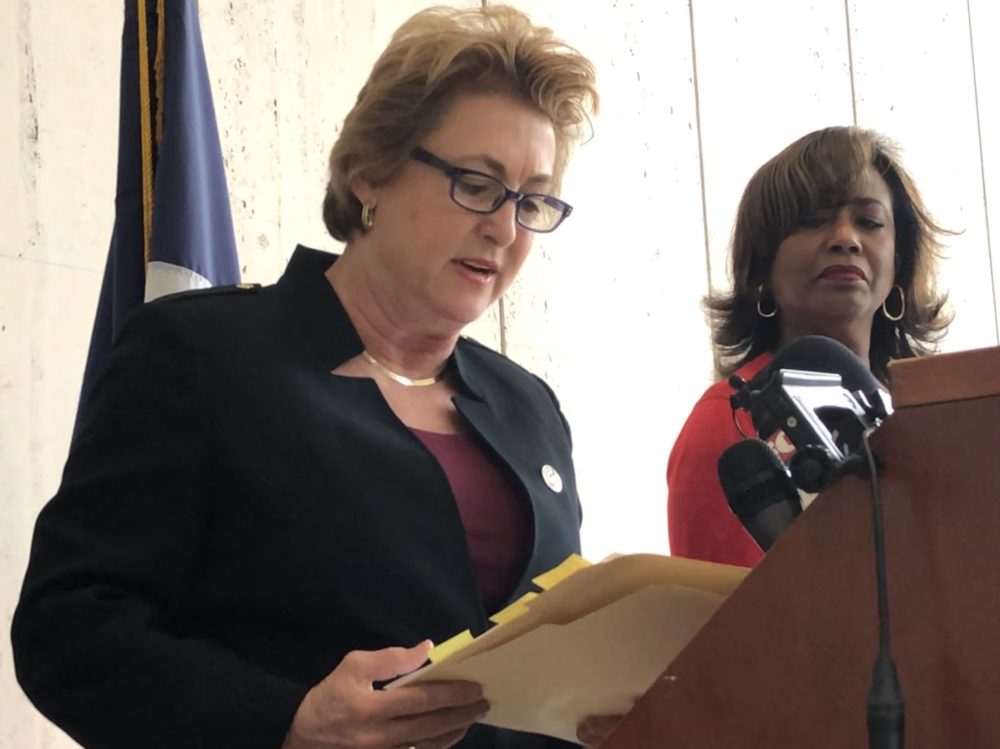 Perception versus reality
Ogg, the district attorney, said there has been misinformation regarding her stance on the bail reform issue. She said she supports the idea of releasing low-level offenders on free bonds, with the exception of domestic violence and driving-while-intoxicated cases.
The bigger problem, she said, is the number of violent or repeat offenders in felony cases whose bond amounts are not high enough to keep them in jail and they are subsequently charged with more crimes. According to data provided by her office, which could not be independently verified by Houston Public Media, there were increases in those instances in 2019, 2020 and 2021, along with spikes in the numbers of defendants charged with violent crimes who were released on cashless bonds.
Ogg said there have been decreases in those trends so far in 2022, which she attributes to a change in behavior among the judiciary. It also could be attributed to a law passed by the Texas Legislature, Senate Bill 6, which took effect in December and bans cashless bonds for people who have been accused of violent crimes as well as for those who are arrested on a felony charge if they already were out on bond for a violent offense.
"Some say it's because we're in an election year," Ogg said. "I think it's because people are starting to see the actual impacts of the decisions made from the bench, and there's a lot of concern about the judicial release of violent repeat offenders on bail. And I think the message has gotten through."
Odus Evbagharu, the chair of the Harris County Democratic Party, said that message has conflated felonies with misdemeanors in the eyes of the general public.
Newman, who said he supported Ogg when she was elected in 2016 but has since become one of her critics, described her stance as politically motivated and said she is scapegoating judges in an attempt to distance herself from the rise in crime in the Houston area. Ogg has filed multiple complaints against judges with the State Commission on Judicial Conduct, according to a July report by Texas Monthly, and a member of her communications staff reportedly testified in court last month that he had made anonymous comments on online news stories that were critical of judges and bail reform.
Fourteen of Ogg's prosecutors ran for bench seats in the March primary, according to the Texas Monthly report. She told Houston Public Media she did not influence or play a role in those candidacies.
Newman agreed with Ogg's claim that judges have altered their behavior in response to criticism by her and others, saying they are "definitely more sensitive about the decisions they're making." He said he's seen a greater number of higher bonds and less tolerance even when it comes to relatively minor offenses.
That goes against some of the ideals of the American criminal justice system, according to Newman, who said judges must weigh defendants' constitutional rights along with their risk to public safety while ensuring they have adequate opportunities to present their side of a case.
"I want judges to have the freedom to make the decisions that they think are appropriate without being scared they're going to lose an election if they do something that errs on the side of mercy," Newman said. "Mercy does have a place in there somewhere, as does holding the state to their burden of proof."
Ramsey, the county commissioner, said the system in Harris County is broken and needs to be fixed, citing murders that have been committed by defendants who were out of jail on bond. The county's slate of judges should be held accountable for those cases, he said, adding that the top three issues leading up to November's election are "crime, crime and crime."
Haynes agreed that public safety and judges' practices when it comes to bail – whether they are overly lenient or too strict – are hot topics among Democrats, Republicans and political independents. He said they made an impact in the primary in March, when 10 judicial incumbents lost, and could affect outcomes in November as well.
"It's something that I think everyone is cognizant of," Haynes said. "People are curious and they're asking questions. If it has any effect on the races at all, it's yet to be seen. We'll see on Nov. 8."