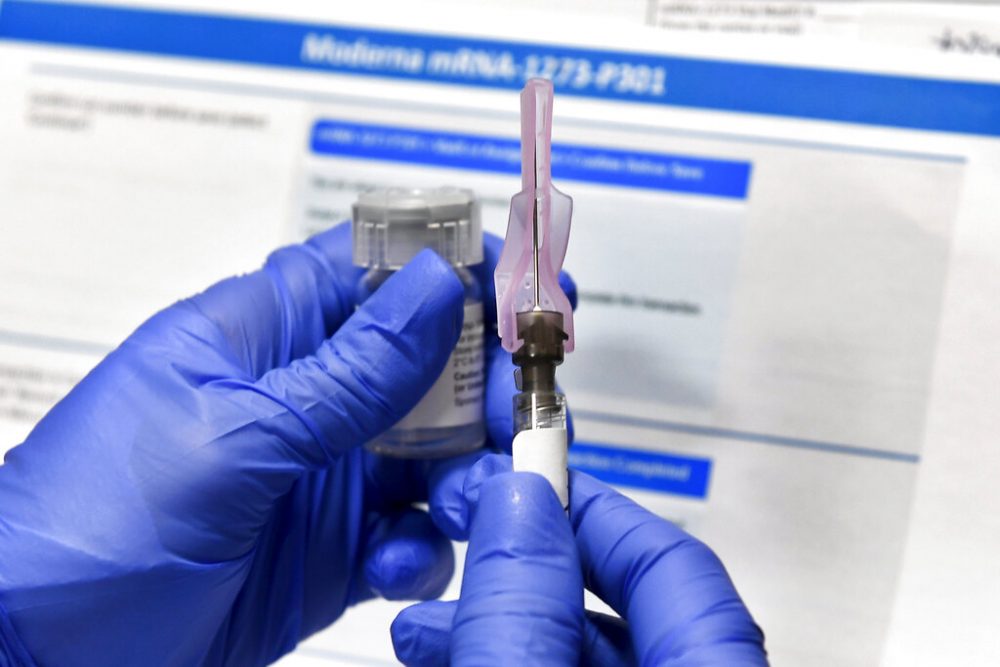 The lawyer for a former Harris County Public Health doctor accused of stealing a vial of the Moderna COVID-19 vaccine for friends and family said on Friday that the man was trying to administer doses before they expired.
Dr. Hasan Gokal was fired earlier this month for allegedly swiping the vial while working at a HCPH vaccination site at Lindsay/Lyons Park in Humble on Dec. 29, according to the Harris County District Attorney's Office.
In a charging document, prosecutors alleged Gokal took the vial off site and used it to administer doses to friends and family, including his wife. He was charged with theft by a public servant, a Class A misdemeanor that carries a penalty of up to one year in jail and a $4,000 fine.
But during a virtual news conference on Friday, Gokal's lawyer Paul Doyle said the doctor was following guidelines from the Centers for Disease Control and Prevention by trying to use doses that would have otherwise gone to waste, and that he was not giving preferential treatment to anyone.
"Rather than throw it away, he did everything possible," Doyle said. "He went above and beyond as a public servant."
According to Doyle, traffic at the Humble site had begun to dwindle when one last patient showed up. In order to administer a dose, doctors had to puncture a new vial of the vaccine, which starts a six-hour shelf life, according to the lawyer.
Afraid the leftover doses would surpass that shelf life, Gokal began to search for people who met the criteria for vaccination under the state's Phase 1 plan, his lawyer said.
Not knowing what to do, the doctor reached out to friends and neighbors who referred him to others who qualified, Doyle said. He administered the vaccine to at least eight of those people after hours — most of whom were acquaintances — and with 15 minutes remaining before the vaccine was set to hit its shelf life he used one last dose on his wife, who had pulmonary sarcoidosis, the lawyer said.
The patients were then entered into a state database on Dec. 30, Doyle said.
Gokal's father, who also qualified under state guidelines, was not one of those vaccinated, which Doyle pointed to as evidence that the doctor was not giving preferential treatment to people close to him.
"If he was trying to take care of his family and friends, and that was his M.O., his father certainly would have been vaccinated," Doyle said.
Gokal was later fired. After reaching out to a local law firm about filing a wrongful termination suit, he was notified of the charges. The doctor later turned himself in, though Doyle said he was never contacted during the investigation.
"If these doctors are going to get criminally prosecuted for trying to use leftover vaccines, there's gonna be more and more waste than there already is," the lawyer said. "This was not well thought out."
But the charging document disputes the lawyer's version of events.
According to a sworn affidavit from HCPH Director Michael McClendon, Gokal was told that there were existing protocols in place to make sure the vaccine wouldn't be wasted. Under those protocols, leftover doses are supposed to be administered to at-risk front-line workers including health care workers, firefighters and police officers. After that, there's a secondary waiting list to make sure the doses do not go to waste, according to McClendon.
On Jan. 6, Gokal revealed the details of his plan to another HCPH employee, who told the director immediately, according to the affidavit.
The employee's fear, according to court documents, was that the department could lose funding over Gokal's actions.
Harris County Public Health directed questions to the DA's office. In a statement, Harris County DA Kim Ogg said Gokal disregarded protocols that were already in place to make sure vulnerable populations and front-line workers received any leftover doses of the vaccine.
"He abused his position to place his friends and family in line in front of people who had gone through the lawful process to be there," Ogg said. "What he did was illegal and he'll be held accountable under the law."
Additional reporting by Houston Public Media intern Myrakel Baker.