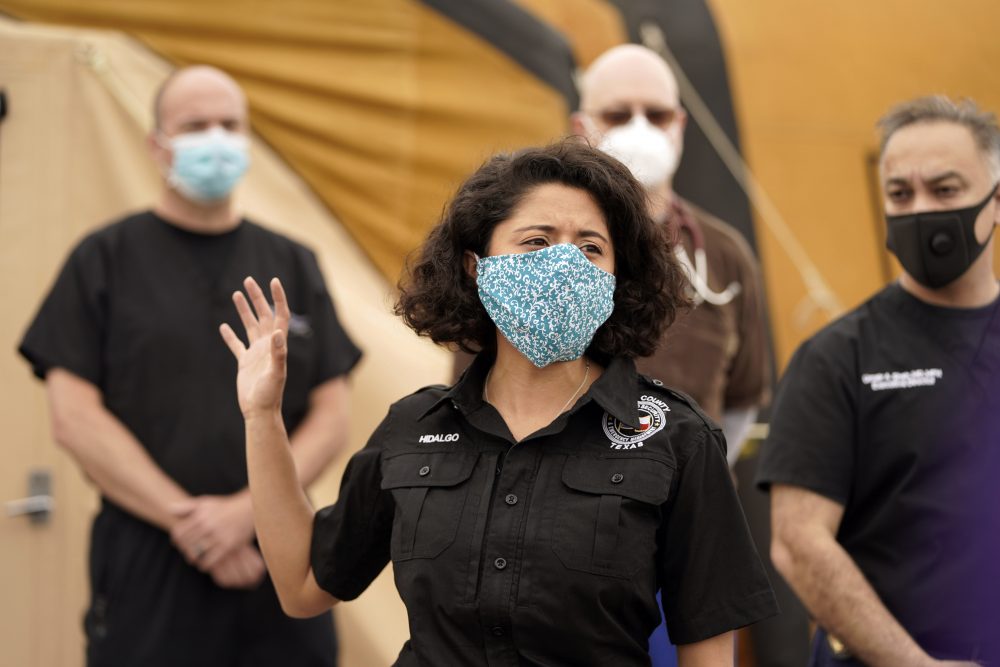 Harris County Judge Lina Hidalgo criticized state and federal leaders for endangering the health and economic wellbeing of residents, saying on Thursday that their approach to dealing with the coronavirus pandemic has failed to put Texas on the right track to recovery.
In her State of the County message, Hidalgo blamed "half measures" from those leaders for squandering earlier gains made against the virus. She singled out Gov. Greg Abbott's policies – without naming the governor.
"The threat levels that have been set at the state level, I mean there really haven't been any, so it's just been reopening, then you shut down a little bit, then you reopen again," she said. "And it's been a yo-yo, you know, a ping-pong effect that's been based on no data in particular."
The county has seen a 40% increase in COVID-19 cases in recent weeks, and the state of Texas this week passed 1 million cases in total. Hidalgo predicted "another pullback is coming soon," pointing to conditions in El Paso.
The judge cited programs the county had set up to aid families and small businesses using federal CARES Act funding. She said the funds fell far short of what was needed, but that the county would continue to allocate the money until it is gone.
Among other topics, Hidalgo also addressed the need for racial equity and criminal justice reform.
"It has been very necessary, important, and I hope impactful to see George Floyd's hometown come together in demanding change, and it's been (reassuring) for me, as someone that cares and has been fighting for criminal justice reform to see that we've got the community at our back," Hidalgo said, noting that the misdemeanor bail reform that the county adopted last year began in earnest this year.
Hidalgo cited a study conducted by an independent monitor, Duke Law School professor Brandon Garrett, showing that in its first six months, bail reform in Harris County had greatly reduced the number of people serving jail time for misdemeanors, "because the judges now have other conditions of release, and so they keep folks in jail who are dangerous, not just folks who are poor."
The judge also spoke about the need to prepare for future hurricanes and floods.
"We see the impacts of climate change, and we have to recognize, as ground zero for climate change and also as the largest petrochemical center in this hemisphere, that we 've got to get this together," she said.
Hidalgo warned that a direct hit by a hurricane on the Houston Ship Channel would be catastrophic for residents, for industry, and for the environment. The county, working with the Port of Houston, had commissioned a study in September to determine who are the stakeholders in building a coastal barrier to protect the region from such a direct hit, as well as what are the options for such a barrier and what it will take to advance them, she said.
"What I've diagnosed over the past two years," Hidalgo said, "is that there is this option of the Ike Dike that is moving forward, and the Army Corps (of Engineers) is committed to it, and they've priced it out, but the problem is that's not going to be built for 10, 15, 20 years, and we know these hurricanes keep coming."