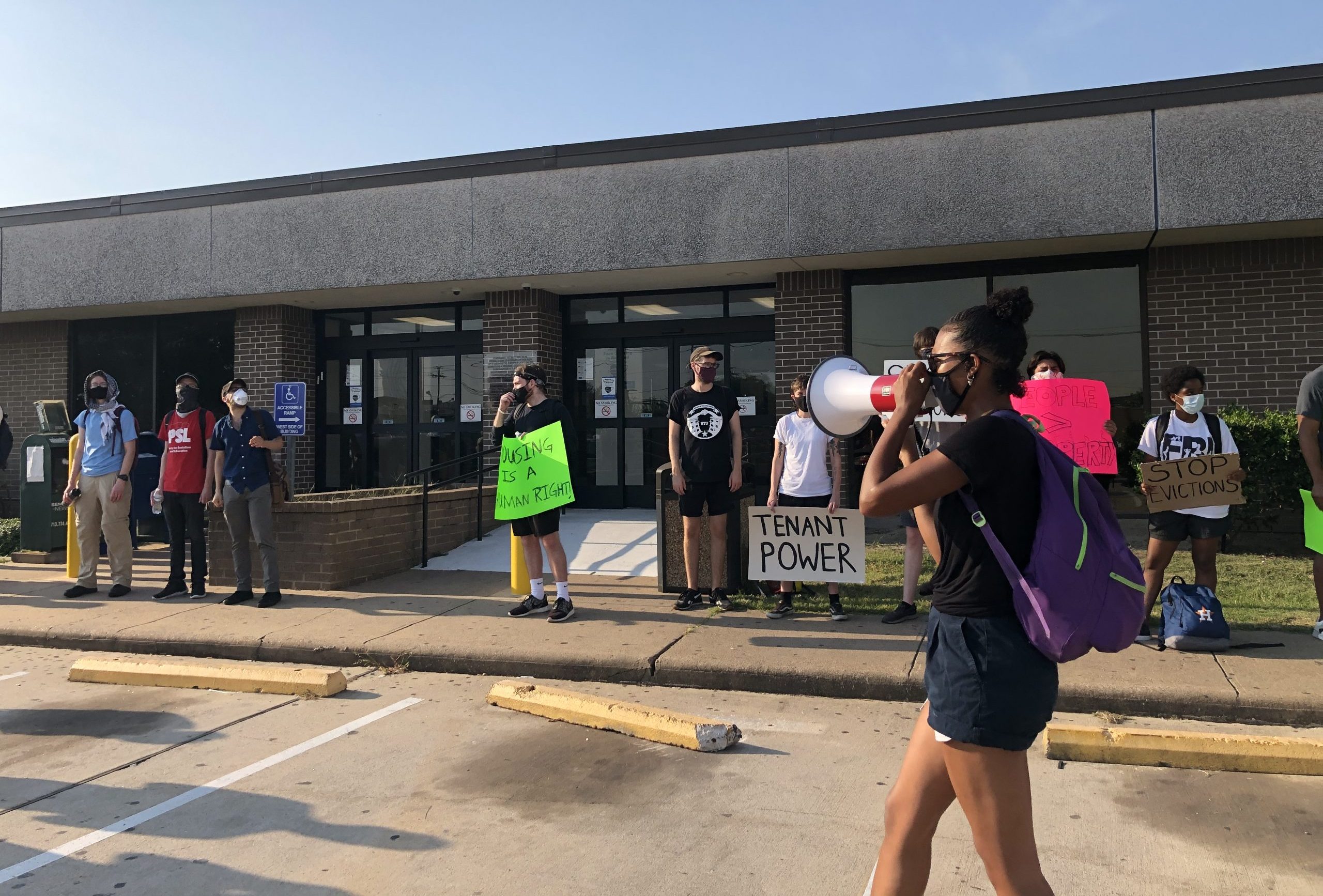 Updated 8:28 p.m. CT Friday
Tenants and housing activists marched outside a Houston housing court Friday as part of a planned all-day protest to stop some eviction cases from proceeding.
The throng of people arrived before the court opened at 6000 Chimney Rock Road, which houses the court of Harris County Precinct 1 Justice of the Peace Russ Ridgway. There are a total of 16 housing courts in Harris County, though Ridgway's was the only one targeted as of Friday morning.
There have been similar protests in other cities, including actions blocking eviction courts in New Orleans and Kansas City on July 30.
But in Houston, eviction hearings proceeded, with Ridgway sitting in on the cases throughout the day. He did not respond to requests for comment Friday.
Marchers carried signs that read "Tenant Power" and "Stop Evictions," chanting slogans like, "housing rights are human rights."
The Houston Tenants Union, one of the organizers of the protest, said it was in part a response to Mayor Sylvester Turner's lack of action on an eviction grace period in Houston, a city where renters make up half the population, as COVID-19 has wreaked havoc on the economy and led to tenants getting behind on rent.
Turner has instead pushed for rent relief programs and asked landlords to work with their tenants to avoid evictions, despite recommendations from a joint city and county housing task force to pass a grace period ordinance.
"Houston has received nation-wide attention for our massive wave of ongoing evictions," read a press release from the Houston Tenants Union. "The Mayor has made it clear he will refuse to act, continuing to call on the good graces of landlords that will work with tenants, and taking whatever half-measures he thinks will work for him. Our demand is simple, end the evictions now."
David McClendon — a data scientist at January Advisors, which maintains a database of eviction numbers in Houston — said Friday that Houston had more eviction filings last week than nine other cities combined.
There were more eviction filings in Houston last week (558) than in Austin, Boston, Cincinnati, Cleveland, Columbus, Pittsburgh, Jacksonville, Richmond, and St Louis combined. #keephoustonhoused https://t.co/vf287d75Dd

— David McClendon (@DMcClendonPhD) August 21, 2020
MORE: Housing Advocates Say Houston's Approaching An Eviction 'Doomsday'

Turner's office on Friday said the mayor's position on an eviction grace period has not changed, and that he was concerned after other cities passed such an ordinance were sued — especially in light of a recent nonbinding opinion from Texas Attorney General Ken Paxton that suggested local governments could not legally delay evictions.
"(The mayor) believes the rental assistance program under way now will help avoid evictions through the end of September," Turner's director of communications, Mary Benton, said in an email.
Ridgway was elected in 2004. He's not an attorney, but has a master's degree in business administration.
The justice of the peace is just one of the judges that organizers said has broad discretion to stop evictions, but has declined to do so. Ridgway's court had 23 evictions on the docket Friday, with 117 eviction cases on his docket next week.