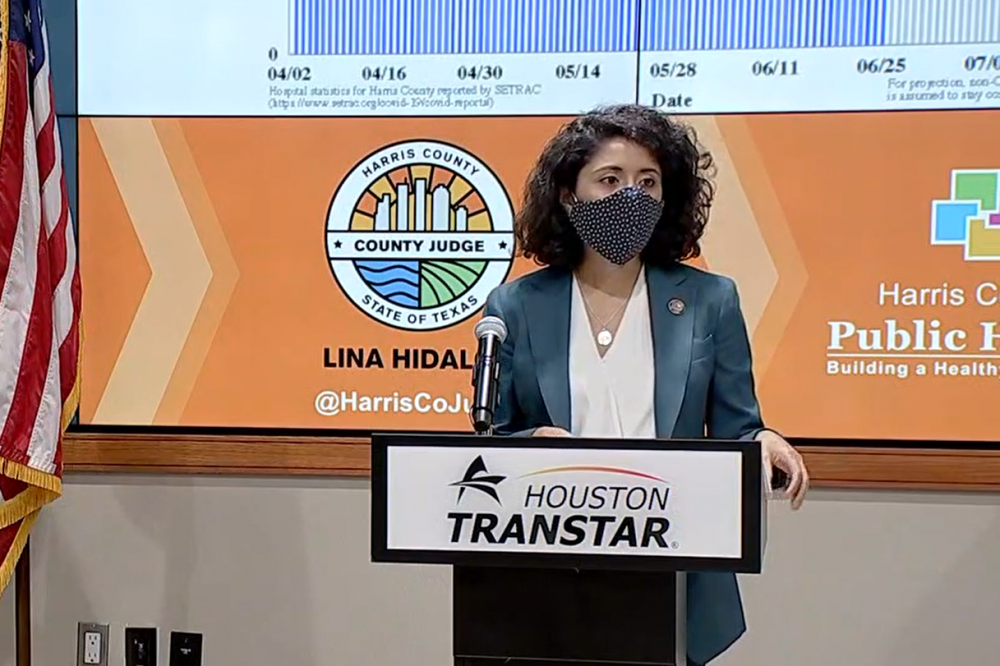 Harris County Judge Lina Hidalgo on Friday said the county was at its highest COVID-19 threat level, after a spike in coronavirus hospitalizations led to an uncontrolled spread of the illness in the wake of the state's reopening.
Hospitals in the Texas Medical Center are using 100% of their base capacity, and are relying on surge contingency plans, Hidalgo said at a press conference Friday. Patients in both general hospital populations and ICU beds have doubled since June 13, and the county has reached new highs every day since then.
"Whichever angle you look at it from, our situation is far worse today than when we issued the first stay-home order in Harris County, and when the state issued their first stay-home order," Hidalgo said.
In response, Hidalgo asked all Harris County residents to stay home, except for any essential needs like doctor visits.
She said she is no longer legally allowed to issue a countywide stay-at-home order, as Gov. Greg Abbott's existing executive orders supersede such a decision. But she said she has caneled all gatherings in unincoroporated Harris County, and advised all residents in other parts of the county to avoid gatherings of any size that consist of people with which they don't share a household.
Hidalgo also urged all vulnerable individuals stay home, including older residents and the immunocompromised, and she recommended avoiding nursing homes and cancelling all nonessential travel.
Meanwhile, the Houston Health Department on Friday announced 879 new COVID-19 cases, bringing the total to 18,056. The department also announced eight new deaths, bringing total to 216.
The case load is the highest it has been since COVID-19 hit the region, and is "more dramatic and more pronounced than it has ever been," Mayor Sylvester Turner said Friday afternoon.
The city was also limiting all outdoor gatherings to no more than 100 people, he added.
"We are becoming the focal point of people all over the country," Turner said.
Turner was joined by other officials, including Houston Fire Chief Samuel Pena, who said the department is seeing a drastic increase in the number of firefighters quarantined for exposure to COVID-19.
Over the last three weeks alone, Pena said that figure has risen 150 percent — and it's affecting the fire department's service.
"Taking over 200 firefighters out of the game, so to speak, is having an impact on our ability to service the calls for this community," he said.
In addition to the quarantined firefighters, another 100 have tested positive for COVID-19. About half have returned to work.
While the department's numbers are decreasing, Pena says the number of calls to transport people to the hospital is increasing exponentially.
The news came the same day that Abbott scaled back much of his reopening plan, ordering all bars to again close as of noon Friday. He also cut allowable restaurant capacity from 75% indoor capacity to just 50% starting Monday. Rafting and tubing businesses must again close, and most outdoor gatherings of 100 people or more must be approved by local governments, according to his new order.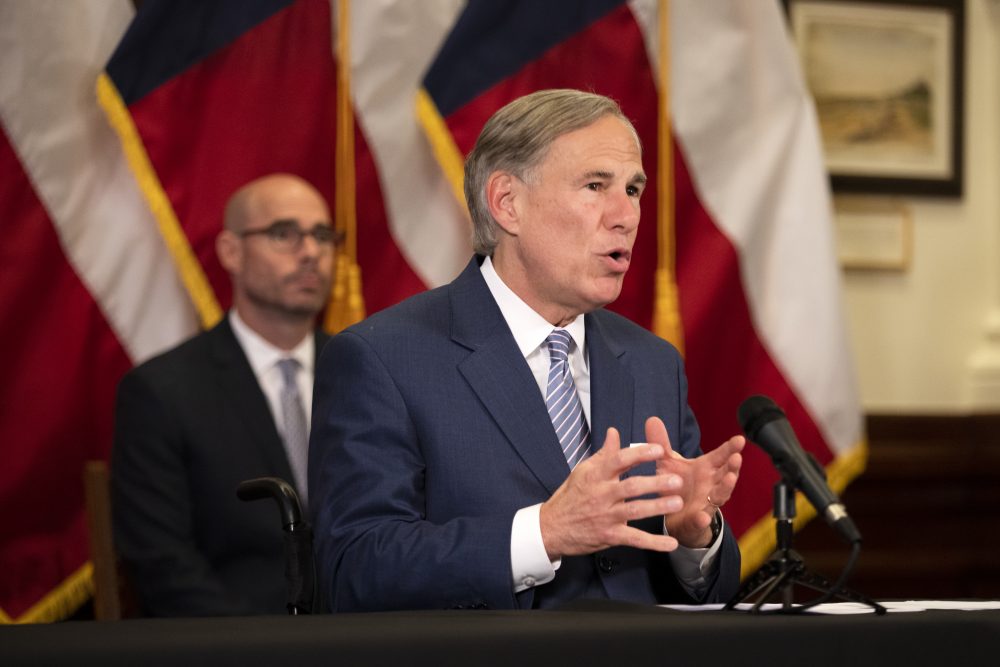 Abbott's backtrack on some of his reopening plan began Wednesday, where he said the state is in the middle of a "massive" outbreak amid record highs in coronavirus cases across Texas. On Thursday, he banned all elective surgeries in hospitals in four of the state's largest counties, and announced that Texas would pause its reopening amid the surge.
He had also said Thursday that businesses already open under previous phases may remain open, but Friday's order scaled that back as well.
Hidalgo has faced roadbocks in the county's response to COVID-19 since the outbreak began. In April, after putting in place a mandate to wear face coverings in public, Hidalgo was sued by a conservative activist, and criticized by GOP politicians including Lt. Gov. Dan Patrick and U.S. Rep. Dan Crenshaw, R-Houston.
The face covering mandate was overturned along with the county's stay-at-home order when Abbott began his phases of reopening.
Hidalgo also attempted to put in place an order to release some people accused of nonviolent crimes from the Harris County Jail, in order to stop COVID-19 from spreading inside the jail and out into the community. That order was again criticized, and almost immediately overturned by an administrative judge. Abbott also issued an executive order banning similar releases across the state, which was later upheld by the Texas Supreme Court.
The county judge on Friday called the lifting of regulations "wishful thinking," and said without a proactive response, public health and economic outcomes would only get worse.
"Nobody who opposes bold steps is providing me with an alternative interpretation of this data," Hidalgo said. "Nobody who opposes bold steps is providing me with any evidence that something short of a full stay-home order will work to avert the crisis right now."
Hidalgo added that while the county was once an example of how to control the spread of COVID-19, it was now an example of what not to do.
"Consider us the canary in the coal mine," she said. "You can look at whats happening here and know that there are no shortcuts to getting around the covid crisis."