The Texas Supreme Court's moratorium on evictions — an order issued in response to the COVID-19 pandemic — was lifted May 18, allowing eviction proceedings to resume across the state.
In many cities, renters are still protected by additional local measures. But in Houston, local officials have not enacted policies to prevent evictions, while COVID-19 cases continue to spike.
And the county's justices of the peace — tasked with overseeing eviction proceedings — have not committed to an eviction moratorium.
"The folks in whose hands this now lies are the justices of the peace. So they have full discretion and authority to postpone," Harris County Judge Lina Hidalgo told Houston Public Media. "I'm hoping that each of the 16 judges commits to doing this. And we were very intentional about writing to each of them individually so folks can see which have committed to do this for the community and which have not."
Earlier this month, Hidalgo and Houston Mayor Sylvester Turner sent a letter to Harris County's 16 justices of the peace, asking them to issue an order formally postponing evictions until the end of August, to align with federally subsidized properties that already have extended eviction protection under the federal CARES Act.
Hidalgo argued it's the JP judges' responsibility to keep people in their homes during a public health crisis.
"All of us have a role to play in our county. We're doing the contact tracing. We're doing the testing. We're doing the work in nursing homes. We are working incredibly aggressively. We're giving aid to people," Hidalgo said. "The justices of the peace can help by postponing evictions."
Harris County has seen more than 7,000 eviction filings since March, according to research by January Advisors. Jeff Reichman, the firm's founder, said that's actually a vast underestimate of the total number of evictions in the area, because countless people simply pack up and leave when they get an eviction notice rather than go through due process.
"Some people don't want to go to court. It's scary to them," Reichman said, "and so it's a less scary option to simply pack up and leave."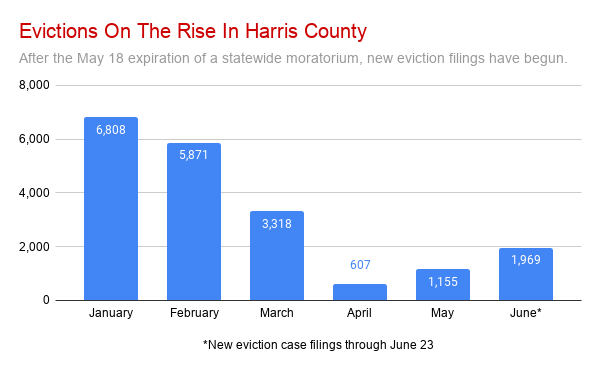 In the Houston area, county and city officials have acknowledged the scope of the crisis, as some housing experts are expecting a "tsunami of evictions" in the coming weeks. Announcing a housing stability task force — a partnership between the city of Houston and Harris County — the county's recovery czar Armando Walle said they're anticipating a "substantial increase" in the volume of evictions as the public health crisis appears to be worsening.
"This is already a confusing and stressful time for people struggling to cover their basic needs," Walle said. "Housing is health care. Housing is a human right. This is especially true during the worst pandemic in a century, when we know social distancing saves lives. Social distancing is not possible if you have no home to go to if you're evicted."
The task force is chaired by Harris County Justice of the Peace Jeremy Brown and Ric Campo of Camden Property Trust, and includes community advocates, city officials, and representatives of the Houston Apartment Association. Reichman, of January Advisors, is one of its members.
It's unclear what specific policies the task force might recommend, given that county and city officials have already declined to take actions that are currently protecting renters from eviction in other Texas cities like Austin and Dallas. Harris County justices of the peace have not issued an order postponing evictions, and the city of Houston has not passed a grace period ordinance giving renters more time to catch up on rent.
The city's $15 million rent relief fund ran out of money in less than two hours, and the county's $30 million relief fund will close applications Wednesday.
When a landlord puts up an eviction notice, many renters leave immediately. But when they don't, the case goes before a justice of the peace, or JP.
Harris County's 16 JPs are elected, and aren't required to hold a license to practice law– Judge Joe Stephens, for example, is a former Rockets player who holds degrees in health education and business, not law, according to his official bio. And a review of campaign finance records found that the majority of the judges' campaign donors are lawyers, landlords, and groups like the Houston Apartment Association, an organization representing landlords.
In fact, the HAA donates to 15 out of 16 of the current judges — including $11,500 to Judge Eric Williams Carter since 2016 and $12,100 to Judge Larissa Korduba since 2014.
While such special interest groups are within their rights to make these donations, and judges are allowed to accept them, that monetary support can give at least the appearance of influence, according to Zoe Middleton, a task force member and Southeast Texas co-director of Texas Housers.
"Real estate is, for the most part, big business and these business people are protecting their interests in ways that aren't financially possible for the individual renters whose votes JPs courted and who they are promised to serve," Middleton said. "Big business doesn't have any moral obligations to renters or public health, but Justices of the Peace do and they have the broad discretion to delay their hearings and keep people housed during a pandemic."
"This isn't 'delaying the inevitable' as some JPs will say," Middleton added. "It's saving lives and keeping households intact."
Like other judges in Texas, justices of the peace defer to the Texas Supreme Court. In a letter, the Harris County Attorney's Office has said the court gave JPs the power to issue an order delaying proceedings during the pandemic, supporting Hidalgo's request.
Houston Public Media asked all 16 Harris County JPs how they're responding to the letter — and only two judges answered. Neither Judge Jeremy Brown nor Judge David Patronella agreed with Hidalgo's request.
"I do have discretion to delay eviction proceedings and I am using that discretion per the Texas Supreme Court's 17th Emergency (order)," Judge Jeremy Brown said in an email, "but in the interest of justice we must take all these factors in consideration in looking at each individual case. However, I will not say I will use (a) broad brush in determining the docket."
Patronella argued that they do not have the authority to issue the order, because while the Supreme Court could have explicitly stated that justice courts and county courts could freeze all eviction cases, they did not.
But Nick Wertsch, an attorney with the Workers Defense Fund, says JPs clearly have the power to do it — because while the state Supreme Court's 15th emergency order said that evictions may proceed, it did not say that evictions must proceed.
"When the justices of the peace say they do not have the authority to postpone eviction hearings during a pandemic, our position is that that's incorrect. They do have the authority," Wertsch said. "The question is whether they're going to use that authority to keep people in their homes."
Heather Way, a law professor at the University of Texas at Austin, is tracking eviction policies across the state. She agreed with Wertsch and points to the Austin area as an example, where Travis County JPs this week issued an order postponing evictions until the end of July at the earliest.
Way said the 17th emergency order issued by the Texas Supreme Court clearly gives JP judges the authority to postpone proceedings.
"The courts can modify or suspend deadlines and procedures until Sept. 30," Way said. "So that order seems to give courts a lot of discretion in terms of how they're going to operate."
Howard Bookstaff — a task force member, general counsel of the HAA and a partner with the firm Hoover Slovacek — agreed.
"The court has given them authority to suspend rules, but only if it's for a COVID-19 transmission reason," Bookstaff said.
But housing advocates say COVID-19 transmission is not the only reason why JP courts need to suspend evictions. Adam Pirtle, an attorney with Texas Housers, has been monitoring the court proceedings that judges are conducting over Zoom.
"It's heartbreaking all the time, but particularly right now," Pirtle said. "In one case last week, a daughter was having to translate for her father who was COVID-19 positive, wasn't able to find work. I don't know what's going to happen to those people."
As the number of COVID-19 cases continues to rise in the area, Wertsch is looking to the months ahead — to the possibility of mass homelessness and more layoffs.
"It's incredibly frustrating that anyone would not use all of the discretionary power they have at their fingertips to keep people safe," Wertsch said. "They insist they don't have this authority, but they won't point to anywhere in the text that actually says they don't have the authority."
"Under the Supreme Court emergency orders they have the authority," Wertsch said. "And it's really a question of whether they'll use it."
Additional reporting by Elizabeth Trovall