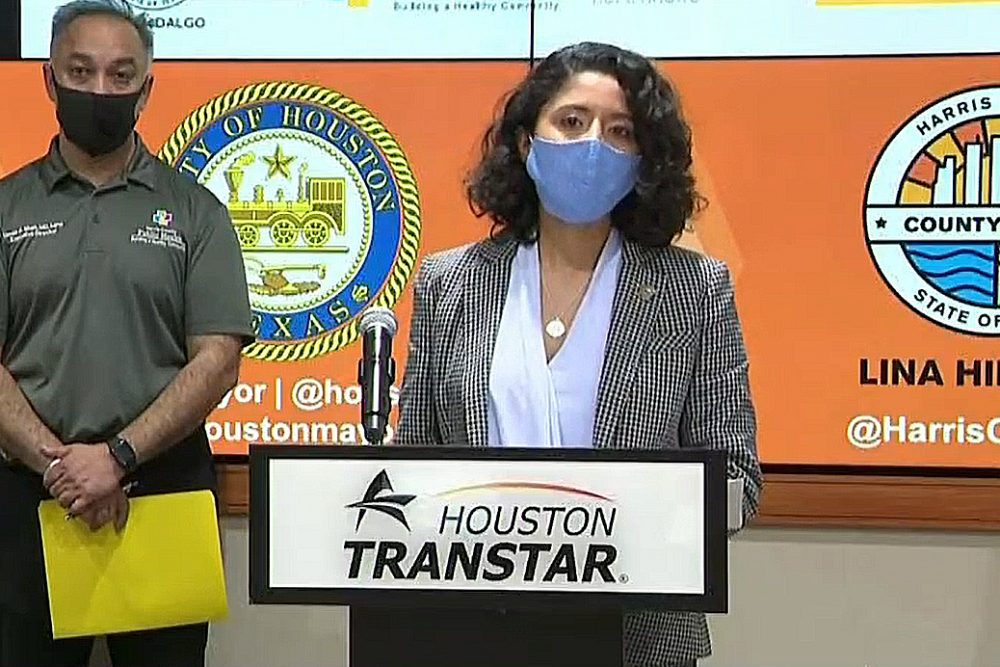 Harris County Judge Lina Hidalgo signed an order Friday mandating businesses require face coverings on all customers and employees, amid a surge in coronavirus cases in the greater Houston area.
The order, first reported Friday by the Houston Chronicle, comes two days after Gov. Greg Abbott revealed such a mandate would be allowed under Texas law. The governor had previously superseded local orders that sought to limit business occupancy and require masks in public, including an earlier order signed by Hidalgo in April.
"This order is not just the right thing to do for our health and safety, it is also good for business," Hidalgo said at a press conference Friday. "It gives businesses a tool they didn't have."
"Every business has a 'no shirt, no shoes, no service' policy," she added. "The idea is to see this as 'no shirt, no shoes, no mask, no service.'"
Under the new order, which goes into effect Monday, all employees and customers ages 10 and older must wear a face covering, except while dining. Other exceptions include while pumping gas, operating outdoor equipment, or while in banks or other buildings requiring security surveillance. As with the previous order, masks are not required while engaging in physical activity outdoors, while driving alone or with passengers who are part of the same household, or when doing so would pose a greater mental or physical health, safety or security risk.
Businesses who do not adhere to the order can be fined $1,000 "per violation," similar to Bexar County's order. But Hidalgo said potential fines would not be levvied against customers, and would only be used as a last resort, as the intent is to "educate" people and businesses, Hidalgo said.
The order will initially be in effect for eight days, pending reauthorization of the county's emergency declaration, which is set to expire at the end of the month.
Hidalgo announced her original order on April 22, mandating people ages 10 and older cover noses and mouths with a mask, bandanna, scarf or other face covering if leaving the house for any reason, with some exceptions. But on May 1, Abbott began lifting such orders across the state, reducing Harris County's madate to a recommendation.
Since that time, COVID-19 cases in the region have increased at a steady rate, with a surge in cases coming after Labor Day.
But Abbott revealed the loophole in his own executive order Wednesday, after Bexar County Judge Nelson Wolff signed his own order mandating masks in businesses.
"There has been a plan in place all along," Abbott told KWTX in Waco. "All that was needed was for local officials to actually read the plan that was issued by the state of Texas. It turned out…that the county judge in Bexar County finally figured that out."
A letter from conservative lawmakers blasted Abbott for a move they said was "enabling Democrats to further oppress struggling businesses with burdensome fines."
"It was disheartening to hear the Governor say he wanted to make sure 'individual liberties' were protected, but at the same time say businesses could be tyrannized," the letter reads.
Hidalgo, who had come under fire from conservative lawmakers and activists for her previous order, asked those critics not to use her latest actions to "score political points."
"I am asking folks to be adult about this," she said. "The idea is not to politicize, to express faux outrage, to try and have a minute in the limelight. Let's work together."