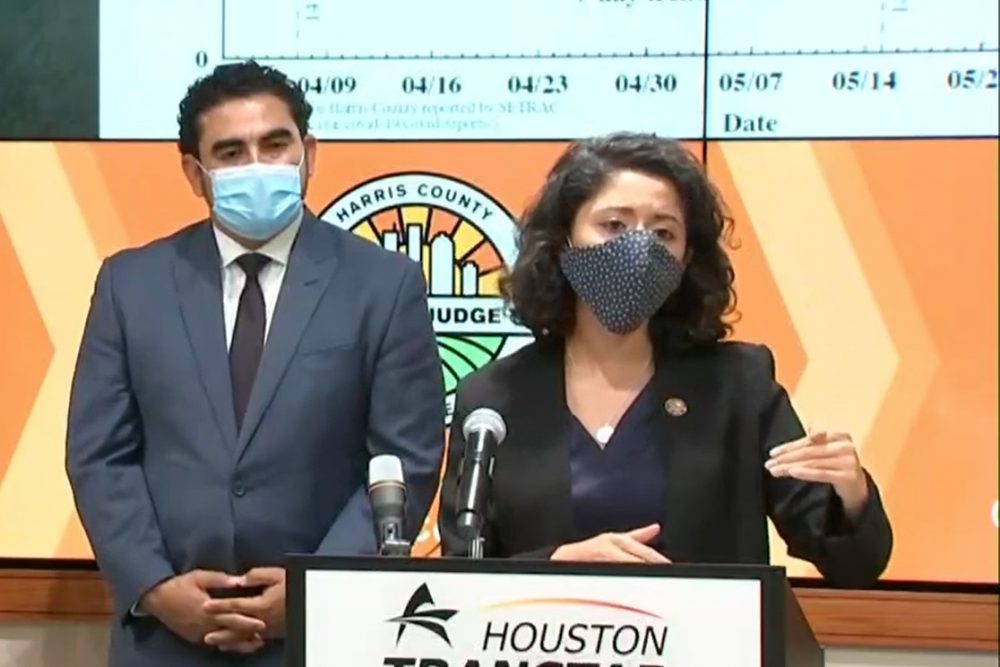 The hospitalization rate in Harris County is at an all-time high, driven by a spike in cases detected since Memorial Day, County Judge Lina Hidalgo said Thursday.
Hidalgo made the announcement during a press conference in which she raised the county's "threat level" to Level 2, meaning a significant, but not severe COVID-19 threat, she said. Threat Level 1 is the most severe, and would constitute a new stay-at-home order, though it was not immediately clear if the county had the power do so after Gov. Greg Abbott superseded such orders.
The ongoing transmission in the Houston region is happening "too quickly for systems to keep up," she said.
"I'm growing increasingly concerned that we may be approaching the precipice of a disaster," Hidalgo said. "This week the COVID-19 general hospital population in Harris County is the highest it has ever been…it was the highest on Monday, and it's gotten worse every day."
ALERT: Harris County is currently at Level 2 (orange): Significant and uncontrolled transmission of COVID-19. Minimize all contacts. Additional guidance at https://t.co/2ukVna5hrO pic.twitter.com/XY0LQV8HzZ

— Office of Judge Lina Hidalgo (@HarrisCoJudge) June 11, 2020
The county judge added that while there is ICU capacity, and hospital beds are not yet in danger of being exceeded, there is danger of a strain on resources. In response, a pop-up medical center at NRG Park is ready to deploy when necessary, with FEMA paying all costs, Hidalgo said.
Harris County stopped using its NRG Park overflow space in April, after criticism that the underutilized facility reportedly worth tens of millions of dollars was an unnecessary cost.
The facility was supposed to be used to combat a potential surge of coronavirus cases. But as cases appeared to plateau, the county decided to "wind down" its use of NRG.
Since that time, Gov. Abbott has begun to lift regulations on Texas businesses, which forced the closure of most nonessential services. Abbott's orders have blocked all enforcement of local ordinances, and both the county's stay-at-home order and an order mandating the wearing of face coverings were overruled by the governor.
The current surge comes just one month after Abbott's move to open more businesses, and a little more than two weeks after Memorial Day weekend, when county officials worried the long holiday would lead to people being less careful in public. Coronavirus symptoms can appear up to 14 days after exposure.
The surge was first reported by the Houston Chronicle, which found that the sudden uptick was preceded by a "plateau" in new cases.
For weeks Hidalgo has warned that "reopening" the Texas economy too quickly could lead to a new surge in cases, which would do further economic damage.
"If we have a second crisis, that's a worse hit for our economy," Hidalgo reiterated Thursday.
The county judge also urged people in Harris County not to attend bars or clubs, and to avoid crowded areas.
Mayor Sylvester Turner said it was more important than ever for people to practice safe social-distancing measures, and to wear face coverings in public — even if it were no longer possible for local governments to mandate such rules.
"People should not assume the virus is under control," Turner said. "It is not."