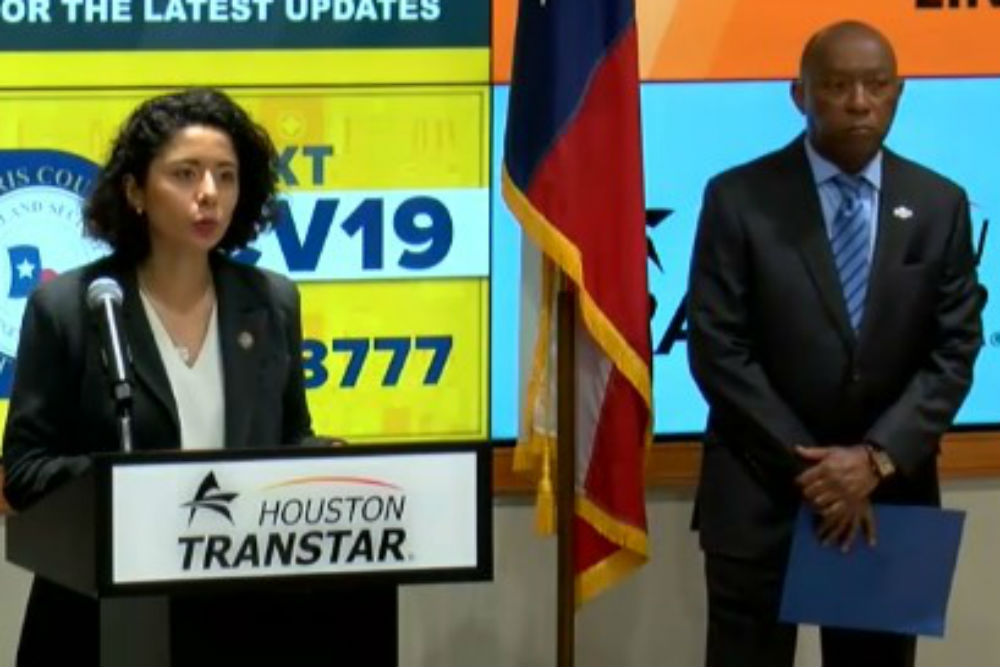 Updated 10:15 a.m. CT Tuesday
Harris County Judge Lina Hidalgo on Tuesday ordered county residents to stay home to stop the spread of the coronarvirus, limiting all outside travel to necessities like groceries and essential work.
The "stay home, work safe order," which goes into effect at midnight, will last until at least April 3, and applies to all cities and unincorporated areas in the county. The order only allows going out in public for groceries, pet food, doctors visits, household items, and certain outdoor activities like exercise, though playground equipment, benches and exercise equipment are not allowed.
The order also follows guidelines set by the Cybersecurity and Infrastructure Security Agency, which limits work to 16 "essential" sectors, including communications, critical manufacturing, chemical, energy, and food and agriculture, among others. The hope is to "maintain the supply chain of these essential sectors," Hidalgo said.
"No one, including myself, wants to be in that position to sign that kind of an order," Hidalgo said. "I know that it will cause hardship, more financial pain, that it will be difficult on top of what we're already facing."
"But on balance we recognize that the minute we end up in a decision where we're having to turn people away from a respirator, from an ICU bed, and choosing who lives and dies, that we don't want to be in that position," Hidalgo added. "That would be catastrophic. And the models we have show us getting to that position where we far exceed the number of ICU beds in this county unless we take drastic steps."
There is also a "retooling exception" for factories who can make health products like hand sanitizer, respirators and surgical masks. Religious and worship services can only be done via video and teleconference, but there are one-on-one exceptions for mental and spirtual health purposes, Hidalgo said. Daycares that provide support for essential employees will remain open.
A previous order requiring restaurants to halt sit-down service remains in effect, and those restaurants may still provide take-out and pick-up service, but must space out customers at six feet.
Businesses who do not comply, and people violating the order and putting others at a health risk, could be hit with a fine and up to 180 days in jail, Hidalgo said.
The judge said her decision came after discussions with doctors from the University of Texas' School of Public Health, whose models suggested the county would have to act swiftly to prevent a larger outbreak like what is happening in New York. That state has seen more than 20% of all tests confirmed positive for COVID-19, federal health officials said at a Monday news briefing.
The announcement came just two days after Dallas County announced a shelter-in-place order for its residents effective March 24. Leaders in Travis County and Bexar County have also indicated they are drafting stay-at-home orders.
On Twitter, #Houstonlockdown started trending Monday night as residents urged Hidalgo and Mayor Sylvester Turner to issue a shelter-in-place order.
But the city and county stopped short of labeling the order a shelter-in-place order, with Turner saying the term should only be used for mass shootings, weather disasters, chemical explosions and other disasters.
The Texas Medical Center will remain open, as would the Port of Houston, Turner said.
"Those critical workers and others will be allowed to continue moving back and forth in the community, because we must balance our health care concerns with economic realities," Turner said.
Not everyone agreed with the order. In a statement Monday addressing rumors of the order, State Sen. Paul Bettencourt said he believed people were already socially isolating, and that a shutdown order would be too damaging economically.
"Taking sweeping action against a broad spectrum of medium and small size businesses, the backbone of our local economy, with a shelter in place order eliminates the chance to take a targeted, measured, data driven approach to achieve better social separation results and far less economic disruption," Bettancourt said.
But Turner pushed back on that criticism Tuesday, saying the order was striking a balance between public safety and the economy.
"That's not a shutdown, it's simply being smart, and being strategic," Turner said. "But neither is this the time to be trying to second-guess, or quarterbacking from the back row. The reality is this is a new situation, it is a new challenge, and we all have to be nimble and fluid."