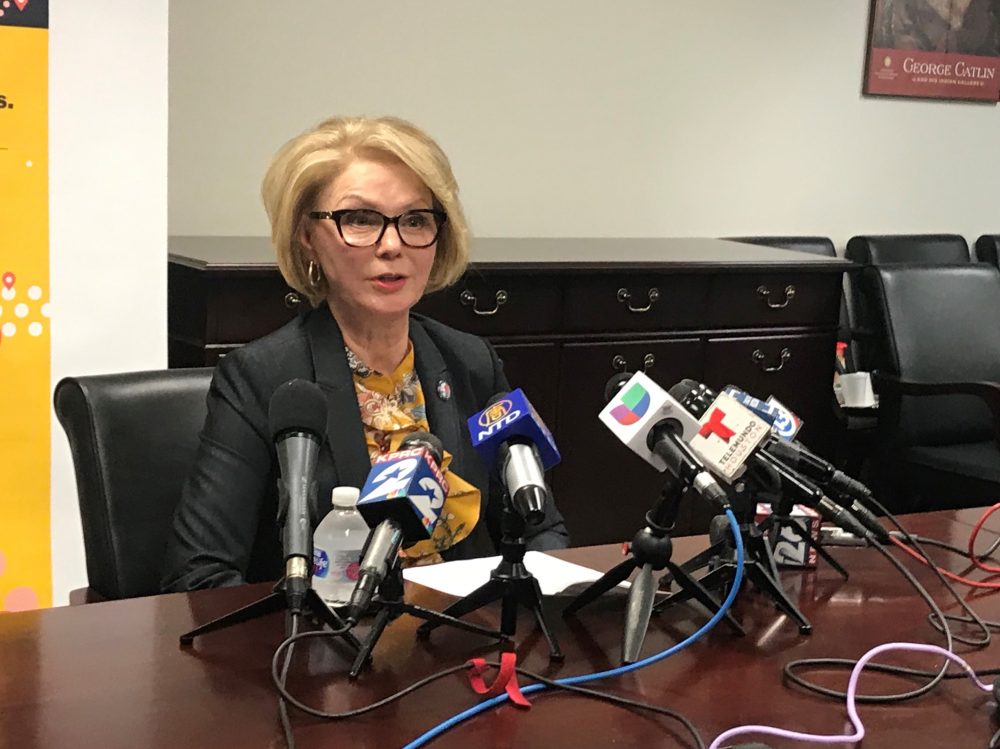 Election Night last week was a late night in Harris County. It took almost 12 hours to report results when things didn't go according to plan for the new County Clerk Diane Trautman, a Democrat who was first elected in 2018.
While Trautman blames the delay on politics and a last-minute advisory from the Texas Secretary of State, others maintain her system for counting votes wasn't secure and needed to be addressed.
Trautman said it took several months for her office to develop their process for tabulating votes. "All the way, our County Attorney was advising us that this was a perfectly legal process and per the election code," Trautman said.
Trautman's office made some changes to the way the county transmits results — from a modem system to an intranet network. Paul Simpson, chair of the Harris County Republican Party, said those changes violated the state's election code.
"What the County Clerk was going to do, and may have done in May 2019 without our knowledge, was connect it to what they call an intranet, but it is an external network that can be hacked into," Simpson said.
Not true, said Douglas Ray with the Harris County Attorney's office.
"They asked me if it was legal," Ray said. "I looked at the statute, and I said, 'Okay, this transmission, is this an external communication network like the internet?' They said absolutely not."
Ray said he interpreted the plan to be secure and legal.
"I still personally think that the network that we intended to use is still in compliance with the statute," Ray said.
Nonetheless, Harris County had to change the plan dramatically on October 23, when early voters had already started casting ballots. The Texas Secretary of State issued an advisory to all counties requiring that they make copies of data before transmitting results electronically.
In a letter to Commissioners Court on November 11, County Attorney Vince Ryan explained:
"The advisory permitted the electronic transmission of the results only after a 'secondary copy of the results' was made so that the original memory cards containing the results would never be connected to a transmission device that was connected to the voting system. Election Advisory No. 2019-23 Section 7(5Xb). SOS Director of Elections Keith Ingram confirmed in a telephone call on November 4 that this meant that the prior method of transmitting the data via telephone lines connected to a device containing the original memory cards was not acceptable under this advisory because the telephone system is external to the voting system."
Harris County didn't have equipment to make those copies and there wasn't enough time to get it. So that's why, Trautman said, instead of her plan, they ended up using a process of physically transporting all the data to one location, then feeding all the cards through one machine, which took all night and well into the morning.
He said, she said
"The one [system] that my predecessor used last November was over a cellular network, which is the internet. So he was violating this 10-year law that the Secretary of State brought up," Trautman said.
Her predecessor, Stan Stanart, was a Republican, and she believes the advisory from the state was a political move.
"It's curious to me why the Secretary of State started enforcing this law once I took office and not before," Trautman said.
And she believes she knows how it happened.
"I believe it's common knowledge that the Secretary of State admitted to our County Attorney that the Harris County Republican Party put pressure on the Secretary of State to make this last minute advisory," Trautman said.
On November 1, the Harris County Republican Party issued a statement in response to Trautman's pushback against the advisory: "Thanks to the efforts of Harris County Republican Party's Ballot Security team, Clerk Trautman's attempt to circumvent the law has been stopped."
But Simpson, the Harris County Republican Party chair, denied that the party influenced the state's decision to issue the advisory.
"The advisory went out before the Republican Party was even involved," Simpson said. "To my knowledge, we didn't ask for any advisory."
Simpson said not only did Trautman's plan not comply with the law, it was also less secure than the prior system.
"There had never been a problem. Nobody can hack into that system," Simpson said.
Dan Wallach, a computer science professor at Rice, studied the previous system back in 2007.
"We found that this particular modeming process was really not secure," Wallach said. "And that has been used unmodified despite our findings for a decade."
What's next
Wallach said, from his perspective, Harris County is basically in a transition period.
"The Harris County Clerk's office is doing their best to maintain an ancient voting system, to get it across the line through 2020, and they've already started the ball rolling on purchasing a replacement system," Wallach said. "Between now and four years from now, the paperless electronic voting machine is going to become largely obsolete."
But Simpson said his party isn't on board with those changes because the replacement system uses paper.
"It can still be lost and distorted, as we know was the case back when we had paper ballots," Simpson said. "And those of us who lived through the paper ballot days don't want to go back to them."
With a runoff election right around the corner, early voting starts in a matter of weeks. On Monday night, the Harris County Republican Party passed a resolution, a no confidence vote in Trautman, and they're calling on the Secretary of State to provide oversight of the runoff election, which is scheduled for December 14.
Trautman said her office is working on a plan to have quicker results in time for the runoff.
"We are focused on addressing issues from the past election and working with our vendor to replace the original reporting process we had with a new one," Trautman said. "We are currently reviewing processes and have a plan moving forward to address getting expedited returns for the upcoming runoff election on December 14 and complying with the Secretary of State advisory. This plan will include moving the Central Counting Station to a centralized location where dropoffs can occur."
Early voting in the runoff election begins on November 27.