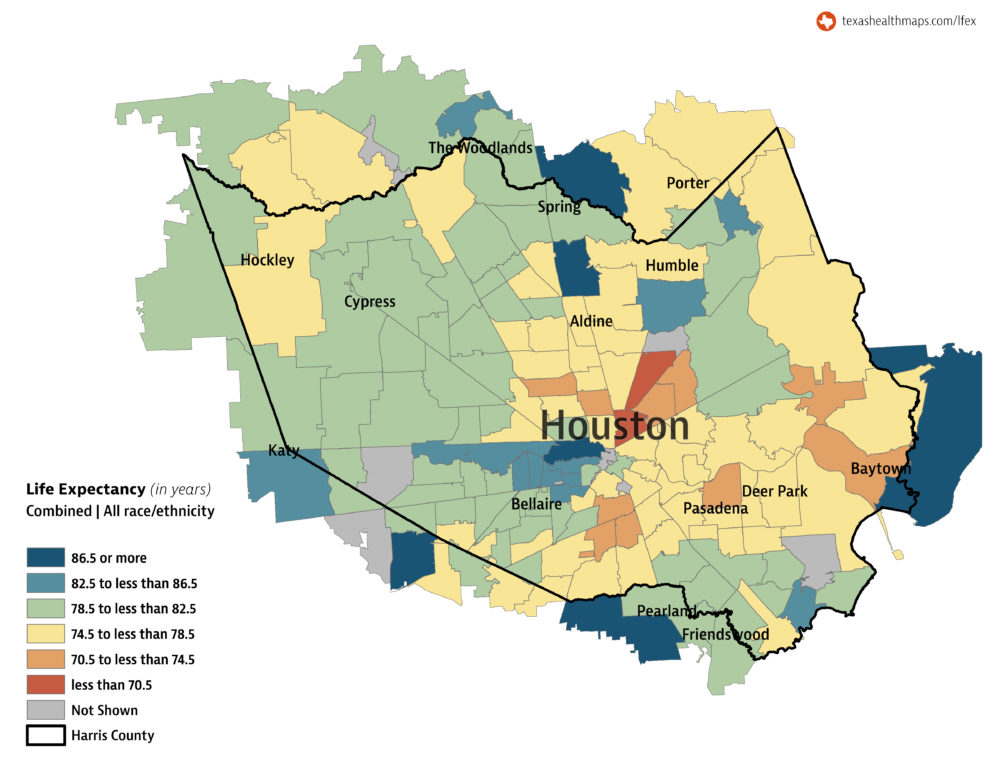 Life expectancy in Harris County can vary by about 20 years between ZIP codes, according to new research by UT Southwestern Medical Center in Dallas.
Across the county, the average life expectancy is 78.9 years. But the researchers found it ranges from 69.8 years in the 77026 ZIP code, which encompasses Kashmere Gardens, to 89.7 years in the 77073 ZIP code, which includes an area along the Interstate 45 corridor, north of Greenspoint Mall.
In Texas, the numbers vary even more – up to 30 years between some ZIP codes. While the statewide life expectancy is 78.5 years, the longest life expectancy is in the 78634 ZIP code in Hutto, Texas (97 years). The 76104 ZIP code in Forth Worth has the shortest (66.7 years).
Dr. Sandi Pruitt, an Assistant Professor of Population and Data Sciences at UT Southwestern and the lead investigator of the study, said she found the results "striking."
"The idea to show life expectancy down to the ZIP code level was really to dig into the variation that we suspected was there," she said. "I think we all knew that we could observe some variation, but that was quite large."
Pruitt said more research is needed to better understand the discrepancies, but one factor they did look at was neighborhood poverty rates.
"That's a known factor that's related to life expectancy," she said. "And what we find is that in ZIP codes across the state with very low poverty — less than five percent of their population live in poverty — the mean life expectancy was 82.4 years."
However, in ZIP codes where over 20 percent of the population lives in poverty, the average life expectancy was just 76.4, she said.
"What we hope is that different communities are able to explore these maps and to learn more about the health in their own backyard," Pruitt said. "And that they'll be able to think through possible reasons why this is happening."
In addition to mapping life expectancy by ZIP code, the data also tracks how gender and race/ethnicity impact average lifespan.
Women in Texas live an average of 5.2 years longer than men. And Hispanic life expectancy was three years longer than white life expectancy and 5.9 years longer than black life expectancy.
Explore the full interactive map, here.