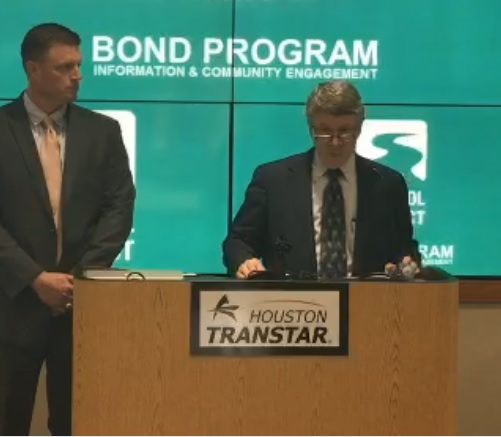 Harris County Judge Ed Emmett said Wednesday the flood recovery and flood risk reduction projects included in the bond program that will be presented to voters on August 25th amount to approximately $2.5 billion.
Emmett and Russell Poppe, executive director of the Harris County Flood Control District (HCFDC), held a press conference at Houston Transtar to provide details on the plan the county has devised.
The projects have a wide variety of goals that include major repairs to flood-damaged drainage infrastructure and channel modifications to improve storm water conveyance, as well as voluntary buyouts of flood-prone properties and the upgrade of the county's flood warning system.
According to Emmett, another key piece of the program the county has devised is the funding of a "major study" to find out what are the real flood plain maps in the region, by studying, among other things, where the old creeks, tributaries and minor watersheds are located.
Some of the projects would be eligible for federal funding.
The Judge underscored that, after the massive damage Hurricane Harvey caused, "ultimate recovery is mitigation like this, making the community resilient."
Nonetheless, Emmett also noted that the tendency to flooding in Harris County has to make people aware that Harvey hasn't been the only problem we have had or will have in the future. "We can't just think about Harvey. We had Memorial Day, we had Tax Day. Nobody thinks that this was gonna be the last major rain event or flood event that we're gonna have."
Additionally, Emmett emphasized the input and feedback from Harris County residents is a crucial part of the process toward the election and, in that regard, he announced there will be at least 23 "engagement meetings" –corresponding to the county's 23 watersheds– to discuss the projects included in the bond proposal.
The first meeting will be held on June 5th at the Hiram Clarke Multi-Service Center and Emmett expects the meetings to be completed by August 1st.
The Harris County Flood Control District has created a section within its website with information about the bond program.
The Harris County Commissioner's Court is expected to vote on June 12th to place the 2.5 flood bond issue on the August 25th ballot.
A news release from Emmett's office detailed that, if voters approve the bond, issuance of the bonds would be spread over 15 years and the expected Flood Control tax increase for most homeowners would be limited to 1.4 percent or less.
You can watch Judge Emmett's press conference here:
LIVE with @hcfcd flood control officials to announce details of upcoming flood bond issue. https://t.co/0bUmZWiM5a

— Official Ed Emmett (@EdEmmett) May 30, 2018