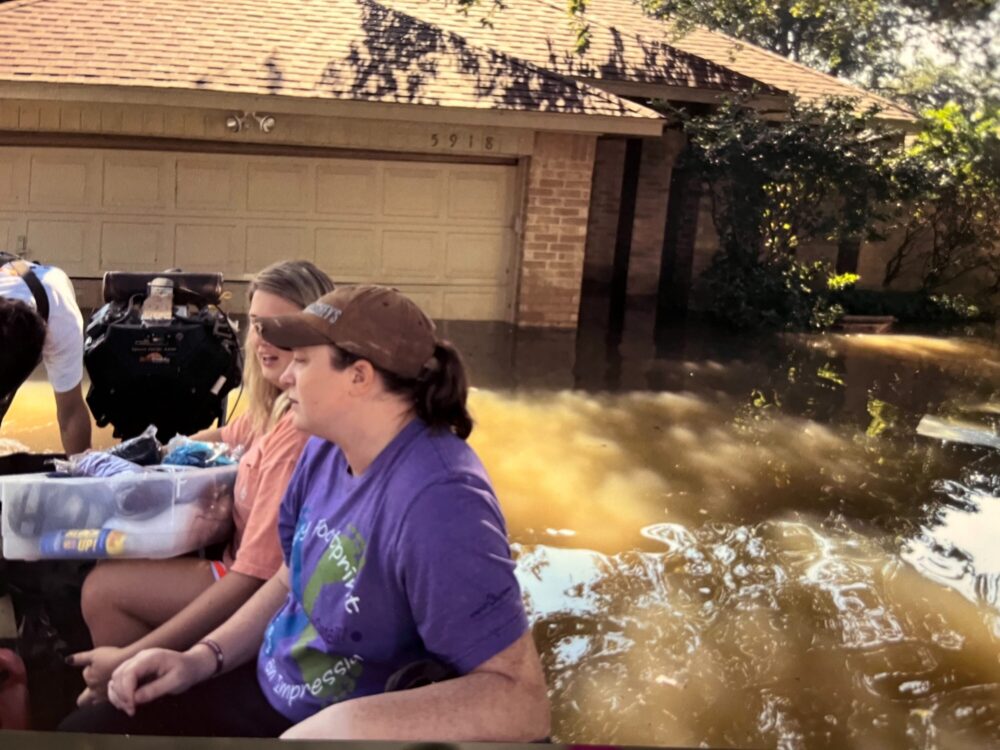 For a detailed explanation of how the Addicks and Barker Reservoirs flooded people's homes during Hurricane Harvey, and of what's being done to try and prevent similar floods in the future, check out Episode 2 of Houston Public Media's award-winning podcast, "Below the Waterlines."
This August will mark six years since Hurricane Harvey struck Houston. It will also mark the deadline for thousands of people to sue the federal government if Harvey caused the Addicks and Barker Reservoirs to flood their homes or businesses. Surprisingly many are passing up their last chance to seek compensation.
Maria Perez and Lisa Johnson bought their home in the Concord Bridge subdivision of northwest Houston nine years ago, not long after they married. At the end of their block was a sign that read, "Addicks Reservoir." Maria said they didn't really think about what that meant.
"When we bought the house, they checked that it had not flooded in a thousand-year record," she said. "So, I guess maybe we weren't concerned about it so much."
What it meant was that they were inside the Addicks Dam, so when Harvey hit, more than three feet of water flooded their home. Lisa lost her grandmother's China cabinet. Maria, whose wedding dress was ruined, was plagued by asthma attacks during the cleanup. But the worst affected was their eldest son, then aged two.
"My two-year-old, he lost all his speech. He couldn't talk anymore. He would point at the door and cry every night wanting to leave the hotel," Maria said.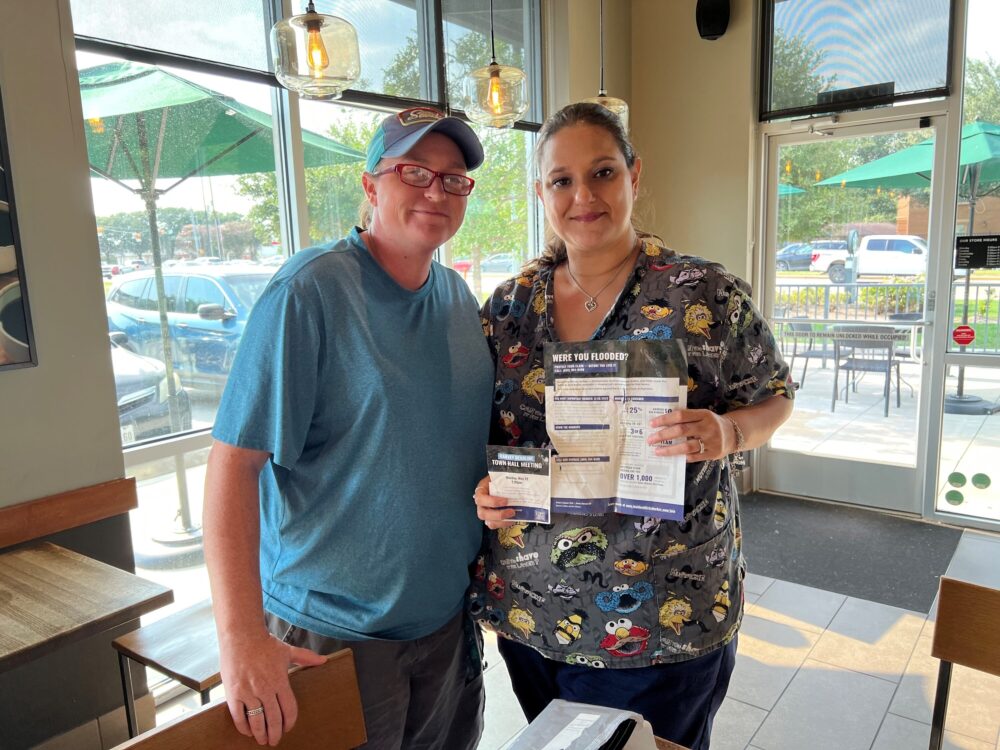 Maria and Lisa suffer from PTSD whenever there's a thunderstorm. They're still struggling with home repairs, which is one of the reasons they decided to join a lawsuit against the U.S. Army Corps of Engineers.
"There is a protection in the Constitution," said Daniel Charest, co-lead counsel for the plaintiffs, who recently held a town hall to educate potential clients. "It's called the Takings Clause. It's in the Fifth Amendment. And the actual text is right here: 'nor shall...private property be taken for public use without just compensation.'"
Charest argued the Corps had illegally taken private property without paying for it because they designed the dams to flood up to people's homes. The agency didn't buy enough of the land on the outer bands of the reservoirs where over the years many homes were built.
The result, Charest said, was that the government had imposed what's called a "flowage easement" – the right to put water on people's property whenever it chooses, for as long as it wants to, as long as it does not do so permanently.
"The flooding of your homes was of no significant problem for the government," Charest told Addicks and Barker homeowners at the town hall. "And the reason for that is that their fundamental design concept was to use private property to store this public water. It was the design concept, because they never bought enough land. It wasn't a question of miscalculation."
Charest and his co-counsel, Charles Irvine, explained that the Corps saw its responsibility as preventing the water within the reservoirs from breaking through the Addicks and Barker Dams and unleashing a catastrophic flood that would threaten millions of residents and businesses within the city of Houston itself.
"If you didn't live there, and you thought about it, and you said, 'Okay, well, should we flood these two neighborhoods...in order to save billions and billions of dollars downstream and hundreds of lives?'" Charest said. "If it wasn't your house, you'd say, 'Yeah, that makes sense from a governmental perspective.' And it was a governmental decision to do that. But when you, the smaller group, have something taken from you, you're asked to bear alone these public burdens that benefit everybody else, that's the notion of the taking."
A federal judge agreed. But to get compensation, property owners have to each sue. And of the 12,000-odd properties that flooded there, fewer than 5,000 owners have filed claims.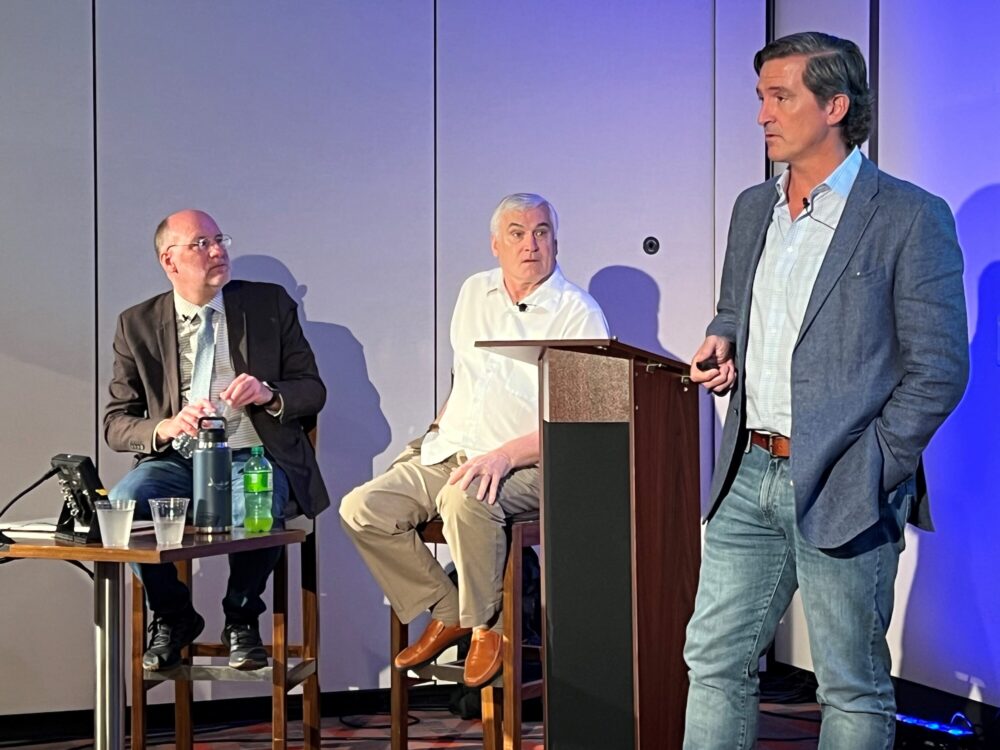 "The almost universal response is they do not want to go through yet another extensive paperwork exercise which will yield them nothing," said Bill Cook, a former Bear Creek Village resident and flood advocate. He sold his home and moved after the Addicks Reservoir flooded it. "The Harris County Recovers program burned many people out with paperwork."
Many who are eligible to sue have been overwhelmed by trying to get their lives back on track. Rocio and Jose Perez, no relation to Maria, also own a home in Concord Bridge. Rocio says Jose nearly died from a bacterial infection he caught while cleaning out their home after the Addicks Reservoir flooded it.
"They told him that he was going to die because he had E.coli, and it had got all in his organs, in his system," Rocio said.
They were struggling to rebuild, and they were only able to manage it by getting deferments on their mortgage payments. Suing the federal government felt impossible.
"I didn't want to go through all that. Put another thing on my plate. So, I really didn't care for it," she said.
In the end, Rocio and Jose Perez decided to sue because it was the only hope they had of rebuilding. "Every little nail we hammered in that house, I have those receipts," Rocio said. "And that's why I told my husband, well, if they can give us some of that money...my house is decent, but it's not back to where we want it."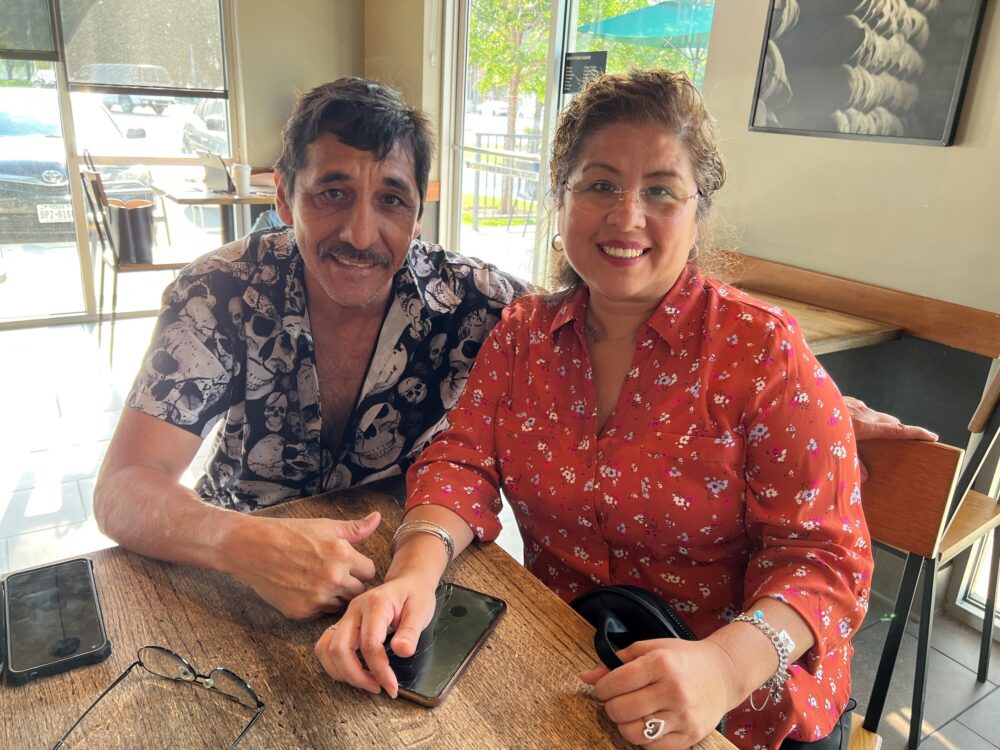 Maria Perez joined the suit because it's the only way she and her family can raise the money they need to buy a new home somewhere safer.
"There's, literally at the end of the block, there's a sign for the Addicks Reservoir, and it's a daily reminder. Every time I come out (on) my street, at the stop sign, it's right in front of me, and it's a daily reminder of what could possibly happen again," Maria said.
The federal government is appealing the ruling, and if it wins, none of the owners will get a dime. We reached out to the Justice Department, but they declined to comment due to the ongoing litigation.
The statute of limitations for property owners to sue in this case is six years. That runs out August 28th.
"People in the upstream area (i.e., inside the Addicks and Barker Dams) who do not file will lose their right (to sue) forever," if they miss that August 28th deadline, said attorney Charles Irvine. "Those flowage easements will be claimed by the federal government for nothing. You will face insurmountable obstacles to try and claim compensation in the future."