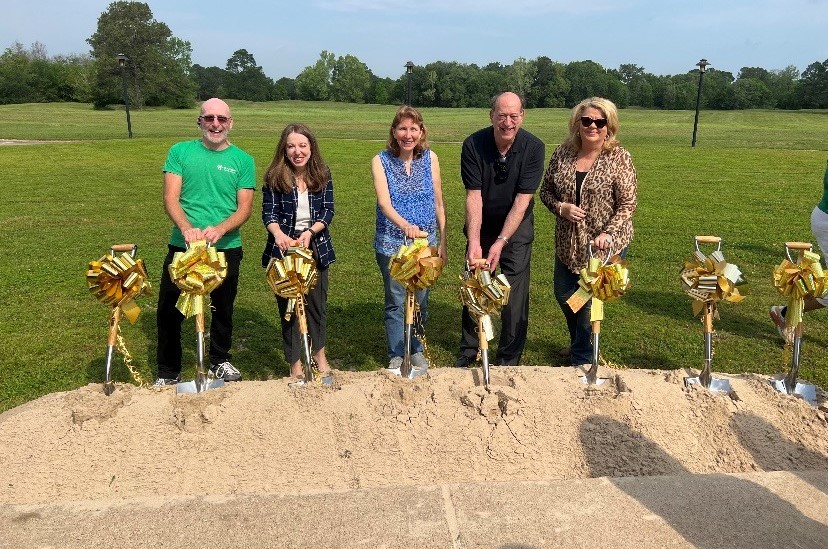 City of Houston officials have long wanted to use a former golf course property to help mitigate flooding in a part of town often inundated by stormwater.
More than a decade after the city purchased that land, its vision is finally coming to fruition.
Construction for the Inwood Forest Stormwater Detention Basin Project, a series of 12 interconnected basins in Northwest Houston, is expected to start later this spring, according to Stephen Costello, the chief recovery officer for Houston Mayor Sylvester Turner. The $80 million initiative uses federal funding and is a joint effort between the city and Harris County Flood Control District, with county commissioners approving a construction contract for the work at their March 14 meeting.
Turner said during a ceremonial groundbreaking last week that the project – which will have enough storage capacity for about 1,200 acre-feet of stormwater, or more than 391 million gallons – will reduce flooding risks for more than 4,400 residential and commercial structures along the White Oak Bayou and Vogel Creek watersheds.
"This is going to be a game-changer for the entire Inwood area when it comes to flood mitigation," said Houston City Council member Amy Peck, who represents the area. "Before this project, even just a little amount of rain really caused people to have flooding in their homes. Once it's done, it's going to (hold) enough water to fill the entire Astrodome."
Costello said the Inwood Forest project is one of four in Houston to receive hazard mitigation grant funding from the Federal Emergency Management Agency (FEMA) since Hurricane Harvey brought widespread flooding to the region in 2017, and the first among those initiatives to move toward construction. The other three projects will add new gates to the Lake Houston Dam, create a subterranean detention basin in the Memorial City area and divert some White Oak Bayou channels around parts of downtown, according to Costello.
FEMA is contributing $35 million toward the Inwood Forest project, with the city and Harris County splitting the remainder of the cost, Costello said. Construction is expected to last about two-and-a-half years, according to a news release from the city.
City officials have envisioned the series of detention basins since purchasing the former Inwood Forest Golf Course in 2011. In the years leading up to that, Peck said nearby residents thwarted a proposal to convert the flood-prone land into multi-family housing.
"Some people have moved out of the neighborhood (because of repeated flooding events)," Costello said. "Hopefully we'll start getting neighbors moving in. Hopefully this is part of a revitalization of that neighborhood."
In conjunction with the detention project, which will be on both the east and west sides of Antoine Drive, the Houston Parks Board is using funding from the city and county as well as a donation from the Brown Foundation to construct recreational amenities along Vogel Creek to the east of Antoine. The plan includes a 1-mile hike-and-bike trail between Victory Drive and Council Grove Lane with parklets, benches, exercise stations and landscaping along the way.
That work will be completed at a cost of about $6 million, according to Houston Parks Board president and CEO Beth White, who said construction should start around the same time as the detention basins and last between 7-9 months. White said the long-term vision for the forthcoming Vogel Creek Greenway is to connect it to the White Oak Bayou Greenway to the west.
"It's going to be a wonderful addition to the neighborhood," White said. "I think it's really laudable, the community and neighbors who have really embraced this project and worked with us through the design process."
Inwood Forest Golf Course was converted into a disc golf course after its closure, and disc golf remains part of the plans for the land, according to the city. Costello said an area near the detention basins also has been earmarked for a First Tee youth golf facility with either a driving range or par-3 course.
Peck said the forthcoming work will not displace any homes or businesses, since it is being done on existing green space, but those nearby will be forced to deal with noise and traffic created by construction.
"There's going to be construction in the area for a long time, but it's necessary," Peck said. "I definitely understand frustrations with that. Our office is always here to assist if there are issues with that construction, but it's definitely needed."