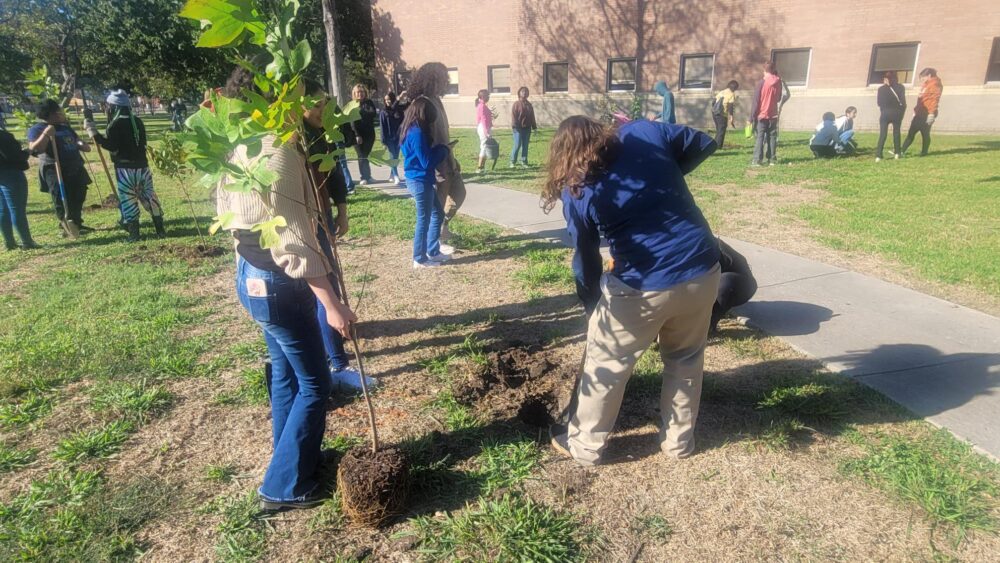 There's a new air monitoring system funded by a three-year EPA grant for neighborhoods at high risk of hazardous air pollutants in southeast Houston.
The new system was announced while residents and representatives planted new trees, mainly Live Oaks, for Cesar Chavez High School during Texas Arbor Day.
The nearly $500,000 grant will fund monitoring systems for neighborhoods surrounding the school like Park Place, Meadowbrook and Allendale, and Pecan Park. Air Alliance Houston executive director Jennifer Hadayia said the new monitors will be able to detect carcinogens on a neighborhood level for the first time.
"A carcinogen is a substance, whether it's inhaled or any kind of exposure... consumed, what have you, that is known to cause cancer. And there are several air pollutants that are known carcinogens," Hadayia said.
She said there are various reasons why the neighborhood might have these harmful pollutants, and they have seen an increase of industrial pollution in recent years because of the expansion of nearby petrochemical plants.
"It's also coming off of the major freeways that surround this neighborhood. It's also due to what we call backyard polluters. There are a number of smaller companies in these neighborhoods like concrete plants and body shops and things of that nature," Hadayia said.
She said the new monitors will be set up at the beginning of 2024 and will likely see results in the summer. Hadayia said from there, results would come out every six months.
"Seeing if those trends change, seeing if from the community actions from the community awareness from the work that we will also do with residents to make change, do we see improvements over time?" she said.
President of Houston Wilderness, Deborah January-Bevers, said the roughly 450 trees her team brought to be planted at Cesar Chavez High School are native to the area and will absorb the pollutants in the region.
"Our native trees, and particularly our native supertrees, they are the 14 native tree species that are highest in greenhouse gas absorption, carbon absorption... and water absorption. They also provide a tremendous amount of canopy," she said.