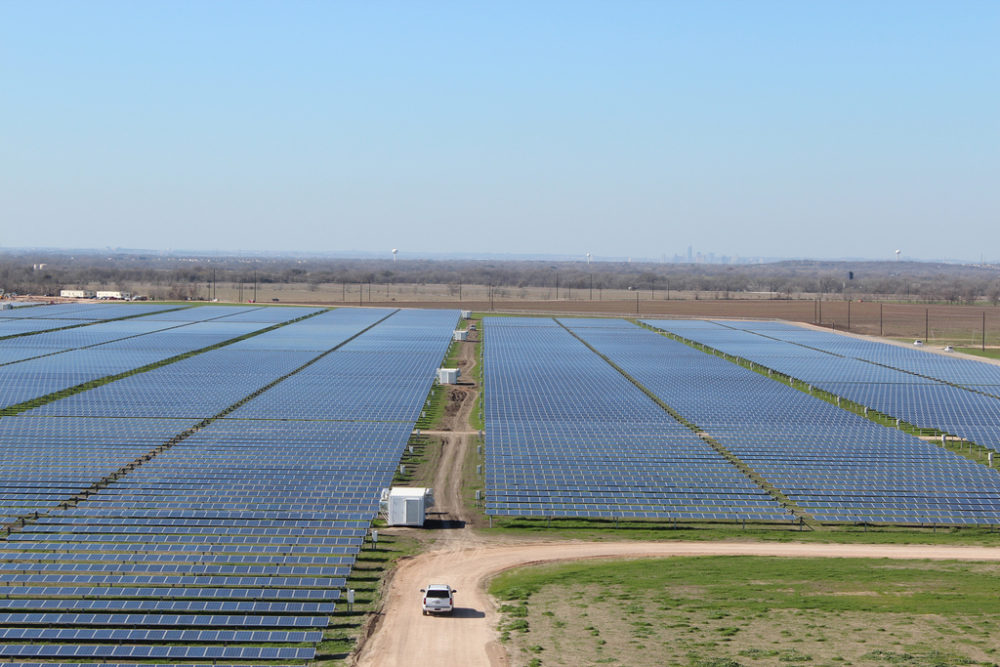 A company building a 134-megawatt solar farm northeast of Houston announced this week it has closed $200 million in financing for the project, which will expand solar energy capacity in a power grid operating system that serves as a small part of Texas as well as 14 other U.S. states.
Recurrent Energy said in a Tuesday news release that its Liberty Solar project, located about 50 miles northeast of Houston in Liberty County, is expected to come online next year. The company previously announced it had secured purchasing agreements for 100 percent of the forthcoming farm's production capacity, which will generate enough solar electricity to power roughly 20,000 homes.
Recurrent, a U.S. subsidiary of Canadian Solar, said the Liberty County project is receiving construction debt, a letter of credit facility and a term facility totaling $120 million from Rabobank, Nord LB and U.S. Bank. U.S. Bancorp Impact Finance, a subsidiary of U.S. Bank, will provide $80 million in tax equity financing, which offers tax benefits for investors.
"We are thrilled to deepen our longstanding relationship with Recurrent while expanding clean energy infrastructure in the state of Texas," Eric Barr, the vice president of business development for environmental finance for U.S. Bancorp Impact Finance, said in the news release. "Recurrent's partnership is critical in our efforts to create a more sustainable future for communities nationwide."
Liberty Solar is part of a rapid expansion of the solar energy industry in Texas and beyond. Earlier this year, Swift Current Energy announced it had closed financing for an upcoming 195-megawatt solar farm along the Gulf Coast in Calhoun County, which is between Houston and Corpus Christi. An ongoing project in Houston's Sunnyside neighborhood is converting a former landfill into one of the largest urban solar farms in the country.
Liberty Solar will provide power to the region served by the Midcontinent Independent System Operator (MISO), which includes most of Liberty County, some other areas north and east of Houston as well as Louisiana, Arkansas, several states in the Midwest and the Canadian province of Manitoba. Most of Texas is part of the power grid operated by Electric Reliability Council of Texas (ERCOT).
Solar energy currently accounts for about 1 percent of the resource mix utilized by MISO, according to Recurrent.
"Liberty Solar is a strong project in MISO, a growing market for solar energy," Recurrent CEO Ismael Guerrero said.
Recurrent announced in May that it had signed power purchase agreements with a consortium of five companies to account for all of Liberty Solar's expected production capacity – Autodesk, biotechnology company Biogen, EMD Electronics, home good retailer Wayfair and an unnamed "large healthcare company."