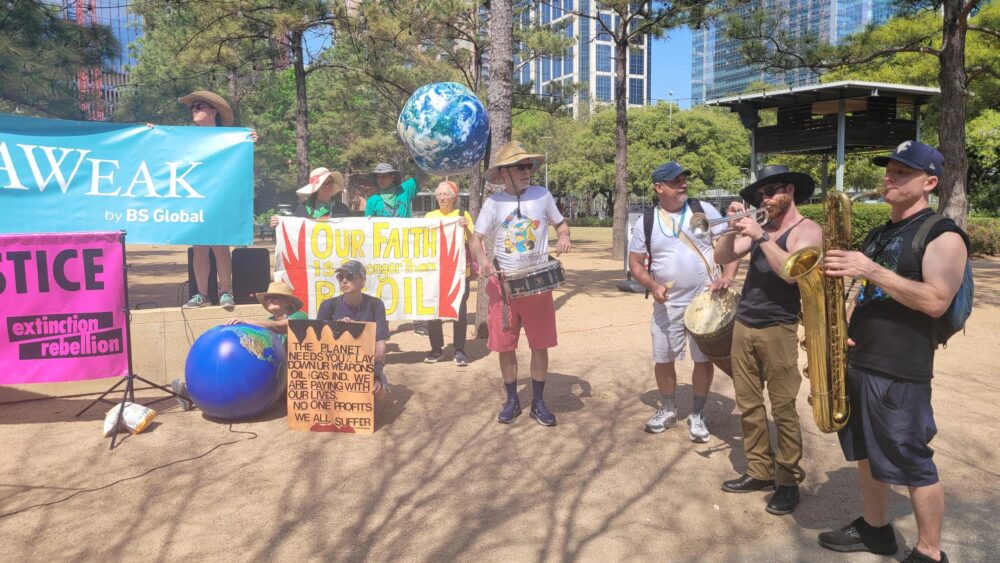 A crowd of activists protested Wednesday against this year's CERAWeek by S&P Global energy conference hosted at Houston's Hilton Americas Hotel.
The protest had four key points activists wanted to address. They were calling on the Biden Administration to stop approving new fossil fuel infrastructure projects, commit to meet with leaders from environmentally impacted communities along the Gulf Coast, invest in a transition to clean energy with union jobs, and respect Indigenous rights and sovereignty.
One of the protest organizers, Earthworks, is striving to dismantle injustice and oppression through clean energy that is responsibly sourced.
Manning Nelson Rollerson was one of the activists and said he'd like more transparency about a Freeport LNG explosion that happened in June last year.
"I was standing in my yard when this happened and there was no kind of warning systems," he said. "I live in a community where there's 15 petrochemcial plants. There's no accountability, so we've been living like this for quite a long time."
Freeport LNG was recently cleared to restart commercial operations. The company also announced it would activate the final part of its liquefication facility about 50 miles south of Houston.
Another activist, Pervez Agwan, is running for U.S. Congress with a campaign he said will focus on fighting for a just, equitable and sustainable Houston. He spoke about a green Houston at the protest.
"There shouldn't be cancerous clusters in the Third Ward. There should not be dirty air in Gulfton," he said. "There should be trees covering these neighborhoods. That's what a green, new Houston represents to me."
Agwan said solar is the cheapest energy available and Houston could go completely renewable by 2030. However, he said fossil fuel lobbyists have prevented that so far.
One of the organizers, Jaime Lawson, is the community outreach and events chair for Houston Climate Movement. She said in order to be sustainable, businesses need to meet the triple bottom line, which she summarized as having to be economically sound.
"It has to be socially equitable," Lawson said. "And that has been left out of the environmental movement for way too long."
CERAWeek continues through Friday.