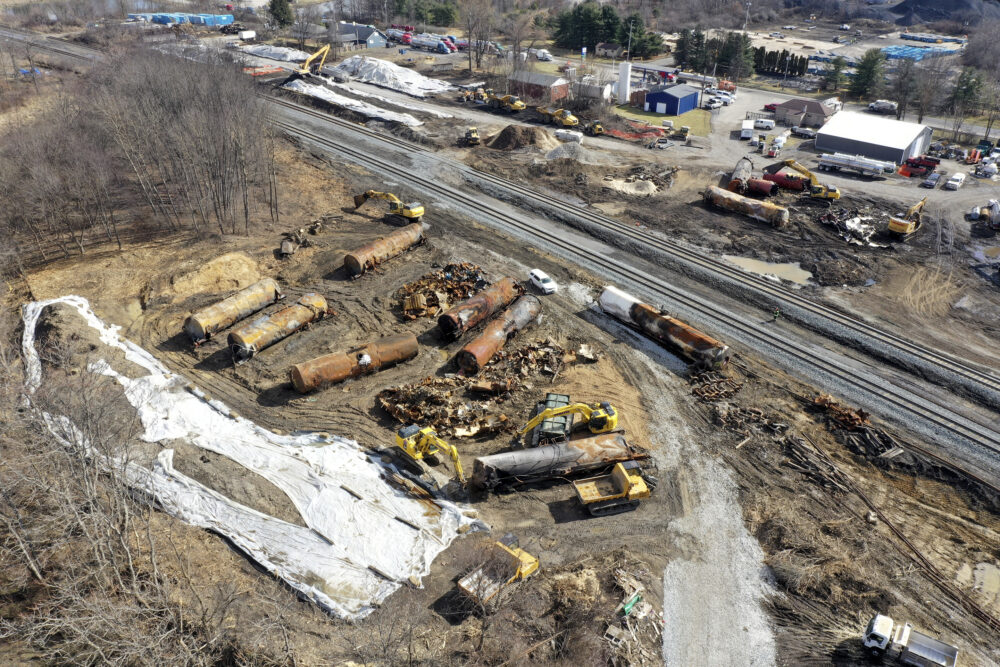 The Houston area is again receiving shipments of toxic, firefighting wastewater from a train derailment in Ohio early this month, Harris County Judge Lina Hidalgo told Houston Public Media on Tuesday.
Norfolk Southern Corp. began sending the wastewater, which includes known carcinogen vinyl chloride, to Harris County on Feb. 15, so it could be disposed of by Deer Park business Texas Molecular, Hidalgo said last week. Shipments of the wastewater to the Houston-area facility and others around the country were paused over the weekend by the Environmental Protection Agency, according to U.S. Rep. Sheila Jackson Lee.
Hidalgo said Tuesday she had been informed by the EPA that the wastewater shipments from East Palestine, Ohio, to the Houston area would continue.
"The EPA just informed us that due to heavy rain at the derailment site and capacity limitations in other facilities, transportation of the firefighting water from East Palestine will resume to Harris County today," Hidalgo said. "The EPA explained that the rest of the waste and some of the firefighting water are going to other facilities in Ohio and Indiana."
Citing the EPA, Hidalgo said the shipments are 99.9 percent water. The rest is about 910 parts per billion of vinyl chloride and 11,000 parts per million of sediment, with the remainder being oil and diesel fuel, she said.
Texas Molecular is disposing of the wastewater it receives by injecting it into the ground.
"It's probably the lowest level of contaminated stuff that they will deal with on a regular basis, so I'm very confident that it's being handled appropriately," Deer Park Mayor Jerry Mouton said last week. "This is what this facility does and has done for 40 years."
Residents of East Palestine, near the Pennsylvania border, were ordered to evacuate in the aftermath of the Feb. 3 train derailment so officials could execute a controlled burn of the chemicals that had been released.
Hidalgo said she was assured by the EPA that it would have representatives on site in Deer Park to monitor the disposal of the transported wastewater from the site.
"In the past, jurisdictions from around the nation have stepped up to help Harris County when we needed it most," Hidalgo said. "It's appropriate for us to help when we have the ability to do so and when it can be done safely. No other facility has the capacity necessary to dispose of the volume of firefighting water in question, once the Ohio and Indiana facilities are at capacity."
Hidalgo previously said she was not notified about ongoing wastewater shipments to Texas Molecular until about a week after they had begun. Jackson Lee, a Houston Democrat whose congressional district does not include Deer Park, asked in a weekend letter to the EPA to stop sending the toxic wastewater to Texas.
"The tragedy in East Palestine is a call to action for the need for additional safety practices on how hazardous materials are handled," Hidalgo said Tuesday. "The compartmentalization and lack of communication in the response and transport point to the need for a more seamless system and clear communication."