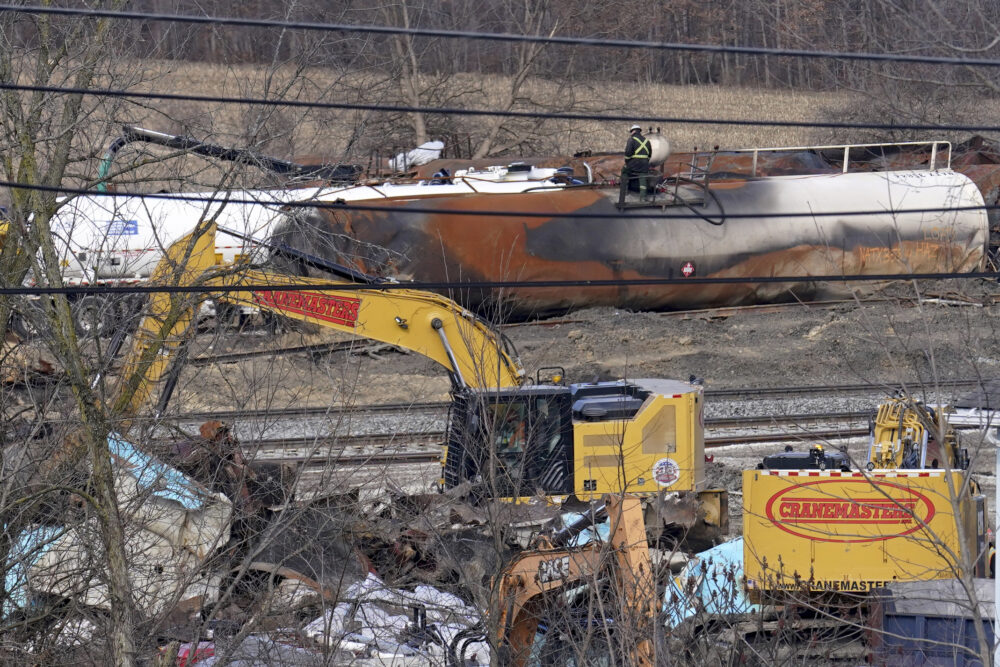 Firefighting wastewater containing toxic chemicals from a train derailment in East Palestine, Ohio is already arriving in Deer Park for disposal. Local officials are demanding more details, including why they weren't informed sooner that the wastewater was coming.
Harris County Judge Lina Hidalgo said Texas Molecular, the company contracted to dispose of the wastewater, had informed her Thursday the first shipments had arrived in Deer Park by truck around Wednesday of last week.
"According to Texas Molecular," Hidalgo said, "Harris County has received a half a million gallons of firefighting water and will be receiving up to one-and-a-half million more gallons for around 2 million gallons total. Texas Molecular said they're getting around 30 trucks per day from East Palestine, Ohio."
Hidalgo said the company had assured her it was storing the wastewater "in a way that removes the risks to water, groundwater, air emissions, and protects public health."
But the judge said she is still waiting for Texas Molecular to provide the chemical composition and dilution level of the wastewater that it plans to put into its injection wells. "On this, we are in touch with Texas Molecular," she said. "They've assured us that they will be providing a full list of chemicals in the water, and we've also requested the permits from the TCEQ, the Texas Commission on Environmental Quality. We've not yet received either, but we hope to receive that information soon."
At least one of the chemicals involved in the East Palestine derailment was vinyl chloride, a known carcinogen.
Hidalgo said she also wants to know what health and safety precautions are being taken during shipment of the wastewater. "On this second point of safety in transportation and worker safety, we're looking into any violations by this company in terms of a safety record with the TCEQ and with OSHA (the Occupational Safety and Health Administration)," she said. "So far, good news is the record seems to be strong, but our departments are still looking into it."
A third question Hidalgo raised was why the water was being shipped to Texas, rather than to disposal facilities in Vickery, Ohio or Romulus, Michigan, both of which are located much closer to the site of the accident.
"We all know, and maybe this is the elephant in the room, we all know we're the petrochemical capital of the world, and we're proud of that," Hidalgo said. "We routinely store materials, sure. But that doesn't mean we shouldn't be informed. And it's a very real problem we didn't know about this sooner. It's a very real problem we were told yesterday the materials were coming, only to learn today they've been here for a week. We need to find a way to make sure this doesn't happen again moving forward."