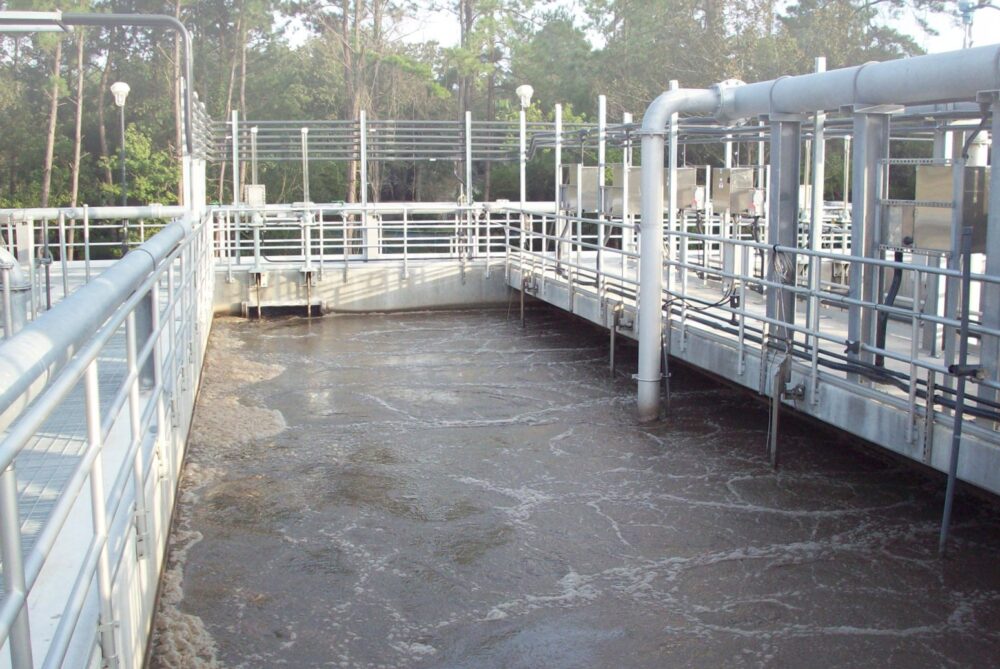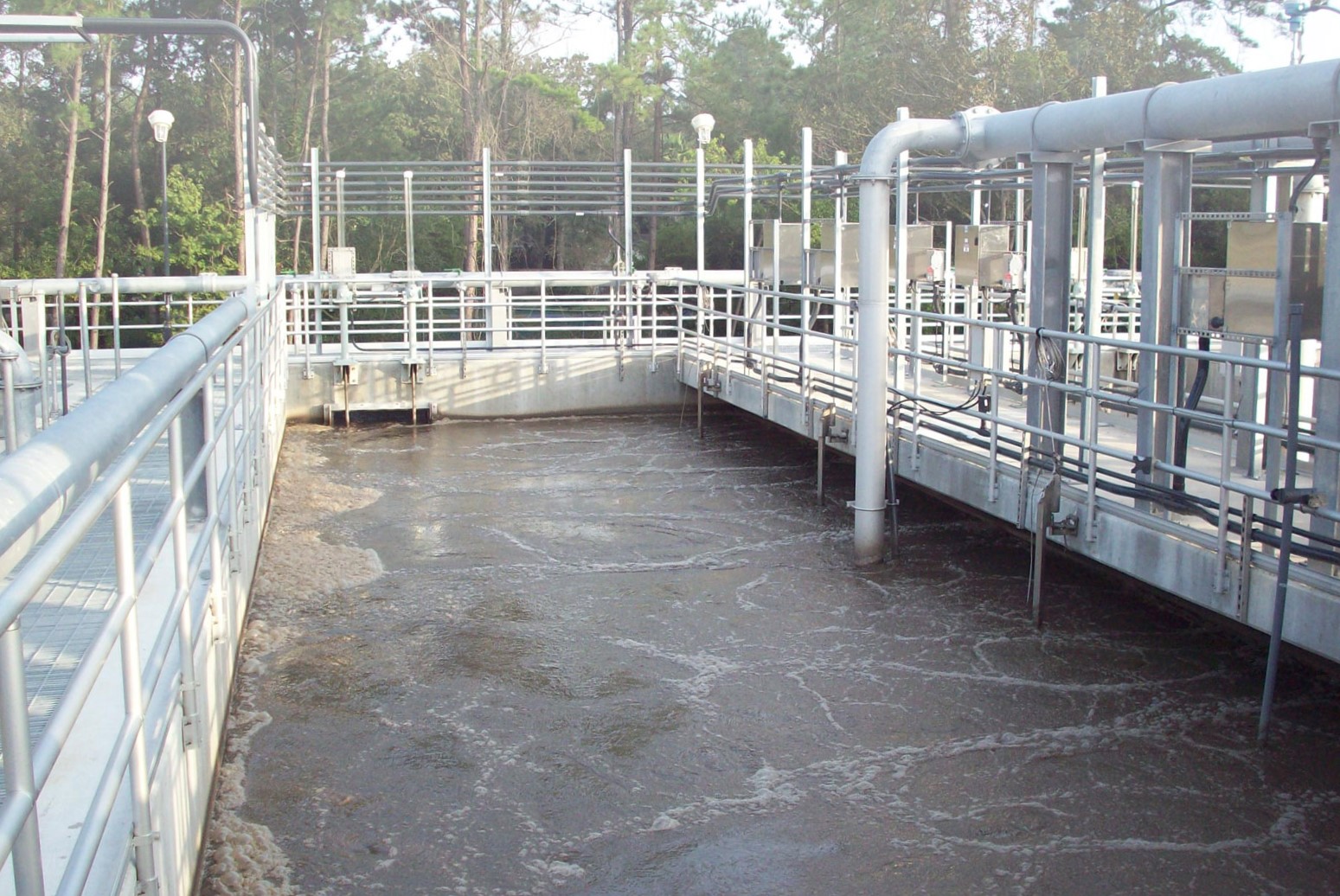 Operators of a Houston-area wastewater treatment facility released inadequately treated sewage into one of the city's drinking water sources, and concealed the problem by falsifying sample reports, according to allegations made by local authorities.
The Houston Police Department's environmental investigations unit executed a search warrant Feb. 17 seeking log books, lab reports and other physical evidence at the Kingwood Central Wastewater Treatment Plant, 3928 Kingwood Dr., which is owned by the city and operated by Inframark, LLC, according to a copy of the search warrant obtained by Houston Public Media. A detective alleged in the search warrant affidavit that someone at the plant was responsible for "unauthorized and illegal discharges of pollutants" into a public waterway and that wastewater sample reports submitted to the city and eventually the state of Texas had been "forged or otherwise tampered with."
Houston Public Works said in a statement that it is monitoring the wastewater treatment facility, one of 39 owned by the city, and that the city's drinking water is safe for consumption. A spokesperson for the department said water discharged from the Kingwood plant into a tributary of Lake Houston – after it theoretically has been treated to remove harmful bacteria – is subsequently treated at a different facility before entering the municipal water supply.
"From the statements of credible experts and information from lab test results ... there is probable cause to believe that raw sewage and/or pollutants are being discharged into Bens Branch, a waterway, a direct discharge point into Lake Houston in Harris County, Texas," HPD Sgt. Patrick Morrisey wrote in the 12-page search warrant affidavit. "Evidence described herein shows that lab reports and other reports have been falsified to indicate that these discharges were in compliance with state permits and the Texas Water Code, when in fact they were not."
Tampering with government documents is a felony, as is discharging waste into a public waterway that causes or threatens to cause water pollution.
HPD spokesperson Shay Awosiyan said Thursday the department could not provide additional information, citing an ongoing criminal investigation, but said no arrests had been made and no criminal charges had been filed as of Wednesday. The Texas Commission on Environmental Quality's environmental crimes unit is assisting with the investigation, according to state agency spokesperson Gary Rasp, who added that it could not otherwise comment on the matter.
Inframark spokesperson Miranda Sevcik, whose company operates five wastewater treatment plants and 12 water treatment plants in the Kingwood area northeast of Houston, said in a statement that Inframark is cooperating with the city and other authorities and that it will conduct a third-party investigation.
"We are committed to ensuring the safe operation of the Kingwood Central Wastewater Treatment Plant," Sevcik said. "We are working with the city of Houston to address the matter, but at no point was untreated sewage released from the plant."
While Houston Public Works has not found evidence of raw sewage being entirely untreated before it was discharged from the facility, according to department spokesperson Erin Jones, it has determined that wastewater was not sufficiently treated at the Kingwood plant.
"HPW has confirmed that due to Inframark's substandard operation and maintenance of this facility, wastewater treatment at the Kingwood Central WWTP was not performing at the levels required by the facility's permits and wastewater effluent was being discharged without meeting required levels of treatment," Jones said.
The city began investigating operations at the plant in late January, after receiving complaints from residents about odors coming from the facility. Houston Public Works senior assistant director Greg Eyerly visited the plant Jan. 31 and found it was not functioning properly because of the appearance of dark, cloudy water in aeration and clarifying tanks as well as sludge spilled on the ground, he told Morrissey, according to the search warrant affidavit.
What Eyerly witnessed contradicted lab sample reports that suggested the plant was operating at peak efficiency, he told Morrissey. City field investigator Jeffery Farrell visited the plant Feb. 1 and collected a discharge sample that showed its content of E.coli bacteria to be greater than 24,200 parts per 100 milliliters, compared to a content number of 135 from a purported sample taken a day earlier. The legally allowable daily average is 126 parts per 100 milliliters, with a daily maximum of 399, according to the search warrant.
Farrell also reported Feb. 2 that the plant's automatic sampler was not properly programmed and had a frozen temperature gauge, meaning it could not take samples. However, it was later determined that a lab sample had been submitted for that day, the affidavit shows.
Inframark enlists a company called Busby International to collect and submit test samples from the plant, which are then analyzed by Envirodyne Laboratories, according to the search warrant.
Houston Public Works managing engineer Walid Samarneh told Morrissey the Kingwood wastewater treatment plant is one of two in the city to use ultra-violet light as a disinfectant, as opposed to chlorine, the search warrant shows. The presence of dark, cloudy water would prevent the UV light from performing its sanitizing function, Samarneh told Morrisey, adding that that plant should have notified the city if the UV light wasn't working properly. That did not happen, according to the search warrant.
Morrissey met Feb. 15 with plant operations manager Michael Reid, he wrote in the affidavit, which shows that Reid acknowledged spills from the plant's aeration tanks on Jan. 10 and Jan. 24. The first spill was caused by an open clarifier drain and the second by a large amount of rainfall, Reid told Morrissey, adding that plant operators were aware of an ongoing freezing issue with the automatic sampler.
"It appears the sample analysis submitted to the City of Houston were forged or otherwise tampered with based on the following observations: The samples reported by Envirodyne do not (cannot) match the condition of the water observed by Mr. Greg Eyerly at WWTP, according to Mr. Eyerly and consistent with my training and experience with wastewater treatment," Morrissey wrote in the affidavit. "I know through my training and the statements by Mr. Greg Eyerly that this discoloration is a visibly obvious indicator to any trained wastewater plant operator that there is an issue with the aeration basin and that water is not being properly cleaned. I know through my training that this coloration would prevent a UV system from properly sanitizing the water, as it is necessary for the water to be clear to allow the UV light to penetrate and kill the bacteria."