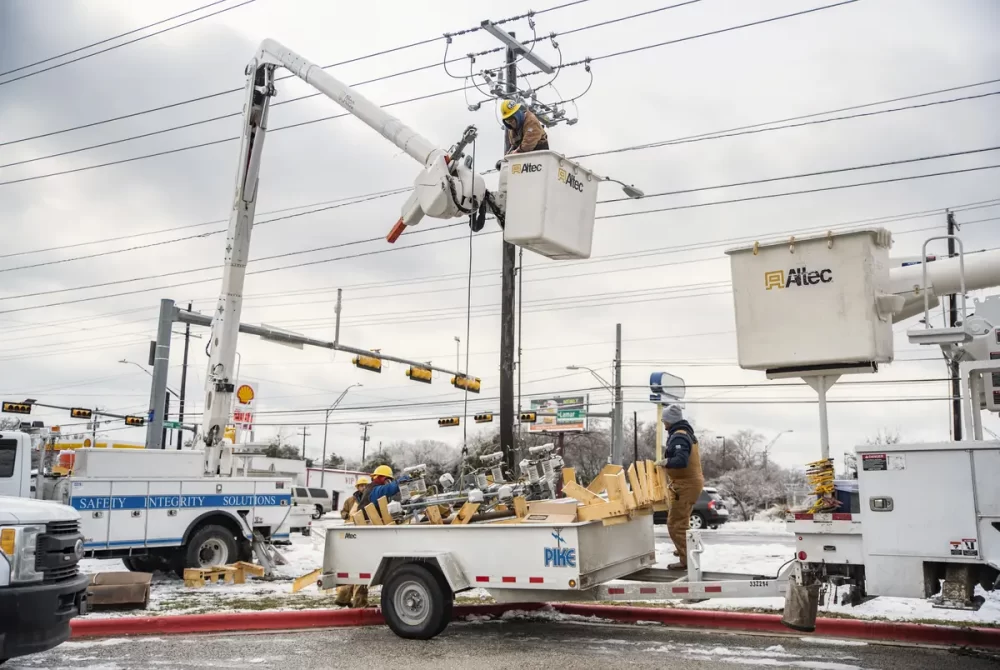 Recent reports show thousands of Austin-area residents are still without power following last week's ice storm. Contrary to statewide outages in the wake of the disastrous grid failure in February 2021, this time, outages were due to local powerlines falling under the weight of ice and being taken down by falling tree branches. One local expert says there are steps to be taken to ensure this does not happen again, but they will be costly. Additionally, the grid itself is far from fixed. He calls for government action.
Local Problems and Solutions
There are a few ways to avoid outages due to fallen powerlines, said Ed Hirs, energy fellow at the University of Houston.
"It's really difficult to manage for ice storms, but going through and trimming trees is certainly something the utilities can do," he said. "That's an issue in Houston not just because of ice storms but also because of hurricanes and the storm fronts we have."
Austin Energy, the utility provider in Austin, trims trees around the city in cycles depending on tree type and time of year. Each trimming is intended to last around 7 years. The organization, however, is reportedly considering re-evaluating its tree trimming policies following the recent power outages. Local utility CenterPoint Energy reports trimming 1 million trees in the Houston area each year to protect powerlines.
Hirs said other states that experience ice storms more frequently may not see the same level of power outages in part because, with a greater frequency of ice storms, by the time a new one comes to town, there are simply fewer branches left to fall. "They have one of these every year, and that tends to clean up the trees and the branches." He adds that, in the North, the utilities know better how to repair powerlines to withstand ice.
Some people have proposed burying powerlines underground in order to reduce tree damage. However, it would be costly. According to Jackie Sargent, general manager for Austin Energy, burying powerlines would cost billions of dollars and could potentially pose a different set of problems. Buried lines can be vulnerable to flooding, and if power outages do occur, it could be more difficult to determine where the break occurred.
No matter what, fixing the problem will be expensive. "Each of the utilities really is loath to spend money on cleaning up powerlines. That's a problem that is endemic to the industry," Hirs said. "This is a matter of political leadership. Let's get out and clean up the powerlines so we don't have this type of impact next time there's an ice storm."
Fixing the Grid
Though it was not the culprit in these recent outages, the state power grid still is not fixed. According to Hirs, the grid narrowly held up during the freezing temperatures over this past Christmas holiday. Meanwhile, he warned, strain on the grid may soon increase due to decreased supply.
"The average age of coal-fired power plants is 50 years, and the average age of natural gas-fired power plants is 30," said Hirs. "They're nearing the end of their operating lives and the owners of these plants really have not been earning a return on investment." As a result, Hirs fears some power plants may pull out of the grid all together, decreasing supply.
Meanwhile, Texans are still paying for the fallout of the disaster in 2021.
"We're paying for the economic damages to businesses and to homes," said Hirs. "We're paying for that with the surcharges on our electricity bills and our natural gas bills."
The cap for electricity charges in Texas used to be $9,000 per megawatt hour, which was reached during the freeze in 2021. As a result, at the start of 2022, the state-imposed cap was lowered to $5,000 per megawatt hour. However, in order to encourage power plant owners to switch on before the grid is strained, the Public Utility Commission is allowing energy prices to start rising sooner. This provides an economic incentive for power plant owners that supply the grid, and consumers pick up the bill. This change cost Texans $1 billion in the first half of 2022 alone.
Additionally, we still need to invest money into increasing the resiliency of the grid. "It's going to be really painful for the voters and consumers in Texas," said Hirs.
Legislative Responsibility
The need to address the vulnerabilities of the energy grid in Texas seems to be one of the issues Texas legislators across the political spectrum can agree on. However, there has been a lack of tangible action following the devastating grid failure in February 2021.
When it comes to the grid, Hirs says lawmakers have been aware of the grid's problems for years but that politicians' personal interests conflict with the interests of the general public. Following the 2021 freeze, at the end of that year's legislative session in which the state legislature failed to pass stringent regulations on the energy industry, five of the largest companies in the Texas power grid supply chain, including Houston's CenterPoint Energy, collectively donated close to $500,000 to state officials and political groups. That is more than double what they donated at the end of 2019's legislative session, according to an analysis by the Texas Tribune. During that same period 11 energy industry leaders donated a combined $3.2 million to Texas officials, up from $2.2 million after the 2019 legislative session. In total, Gov. Abbott received approximately $4.6 million in donations from the gas, oil and energy industry after the conclusion of the legislative session in 2021. "They're not going to do anything constructive," said Hirs. "They're getting paid too much not to."
Hirs said he fears nothing will be done until the grid completely breaks. "It's going to be an expensive endeavor over the next three to five years," he said. "The only way this gets fixed is with true leadership coming out of Austin."