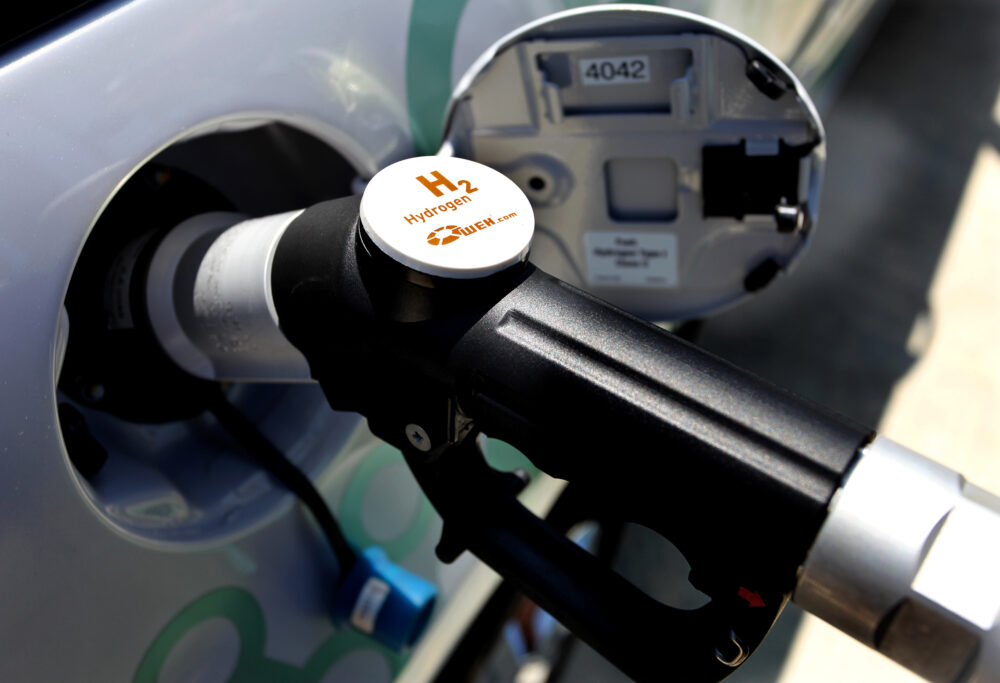 Organizations such as GTI Energy and the Center for Houston's Future have spent the last several years trying to spur a transition toward hydrogen – which is viewed as a key element in making the energy industry cleaner and safer as well as more efficient and cost-effective.
The petrochemical industry in the Texas Gulf Coast region now produces about a third of the hydrogen used in the United States, according to Brett Perlman, the CEO for the Center for Houston's Future. The region also is home to more than half of the country's 1,600 miles of dedicated hydrogen pipelines, said Brian Weeks, the senior director of research operations for GTI Energy, which is based in the Chicago area but also operates out of Houston.
And many more hydrogen-related initiatives are in the figurative pipeline. Perlman said his organization identified 25 projects this summer that, if completed, would exceed the region's current hydrogen production.
Now the two nonprofits and a coalition of other organizations and companies – including Amazon, Chevron, ExxonMobil, Shell and the University of Texas – are seeking to expand and accelerate the development of hydrogen energy applications in the Houston area and beyond. Under the name "HyVelocity Hub," they are applying to become a regional hydrogen hub as designated by the U.S. Department of Energy, which is distributing $7 billion from the 2021 Bipartisan Infrastructure Law to help create a clean energy economy and combat the impacts of climate change.
"This trend that we're seeing toward moving from the hydrogen we produce today to producing clean hydrogen is happening already," Perlman said. "We have a lot of the know-how, the companies, the infrastructure in the Texas Gulf Coast to create a clean hydrogen hub. The (Department of Energy) money is really about accelerating that trend, and the DOE money is a tool to leverage private-sector dollars."
The Department of Energy's Office of Clean Energy Demonstrations notified HyVelocity Hub on Dec. 28 that it was encouraged to submit a full application for the Regional Clean Hydrogen Hubs program, or H2Hubs, according to Weeks, who said the federal agency plans to designate between 6-10 hubs. The Houston group was one of 79 across the country to submit "concept papers" for the program, with 33 of those groups having been officially encouraged by the department to submit full applications by April 7.
Among the goals of the H2Hubs program is to create jobs and reduce greenhouse gas emissions compared to existing energy technologies and processes along with supporting President Joe Biden's vision for a net-zero carbon economy by 2050, according to information on the Department of Energy's website. It said in a news release that the submitted concept papers were evaluated based on criteria that included "qualifications, experience, and capabilities; expected contributions toward a national hydrogen network; plans to develop production, end-use, and connective facilities; and the community benefits plan component."
Perlman and Weeks said the Houston area is well-positioned for a hydrogen hub designation because it already is recognized as the energy capital of the world, with an abundance of intellectual resources and existing energy infrastructure, a track record of bringing emerging technologies to the marketplace and one of the world's busiest seaports in the Port of Houston.
"Houston and the Gulf Coast region is the most logical place to create a hydrogen hub," Perlman said. "We can do this much faster, we can do it better, we can do it cheaper. That's what it's going to take to really crack the code on decarbonization."
Weeks said the Houston-area coalition is seeking the maximum program allotment of $1.25 billion and would use that money to build out more clean hydrogen infrastructure, including pipelines and other equipment as well as fueling, production and exporting facilities. He also said a significant investment would be required from the private sector, which is where partnering companies such as Chevron, ExxonMobil, Shell and French gas supplier Air Liquide come in.
The Department of Energy says on its website that it would encourage collaboration between two or more hub applicants within the same region, and Weeks said the Houston-area group would be open to such an arrangement. It is unclear if there are other applicants from the region, with the Department of Energy saying it is not publicizing information about specific applicants but the applicants themselves are free to discuss their involvement.
Weeks said the plans submitted by HyVelocity Hub include components across other parts of Texas as well as the Louisiana Gulf Coast. He said his organization, GTI Energy, also is supporting hydrogen hub applications in the Midwest and Appalachian regions.
"It's very much a regional effort," he said of HyVelocity Hub. "It's not just Houston, but Houston is at the heart of it."
Hydrogen is a clean fuel that can be produced from a variety of sources, including natural gas, nuclear power, biomass and renewables like solar and wind power, according to the Department of Energy. It also can be used in a wide range of energy applications, including in homes and vehicles.
Weeks said interest in hydrogen has increased in recent years because of its capability to store energy for long periods of time at an electricity-grid scale, which could help further the development of solar and wind power. He also said hydrogen could become a key export because it can be converted to ammonia or other liquid carriers.
"We're not doing that currently, but the technology is there," Weeks said. "It's an engineering challenge, not a science challenge."
Hydrogen's promise is attracting major energy players with the resources to tap into that potential, according to Weeks, who said that makes for an exiting time for organizations such as GTI Energy, which has long been exploring hydrogen and its applications.
Perlman said transitioning toward cleaner energy sources is a necessary – and urgent – step for the Houston region, the country and the globe.
"We're living in a time where it's becoming clear that humans are impacting the climate in a significant way," he said. "We need tools and a toolkit to mitigate the impacts of that. Hydrogen is one of those tools."