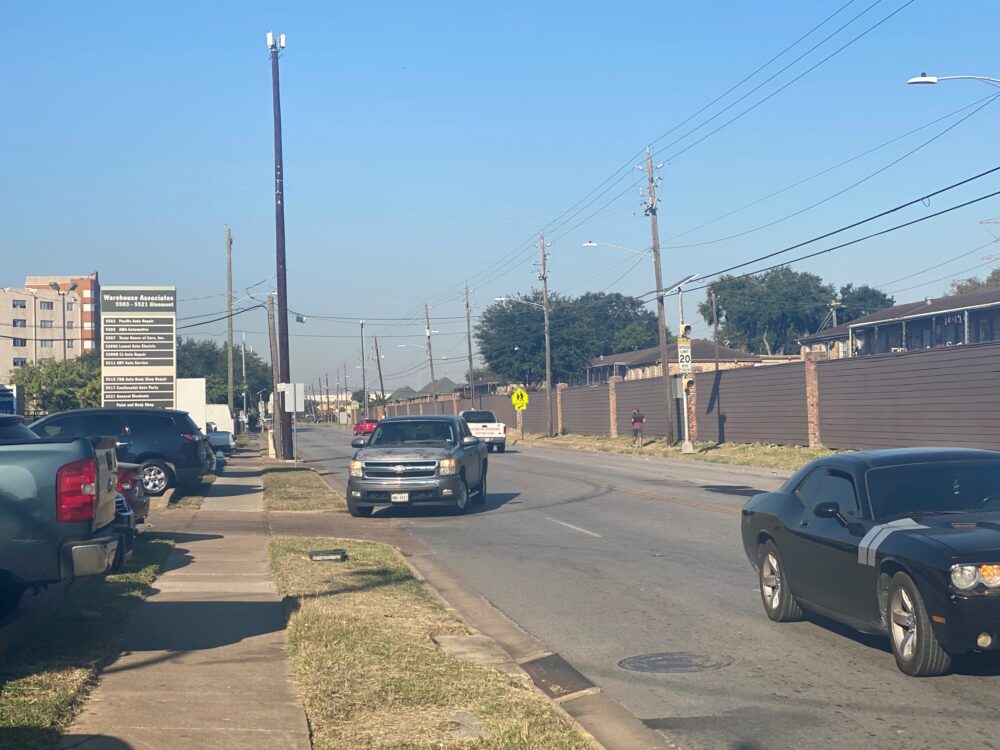 You can find your neighborhood on the county's heat map here. How does it compare to your experience? Tweet your answer @ktwatkins
Sandra Rodríguez stood on the corner of a busy intersection in southwest Houston's Gulfton neighborhood, gesturing at the vast array of concrete.
"This is a perfect location to really show the lack of trees, the lack of shade, and the amount of traffic," she said.
Next to a gas station, a sign on a pole indicates there's a bus stop. But there's no bus shelter and no trees down the long stretch of sidewalk.
Rodríguez, who's now the president of the Gulfton Superneighborhood Council, lived in Gulfton for 40 years. Like many residents in the majority immigrant community, she used to get by without a car and knows how brutal the summer heat can be.
"I used to ride Metro all the time and walk the streets all the time when I didn't have a vehicle," she said. "Walking down the street with a stroller, a backpack, a toddler and a baby — it would get pretty hot."
Houston had one of its hottest summers ever this year, with record-setting temperatures in both June and July. But the heat doesn't affect every neighborhood equally. Areas like Gulfton that have a lot of concrete and little greenspace can get significantly hotter than other neighborhoods across the county.
A new plan developed by The Nature Conservancy, in conjunction with local leaders and community members in Gulfton, aims to address these disparities. Called Greener Gulfton, the plan contains a series of nature-based projects for the neighborhood designed to reduce heat, mitigate flooding, and increase access to nature in the community.
"As climate change continues to get worse, we want to make sure that Gulfton residents have enough nature to help protect them from climate change and rising heat and water," said Jaime Gonzalez, the Houston Healthy Cities Director with the Nature Conservancy in Texas.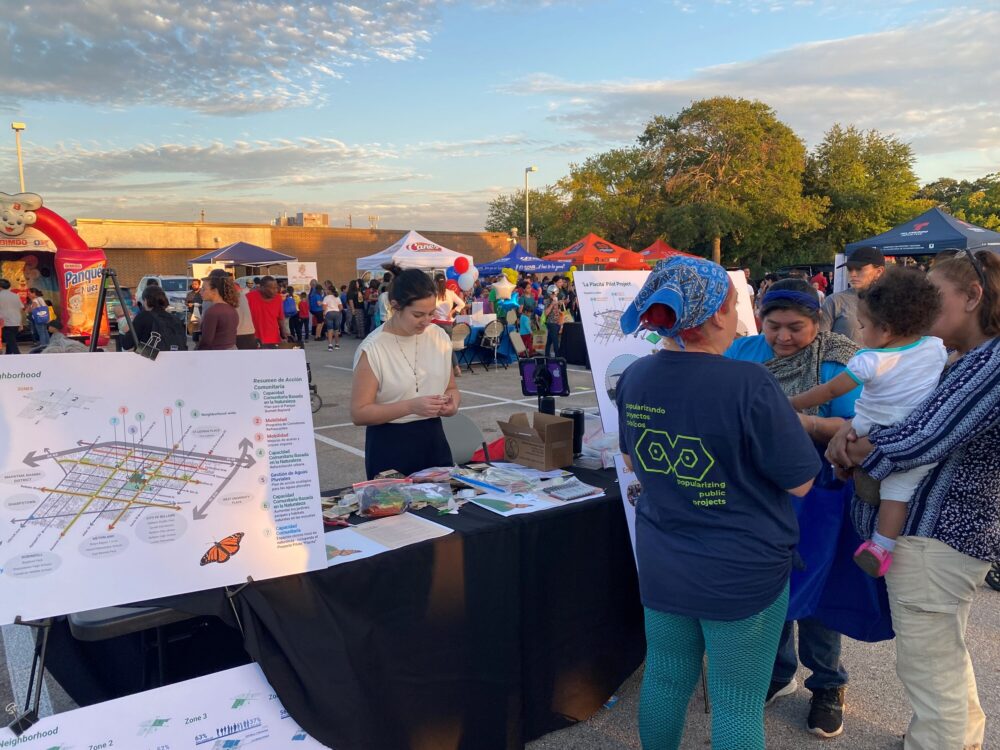 In 2020, Harris County participated in a federal heat mapping project that found the Gulfton area was the hottest neighborhood during the day, registering a temperature of 103.3 degrees. That was 17 degrees hotter than Channelview, which had the coolest temperature in the county.
In parts of Gulfton, just 4% of the area is shaded with trees, compared to areas like West University where the tree canopy covers more than 40% of the city, according to an analysis of data by Rice University's Kinder Institute for Urban Research.
Several of the proposed projects in the Greener Gulfton plan specifically address the heat and lack of trees, like implementing shade corridors along key streets and working with the county to revamp the neighborhood park. Another looks at using greenspace to help reduce street flooding.
Beyond helping to mitigate the effects of climate change like heat and flooding, Gonzalez said integrating nature into communities has so many other benefits as well.
"It also helps with the daily stresses of life. It can reduce loneliness; it can even reduce crime," he said. "So nature has the power to really allow people to thrive and to flourish."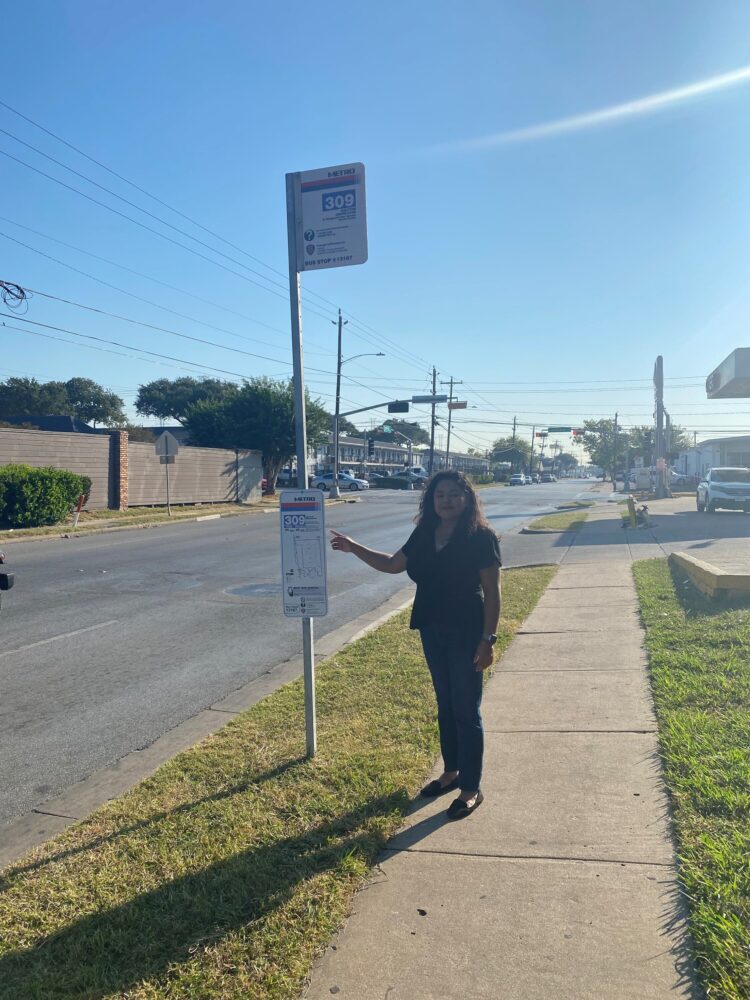 Rodríguez, with the Gulfton Superneighborhood Council, echoed this sentiment. She said when her kids were growing up she would often take them to other parts of town where there are more trees and park amenities.
"When you go to a space where you have a lot of nature, trees, the air feels different. And I think it also changes your mood," she said. "And then when you lack that in your neighborhood, it affects your health."
When developing the plan, many residents, like Maria Hernandez, said they wanted more outdoor spaces to connect with the community and socialize with neighbors.
Hernandez, who helped develop the Greener Gulfton plan, said growing up in Mexico her family would go every Wednesday to a small, lush plaza, called a placita. A mobile version of a placita designed to be set up in parking lots will be piloted in Gulfton as part of the plan.
"I love that we're going to have a placita," said Hernandez. "That actually connects me to my hometown and connects me with my culture, my roots, my ancestors."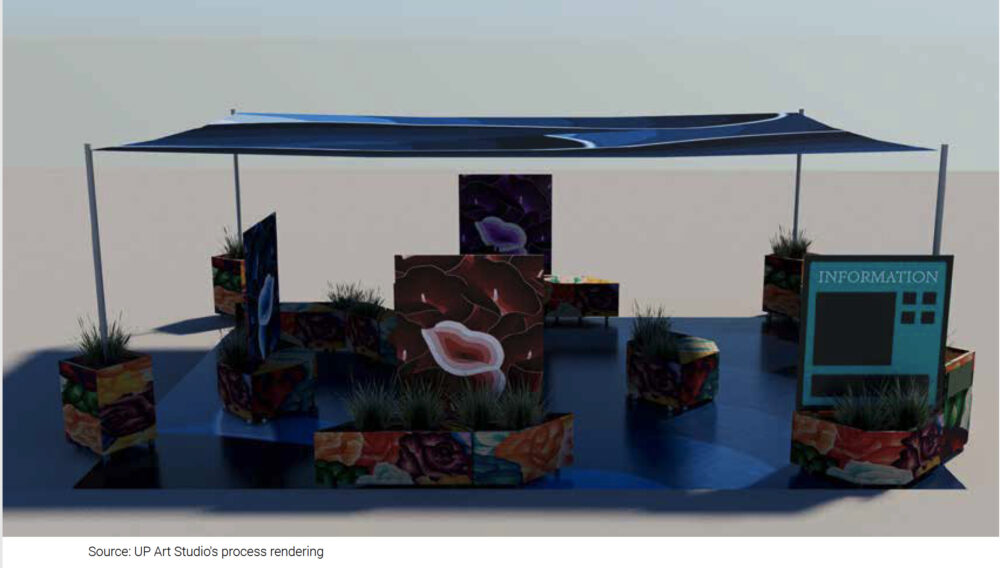 Gonzalez, with the Nature Conservancy, said they've already teamed up with the Gulfton Superneighborhood Council to start planting some of the trees early next year. The placita pilot project is also in the works.
In the meantime, Gonzalez said they're working to secure funding for the other elements, and identifying areas where they can work closely with the city and county to implement some of the projects.
"We're really excited that we're not waiting," Gonzalez said. "We're starting to push forward with some of these things already."
For more on how nature can help mitigate flooding, check out episode 3 of our podcast "Below the Waterlines: Houston After Hurricane Harvey."