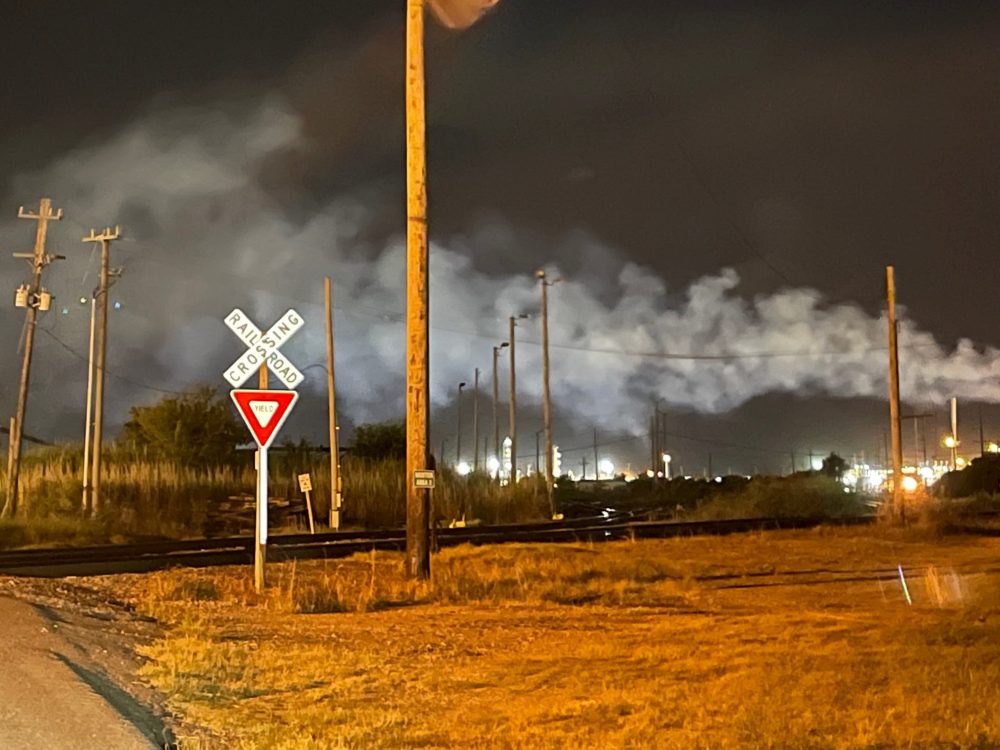 Residents of Port Arthur are asking the Environmental Protection Agency to launch an investigation into whether Texas violated their civil rights by allowing a nearby facility to pollute the air for decades without requiring modern pollution control technologies.
The petition, which was filed Wednesday by Lone Star Legal Aid and the Environmental Integrity Project on behalf of the Port Arthur Community Action Network, alleges that the Texas Commission On Environmental Quality has neglected to adequately address emissions from the Oxbow calcining plant, allowing it to continue to pollute high amounts of sulfur dioxide.
"(The TCEQ is) responsible for protecting the people of the state of Texas from harm from air pollution, and there's a failure at TCEQ to adequately regulate Oxbow's harmful sulfur pollution," said Colin Cox, an attorney with the Environmental Integrity Project. "The greatest harm from that failure is falling on the people of Port Arthur, falling on a low income, black neighborhood. And that's a civil rights problem."
Title VI of the Civil Rights Act of 1964 prohibits discrimination based on race, color or national origin in programs that receive federal funding. The petition alleges that the TCEQ violated the act by failing to require Oxbow to implement modern pollution control devices, such as scrubbers, which can remove up to 95% of sulfur dioxide and are common at modern facilities.
The petition points to a recent permit renewal granted by the TCEQ in 2020, despite concerns raised by the community.
In addition to asking the EPA to open an investigation, the petition also asks that the TCEQ issue a stronger permit for the plant and require additional air monitoring, and for Oxbow to hold an outreach event with the community.
"The main thing that we want is to bring down their sulfur pollution," Cox said. "It will have an enormous impact on air quality in the west side of Port Arthur and regionally."
The TCEQ reached an agreement with the EPA over a separate Title VI civil rights complaint earlier this year, alleging that the agency was in violation of federal law by denying non-English speakers the opportunity to participate in the permitting process.
The Texas Department of Transportation is also facing a Title VI complaint for its I-45 expansion project in Houston, which is currently on hold while the federal government conducts its investigation.
The 85-year-old Port Arthur plant produces calcined petroleum coke, which is used to make aluminum. It's the biggest polluter of sulfur dioxide in Jefferson County, releasing more than 22 million pounds of sulfur dioxide annually, according to the latest data from the EPA.
Short-term exposure to sulfur dioxide can cause respiratory problems, such as wheezing and shortness of breath. It can also react with other compounds in the air to form particulate matter, which can also cause health problems, such as decreased lung function.
"Everybody has a right to breathe clean air, and to live in a safe, clean environment," said John Beard, the founder of the Port Arthur Community Action Network. "And that's simply what's not happening in Port Arthur at large and in the west side of Port Arthur, where I live in particular."
Nearly 3,000 residents live within a three-mile radius of the plant, according to the petition. Of those nearby residents, 98% are people of color and 62% are lower income.
Beard said he's seen firsthand how industry pollution has impacted his neighbors, with many saying they feel like they have colds they can't get rid of. On top of that, he said because many residents are lower income, moving isn't really an option.
"They don't have the opportunity to improve this themselves, economically speaking, and move away from those areas. They're basically stuck," he said. "And they're stuck with having to breathe polluted air that has harmful particles in it that affects their heart, lungs, and kidneys."