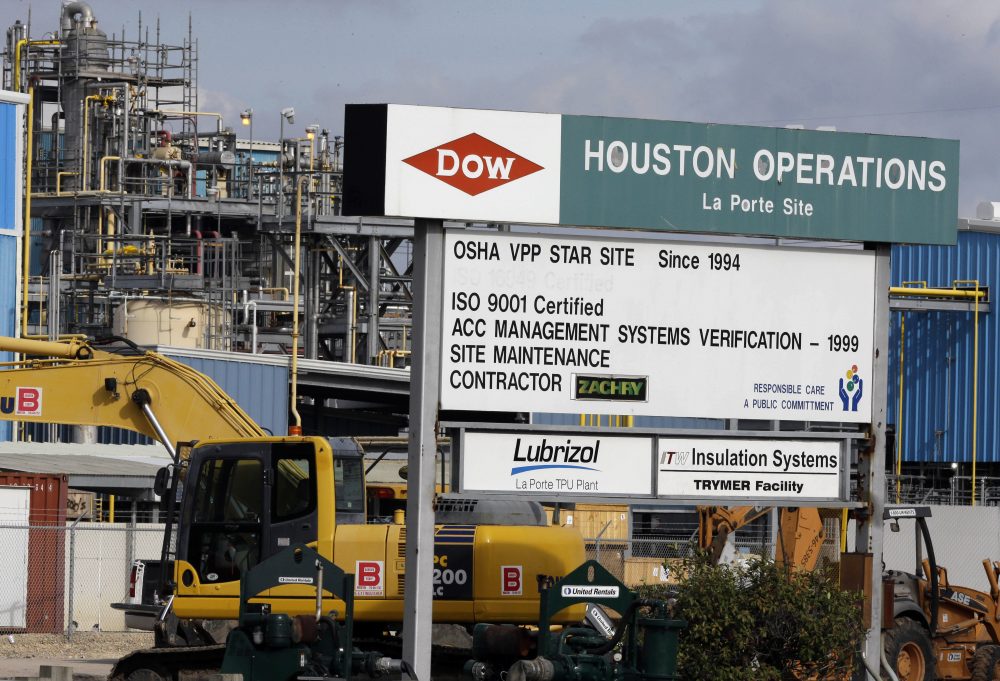 TODAY IN HOUSTON | Start your day with HPM's morning newsletter
An evacuation notice issued around a La Porte Dow Chemical plant has been lifted more than a day after the start of a chemical leak, the company said Thursday.
The leak at the Dow Chemical Co. Bayport plant — which remains ongoing — spurred an evacuation notice in a half-mile radius around the facility that continued into Thursday, as local officials monitored the possibility of an explosion. On Facebook, Dow said there is no longer a risk to the community.
All road closures have also been lifted, and resident who were evacuated from the area are now safe to return, the company said.
MORE | What Are The Chemicals Involved In The La Porte Dow Plant Leak? We Asked An Expert
Dow Chemical reported a "process upset incident" at 7:27 a.m. Wednesday, in its 13300 Bay Area Boulevard facility. Harris County Pollution Control confirmed the incident was a chemical leak at the plant, and La Porte officials issued an evacuation alert for a half-mile radius of the plant around 8:30 a.m. Wednesday.
According to Pollution Control, the leak occurred when a tanker truck over-pressurized, causing a release of hydroxyethyl acrylate from the tank vent. The chemical, also known as HEA or ROCRYL 420, is an acrylic used in coatings and adhesives to provide scratch resistance, chemical resistance, weatherization and other properties, according to the company. The reaction inside the tanker led to high heat levels, which in turn could become explosive. That reaction appears to have subsided, according to the La Porte Fire Department.
Hydroxyethyl acrylate causes severe skin burns and eye damage, may cause an allergic skin reaction, and is harmful if swallowed, according to Dow.
The evacuation area was mostly industry, though there were 10 homes in the vicinty, according to Harris County Judge Lina Hidalgo.
Throughout the day Wednesday, first responders poured water on tanks outside the chemical plant to help keep down temperatures and avoid an explosive reaction. Dow also sent two emergency personnel to the facility to perform thermal assessments on the tanker trucks, Hidalgo said.
Additional reporting from Katie Watkins.