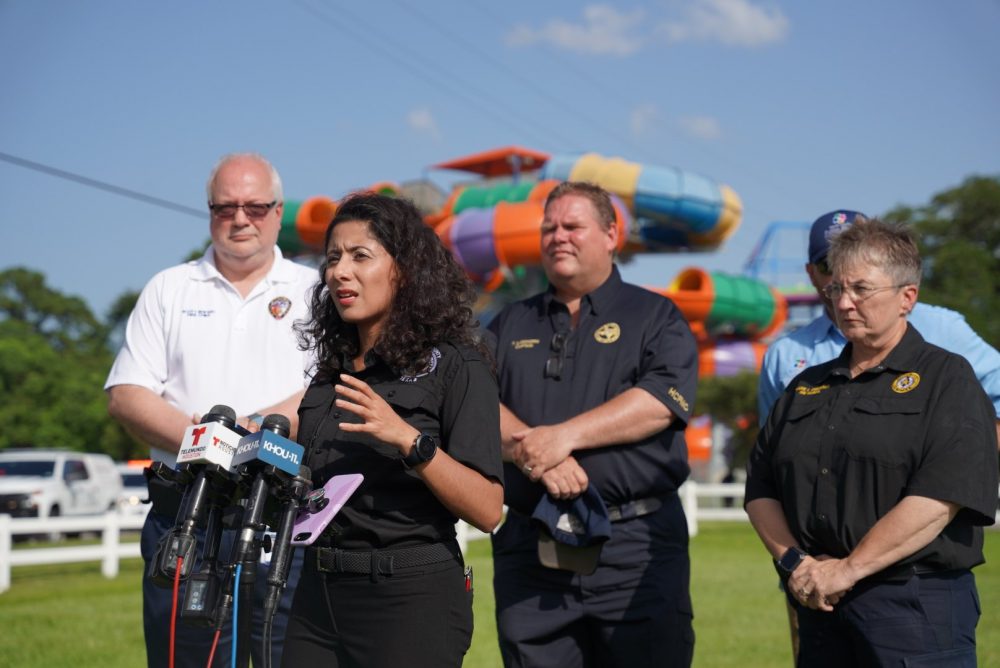 A Houston-area mother filed a lawsuit Monday after her family was injured in a chemical spill at a water park in Spring over the weekend that hospitalized more than 30 people.
The lawsuit alleges that Amanda Regulus and her three daughters — all of whom are under the age of 13 — visited Six Flags Hurricane Harbor Splashtown on Saturday and developed headaches, skin irritations, and sore throats after they came in contact with a mix of hypochlorite and sulfuric acid.
The incident occurred at around 2:30 p.m. near a children's pool, according to Harris County officials.
Court documents say the family was not immediately evacuated from the park after being exposed to the harmful fumes, and were instead encouraged by park employees to join a promotional contest before exiting.
A statement from the family's attorney, Derek Potts, said the family is currently receiving ongoing medical treatment for their injuries.
"This chemical exposure was a negligent and irresponsible act that endangered hundreds of park guests, many of them children," Potts said. "Through litigation, we'll determine the extent of the operational issues and mistakes that led to the incident and its aftermath and compel the park to make the necessary changes to prevent this happening in the future."
A total of 31 people were transported the hospital after the park was fully evacuated Saturday, according to a tweet from the Spring Fire Department.
The family's attorney also filed a temporary restraining order to prevent park officials from "changing, modifying, altering and/or destroying" evidence pertaining to the chemical spill.
According to a spokesperson for the Six Flags water park, the cause of the chemical spill has been identified.
"Our team, along with third-party experts, has identified the cause of Saturday's vapor release, and we are putting solutions in place to avoid a recurrence," the statement read. "We will provide additional information once we are ready to safely resume operations."
The Harris County Fire Marshall's Office said it's conducting its own investigation into the incident.