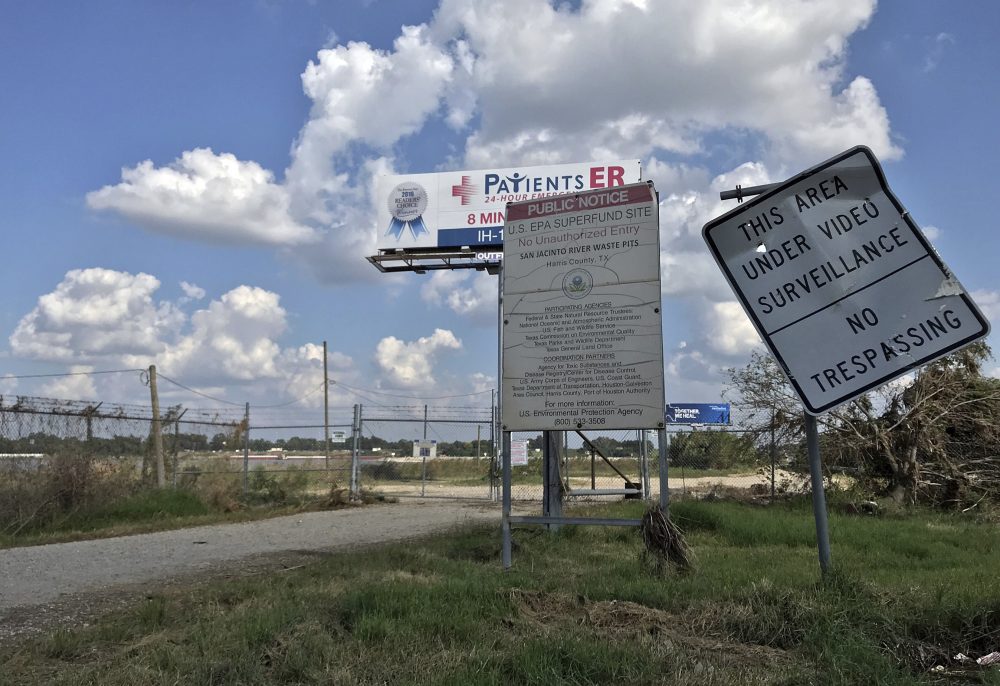 Cleanup of the San Jacinto River Waste Pits has been delayed another nine months, according to the Environmental Protection Agency. It's the latest in a series of setbacks since the toxic site was targeted for cleanup by the EPA back in 2008.
The waste pits contain dioxins — a group of chemicals known to cause cancer — and community members are calling on the EPA to speed up the site's cleanup.
"It is critical that the EPA stop allowing time to be wasted, and require an expedient and thorough cleanup," said Jackie Medcalf, with the Texas Health and Environment Alliance. "Delays or poorly executed work could pose public health and environmental threats for generations to come."
The San Jacinto River Waste Pits were built in the 1960s to store hazardous waste from a nearby paper mill. After testing revealed the site contained cancer-causing chemicals, the waste pits were added in 2008 to the EPA's Superfund program, which targets hazardous waste sites for cleanup.
More than a decade later, site remediation has yet to begin.
In 2011, a temporary cap was put in place to protect the river from contamination. After flooding from Harvey damaged the cap in 2017, the EPA approved a plan that would remove the waste from the site. And in April 2018, an agreement was reached with the two companies involved — International Paper Co. and McGinnes Industrial Maintenance Corp. — to pay for the site's cleanup.
Those two companies were originally supposed to submit a final cleanup design plan by the end of 2020. That deadline was already extended once, and now with the latest extension, the final plan isn't due until January 2022.
Once the cleanup process starts, it's now estimated it will take seven years — three times as long as initially estimated.
To Medcalf, this latest delay is a sign that time hasn't been used efficiently since the agreement was reached in 2018.
"Here we are three years later, and we still have no clear path forward," she said. "The local communities have been left in the dark while time has been wasted."

In an emailed statement, EPA spokesperson Jennah Durant said the agency granted an additional extension because of technical issues, such as needing to conduct more waste sampling and waiting on downstream modeling data from the Coastal Water Authority.
"EPA believes the extra time is necessary to ensure the remedial design implementation is safe and environmentally protective," Durant said.
Medcalf said she worries the longer the waste stays there, the greater chance it has of flooding again and releasing chemicals into the river.
"It's not a matter of 'if' a hurricane will strike our coast, it's a matter of 'when'," she previously told Houston Public Media.
Nationwide, some 73 million people live within three miles of a Superfund site, according to the EPA.
New research from UH found that living in a census tract with at least one hazardous waste site can lower life expectancy by about two months. And when other socioeconomic factors are taken into account, the decrease in life expectancy could be up to 15 months.
Flooding can further extend who's impacted by transporting toxic chemicals to neighborhoods farther away, according to University of Houston researcher Hanadi Rifai. During Hurricane Harvey, more than a dozen Superfund sites were flooded or damaged.
"If you're starting out in a group that's lower-income, lower education and whatnot, and you're in a tract that actually does have Superfund sites, it seems to amplify the effect on your life expectancy," Rifai said.