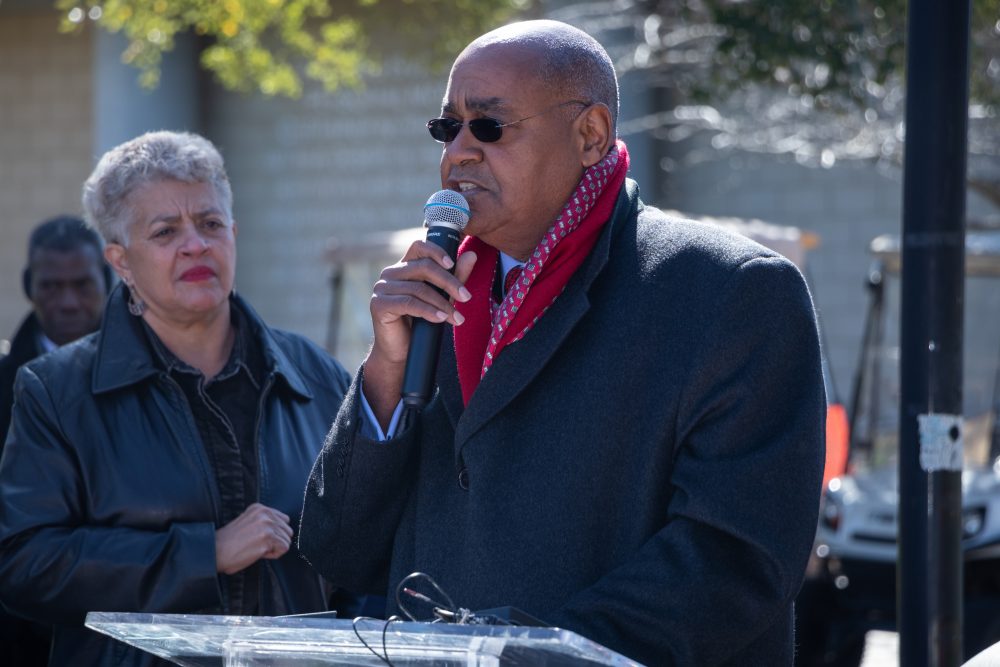 Earlier this month, Harris County commissioners learned the county was more than $1.4 billion short of funding for flood control projects. That's despite a massive flood bond package that voters approved after Hurricane Harvey.
Houston Public Media spoke with Commissioner Rodney Ellis, a Democrat representing Harris County Precinct 1, to learn what happened, and how the county will cope with the shortfall.
The below interview has been edited for length and clarity.
Take us back to 2018, when the flood control bond was being put together. How was this actually supposed to work?
Historically, most federal disaster money follows a formula that looks at a cost-benefit analysis, which is a nice phrase, but when you really look at it, what it means is funding investments that attract federal money tend to be based on funding projects in the wealthier neighborhoods first. We put the value of property over the value of lives. So, what we did with that flood bond package – Russ Poppe, who heads the Flood Control District told me that he wanted to get me to use whatever resources I had, contacts I had, to try and get our federal partners to change this cost-benefit analysis, because it made it so difficult for us to get in neighborhoods that historically had flooded the most and had received the least. Because for decades we've always done projects where we could get the Army Corps of Engineers support, we could get FEMA funding, we could get some federal disaster recovery money that used this cost-benefit analysis.
How were you hoping to change that?
So, my staff made the case that we ought to have equity guidelines, and we ought to put that language on the ballot. And it was on the ballot. And that equity prioritization framework was meant to ensure that historically neglected neighborhoods would no longer be discriminated against and that our community's future would not hinge on some outdated federal formulas.
So, what happened?
Flood Control was told by state partners, the General Land Office in particular, that the city of Houston would get about $900 million as a result of Harvey for disaster recovery, and Harris County would get about $900 million. Well, then the rules changed, and the state decided that they'd have a competitive process and not necessarily look at which areas of the state flooded the most – that would be Harris County. So, we've been waiting since the federal money came down – they didn't give a direct allocation to Harris County or Houston, it goes from the state – and we've not yet gotten that funding.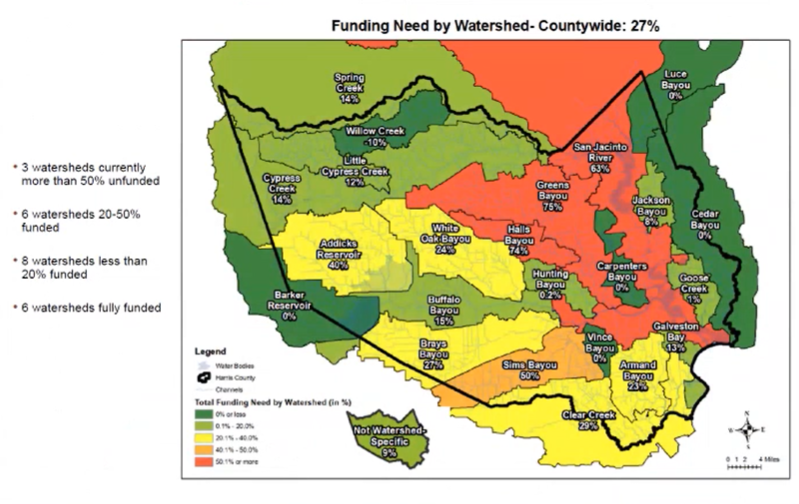 How is that affecting flood control projects?
That means that when you look at the map that the Budget Management Department put out, where you saw a lot of red, mainly on the eastern side of our county – Greens Bayou (watershed,) we need 75% of the money. It's missing. Halls Bayou, 74% of the money is missing. Sims Bayou, 50% of the money is still outstanding. But then you go look at Buffalo Bayou, they only need 15% more to complete it. Brays, 27% more. Addicks (Reservoir), 40%. Cypress Creek, 14%. Little Cypress Creek, 12%. Willow Creek, 10%. So, when you walk through it, what it means is, those neighborhoods that flooded the most – they don't flood sometimes, they flood every time – they've still been neglected.
What are you doing to try and fix that?
So, we have tasked the Flood Control District and the Budget Management Department to come back by the June Commissioners Court meeting with an action plan to make sure that we don't leave those communities that have historically been left out on the back of the bus any longer. And I know that we may not have enough money in that one bond package to do everything. So, we're going to have to look at other resources that we may have, and then we'll have to go back to the voters and ask, 'Will you support investing in all of our community?'