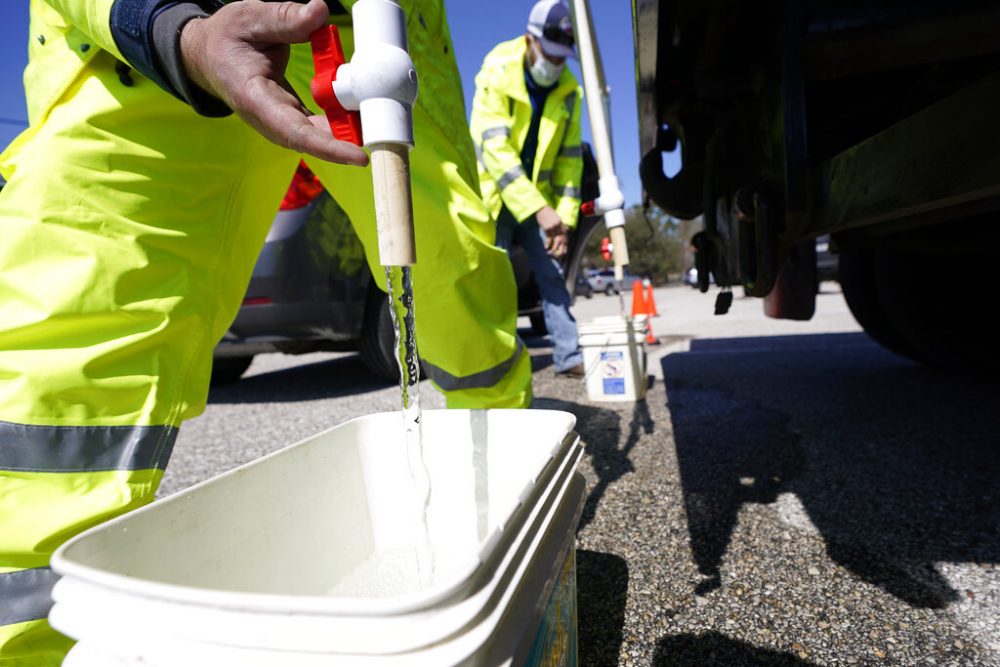 TODAY IN HOUSTON | Start your day with the Houston Public Media newsletter
Houston lifted its boil water advisory Sunday afternoon, after water pressure rose over the last four days to safe levels.
The decision came after laboratory test results came back from the state showing safe water samples.
"We have been given the all clear signal," Mayor Sylvester Turner said at a Sunday press conference.
Before water is safe to use for drinking or cleaning dishes, the city told Houstonians to take the following steps:
Run a cold tap for 1 minute to flush the pipes.
If you have an ice maker, clean it, and make and discard three batches of ice before using.
Run water softeners through a regeneration cycle.
Water pressure plummeted last week during the winter storm as frigid temperatures led to frozen and burst pipes, and failing infrastructure, prompting water pressure to drop below 20 pounds per square inch, or PSI — a level that automatically triggered a water boil advisory due to state regulations.
By Saturday morning, Houston was averaging 50 PSI across the system. In order to lift the boil advisory, the water needed to average 35 PSI before collecting water samples and sending them in to the Texas Commission on Environmental Quality.
Those samples returned results at safe levels Sunday, the city said.
The mayor praised Houston Public Works for "working around the clock" to get the state's largest water system back up and running.
Turner made the announcement at Butler Stadium during the third day of mass bottled water distribution. Similar events have taken place across the city in recent days, as local businesses and nonprofits set up free water and food distribution sites for those in need after millions lost power and water last week.
And with burst pipes still a problem across the region, that need will remain, Turner said.
"For many, the situation has improved," the mayor said. "For many, the situation is still dire. And we don't want to leave anybody behind."