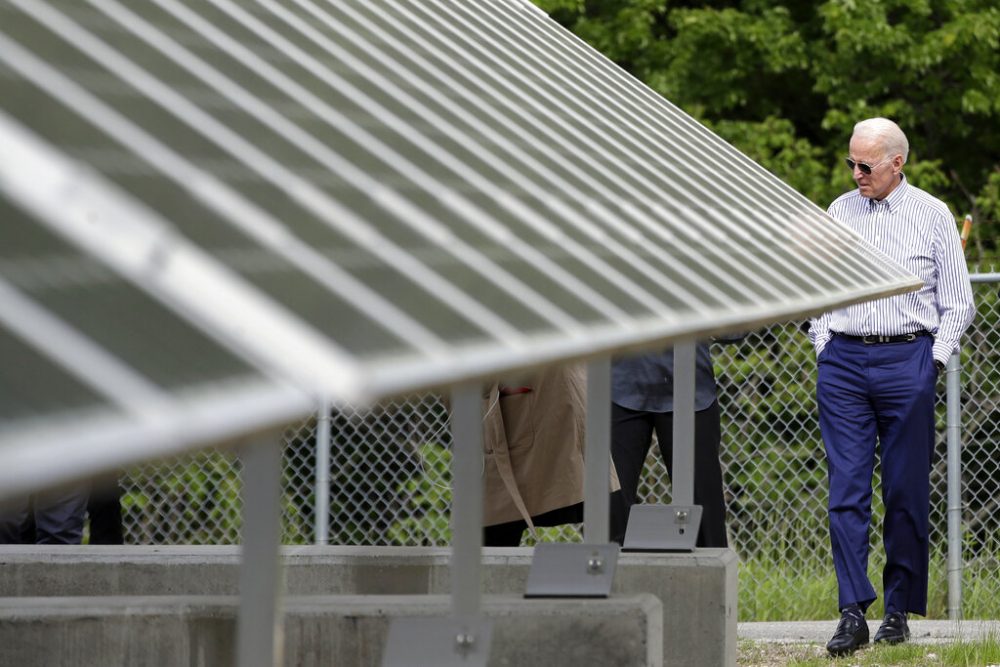 President Joe Biden signed a sweeping executive order to address climate change this week, including a moratorium on new oil and gas leases on federal land.
Criticism and support for the move largely fell along party lines. Many Houston area Republicans say Biden's climate change policies will hurt the city's energy industry, and Gov. Greg Abbott on Thursday issued an executive order directing state agencies to challenge laws they deem a threat to the Texas energy sector. And though four Texas Democrats have asked the administration to halt part of his climate agenda, the party has overwhelmingly said these are much needed measures to lower greenhouse gas emissions.
But a new policy brief from Rice University's Baker Institute says climate policy could be an opportunity for bipartisan action.
"The last few years have been really marked by an incredibly divisive political environment," said report co-author Ken Medlock, a senior director of the Institute's Center for Energy Studies. "When you sort of just look at the policy landscape, it's almost framed as one side versus another, rather than there are areas of common ground that can be moved forward."
That's why Medlock and his fellow authors focused their policy brief on potential bipartisan action.
The brief outlines nine different potential policies that Democrats and Republicans might agree on, including legislation on carbon capture and expanding research and development of carbon-neutral technologies. It recommends developing new energy transportation infrastructure like transmission lines and hydrogen and carbon dioxide pipelines.
The brief also includes recommendations like retaining and expanding the U.S. nuclear power fleet with advanced reactor designs and new technology, regulating carbon dioxide emissions, and introducing carbon pricing.
Read the entire policy brief. Story continues below:
Still, the first week of Biden's presidency has outraged some Republicans with regard to climate policy. Referring to Wednesday's executive order, Houston Congressman Dan Crenshaw Tweeted the move will cause job losses and weaken the U.S. in the global energy market.
Biden is making good on his campaign promise to destroy the oil and gas industry and the millions of people it employs.

"Middle-class Joe" is killing blue-collar jobs, ceding energy dominance to Russia, and doing nothing for the environment.

But hey at least your base is happy. https://t.co/3J2rC3hOqv

— Rep. Dan Crenshaw (@RepDanCrenshaw) January 27, 2021
The executive order is meant to establish climate considerations as an essential element of U.S. foreign policy and national security, according to the White House fact sheet. It directs the Secretary of the Interior to halt new oil and natural gas leases on public lands or offshore waters, launch a rigorous review of all existing leasing and permitting practices related to fossil fuel development on public lands and waters, and to find ways to increase renewable energy production.
For his part, the President tried to address some of the GOP's concerns when signing the order.
"Let me be clear, and I know this always comes up — we're not going to ban fracking," Biden said. "We'll protect and grow jobs, including through stronger standards like controls for methane leaks and union workers willing to install the changes."
The Baker Institute policy brief emphasizes bipartisan legislation, not unilateral action. Medlock said legislative solutions tend to have more of a lasting impact.
"Things that are done via executive order or via rulemaking run the risk of being undone with the next administration," Melock said. "And those sorts of things just inject massive amounts of uncertainty into market arenas, into policy arenas, and ultimately lead to paralysis. That's really not a place where we can be if we want to talk about concerted, effective action on climate change."
When asked if the Biden administration has already lost its chance at bipartisanship after actions like revoking a key permit for the Keystone XL pipeline, Medlock said he doesn't see it as a bellwether of what's to come.
"As we move forward, it will be interesting to see how the administration approaches permitting for other types of infrastructure and funding for other types of infrastructure," Medlock said. "This is where we get into transmission. We get into pipeline capacity. We get into infrastructure for roads and electric vehicle recharging. And there's all sorts of things that come into play. But the administration will have a hand in determining what that go forward process looks like — so I think the script is still being written."