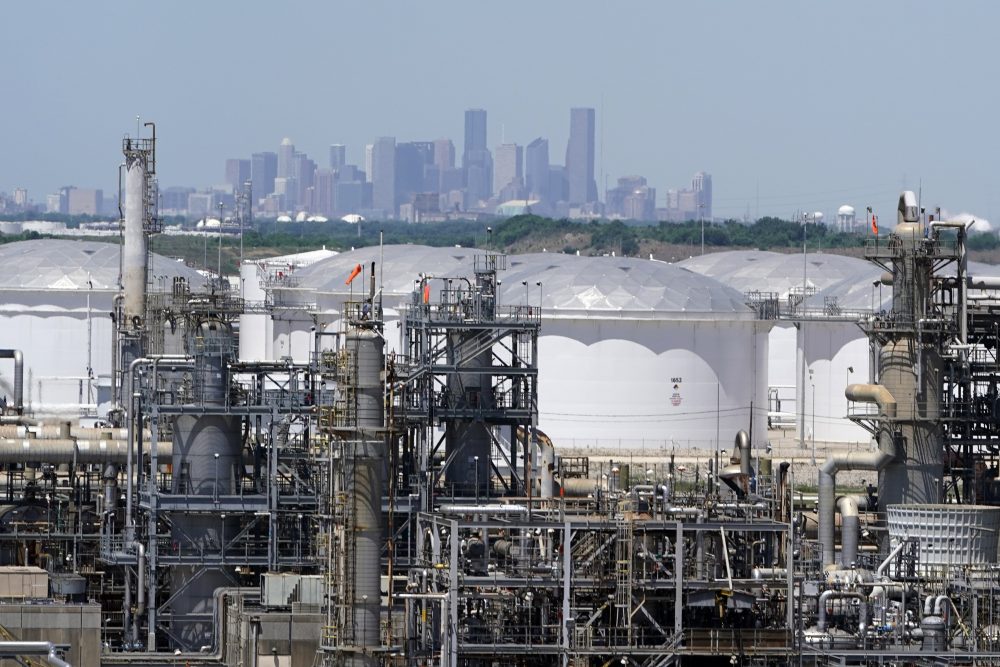 The city of Houston and Harris County are launching a new $1.1 million initiative to better monitor air quality in the region.
The goal is to reduce hazardous air pollution and lower the risk of future disasters. To do this, city and county agencies will team up to expand air monitoring capabilities and identify potentially problematic facilities ahead of time for additional inspections and oversight.
Carried out in partnership with the Environmental Defense Fund, the initiative came about following a slew of chemical disasters in the region over the past 18 months, including the fire at Intercontinental Terminals Company's petrochemical facility in Deer Park, which burned for days. These chemical disasters send hazardous pollutants into the air, which can pose a health risk, especially during the pandemic.
RELATED | I Spent A Month Trying To Find Out What Chemicals Are Stored Near My Home. I Still Don't Know
Houston Public Media spoke with the Environmental Defense Fund's Senior Director Elena Craft to learn more.
Read or listen to our interview with her below, edited for length and clarity.
How does this new initiative seek to use air monitoring proactively to prevent disasters from occurring in the first place?
I think that's been one of the challenges, is that we have been in a reactionary mode as opposed to a proactive mode in terms of identifying the potential for emissions. And so this is an effort to be prepared and to be ready, when we expect or anticipate that there could be an issue.
There's a couple of things to this. One is that when there are communities that sense that there may be some sort of release at a nearby facility, for example, it oftentimes happens at night or on the weekends when, in general, the city or local equipment is not working. Folks are not in their offices to deploy equipment very easily. And so this effort is going to try to address that by going out on nights and weekends to get a better understanding of the baseline concentration of some of the high priority pollutants of which we're concerned about in the Houston area.
The other part about this is that when many of these residents have experienced some sort of air quality issue, when they call the state environmental agency, the TCEQ (Texas Commission on Environmental Quality), the agency's mobile unit is actually housed in Austin. So best-case scenario, you've got a three-four-hour lag time. This really serves to fill some critical gaps that we have seen over the last 18 months.
What types of pollutants will they mostly be monitoring for?
We're primarily looking for VOCs (volatile organic compounds), so those things are the benzene, the butadienes — compounds that we know are a significant threat. And compounds that we know from our stationary monitoring network have varied concentrations across the city, depending on where you live. For example, areas like Galena Park, have had higher concentrations of pollutants like benzene for many years, and there's not a good reason why. It's not coming from traffic or what you might think of as other maybe background sources.
I know you mentioned one of the things you'll be doing is increasing monitoring activity on nights and weekends. In what other ways will air monitoring capabilities across the region be expanded?
One element of the project is actually looking into how might we prioritize a monitoring campaign around the Houston area. So for example, as we look back through compliance histories, as we look back to emission event reports, as we look back to any number of bits of data and information that we can gather around different types of facilities, we'll have a sense of where we might expect that there could be an issue.
Another thing is that we are working closely with the district attorney's office, the county attorney's office as part of this initiative. The reason for that is to help identify new data sources that they can access as part of the due diligence that they do as part of their investigations. And so giving them more tools to be able to make their case when there is some sort of violation of a permit, for example.
I know this initiative is being implemented over an 18-month period. What's the first step?
The first step has been actually putting together an inventory of instruments that are housed across the different agencies. So Harris County Bureau of Pollution Control has different instruments than the City of Houston Health Department.
And then the next step is working to look at facilities that may be candidates to monitor over a six-month period. If there are places that we may consider the next ITC, for example, could we start and conduct some baseline measurements around those types of facilities, just so that we have a better handle on the concentrations around the region?