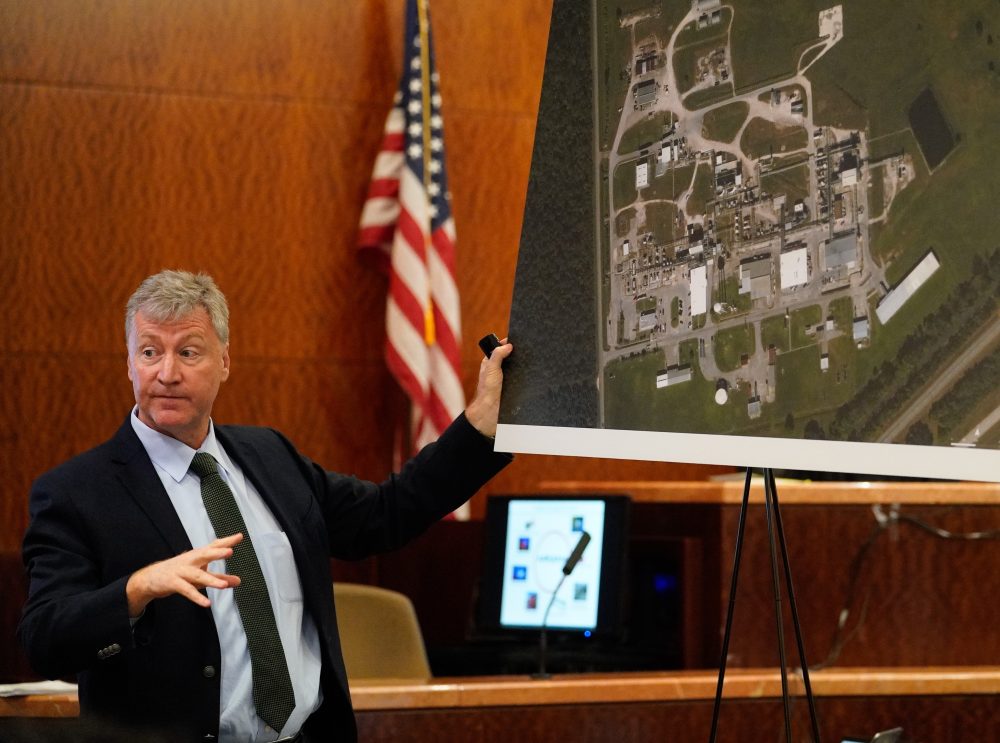 The criminal trial of French chemical manufacturer Arkema and two of its executives continued this week at NRG Park, after COVID-19 put the trial on a six-month hiatus and limited use of Harris County courtrooms.
The court adjourned Monday morning after Judge Belinda Hill briefly questioned the jury about the long break, and jurors were told to be back Tuesday morning at 8:45 a.m.
Arkema, its CEO Richard Rowe and former Crosby plant manager Leslie Comardelle face state criminal charges for reckless emission of air pollutants, over a fire that erupted at a Crosby chemical plant during Hurricane Harvey three years ago.
At the crux of the case is if Arkema acted with criminal recklessness, or if Harvey was an act of God that nobody could have anticipated. Experts say the case has implications for how the petrochemical industry is held responsible for preparing for disasters.
"It puts the way we deal with disasters squarely in the crosshairs," said University of Houston environmental law Prof. Tracy Hester.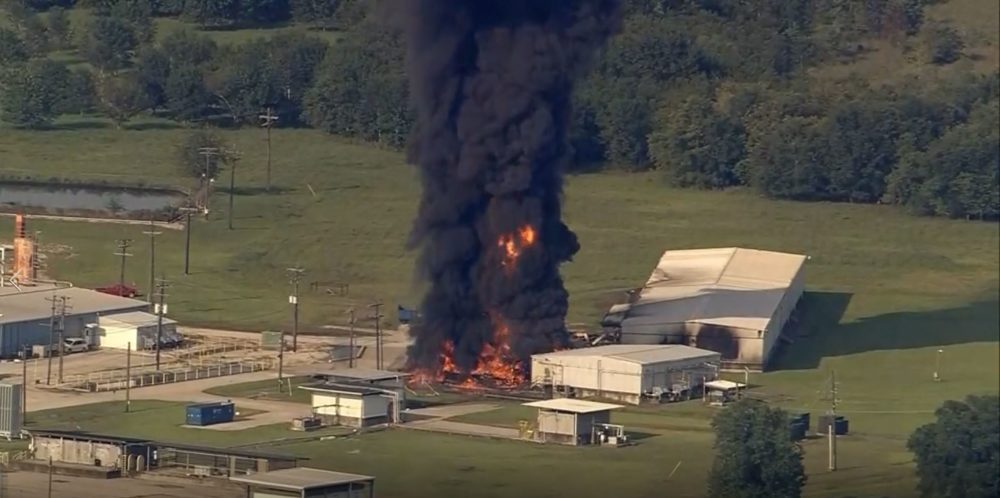 When Hurricane Harvey hit Houston, more than five feet of water flooded parts of Arkema's chemical plant in Crosby. The facility produces organic peroxides, which are used to make things like plastic cups and countertops. But they're also extremely flammable, and need to be kept refrigerated.
"If they start to warm up they become unstable and they will decompose," Arkema executive Richard Rennard told reporters in 2017. "When they decompose they generate heat. And when they generate heat there's a possibility of a fire and possible explosion."
And that's what happened. The facility lost power — and backup power — and trailers of organic peroxides burst into flames, sending thick plumes of black smoke into the air for days. Twenty-one people sought medical care after exposure to the fumes, and more than 200 residents evacuated their homes for a week.
A series of delays
In 2018, a grand jury indicted Arkema, its CEO and former Crosby plant manager with reckless emission of air pollutants. Then in April 2019, the Harris County District Attorney's Office also lodged assault charges against the company and its former VP of Logistics Mike Keough, alleging they injured first responders by downplaying the danger at the site.
But those charges were dismissed last week, after prosecutors said that they couldn't prove the charge beyond a reasonable doubt at this time.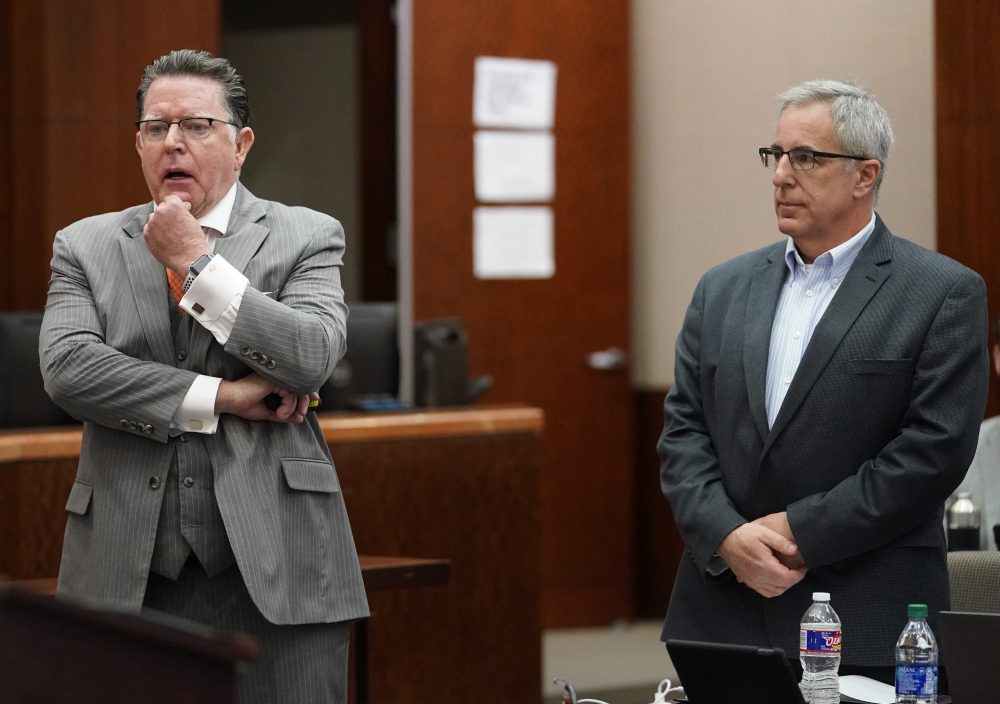 Keough's defense lawyer Dan Cogdell said at a press conference that the charges should have never been brought, calling it a "win-at-all-cost prosecution."
"We thought the case was a ridiculous accusation from the get-go," Cogdell said. "The state's theory was that Mike Keough, who was in King of Prussia, Pennsylvania, committed reckless assault of a police officer by misrepresenting the status of things in Crosby, Texas. It's a theory of prosecution that had never been tried before. It is a theory of prosecution that we didn't believe the law allowed. But the state went forward anyway."
The dismissal of the assault charges came amid a prosecutorial misconduct hearing over allegations the state has continued to withhold evidence that could benefit the defense. It's the latest in a series of delays and allegations of wrongdoing.
In February, Hill delayed opening statements after ruling the state had failed to disclose evidence that might be beneficial to the defense. Then, a burst water main interrupted opening statements. Shortly after, the trial was put on hold due to COVID-19.
Over the summer, the state requested an inquiry into jury tampering, and the defense lodged its renewed accusations of prosecutorial misconduct. The judge still has to issue a ruling on a request from the defense to dismiss the remaining charges due to continued prosecutorial misconduct.
When disaster strikes
Legal drama aside, the trial stands out in part because the criminal case is built on state environmental law. UH environmental law professor Tracy Hester said most high profile environmental prosecutions tend to happen at the federal level.
"To a certain extent it implies a higher standard of care to industry to meet if they're going to avoid not just liability, not just money, but making sure that their employees are not facing criminal charges or the corporation itself," he said. "It's a ratcheting of the stakes up. And from that perspective, using Texas environmental laws, and using them in this kind of context, it catches the eye."
He said the petrochemical industry is watching the case closely, as its outcome could impact how companies are held responsible when disaster strikes.
"To the extent that this trial results in a judgment, especially one that imposes criminal liability for not preparing properly, it's going to send ripples throughout the entire industrial community as to trying to figure out what the standard is, you know, how are you going to deal with the next major hurricane coming?" Hester said.
Regardless of the outcome, experts say the charges themselves symbolize a willingness from the DA's office to pursue these kinds of cases, resulting from industrial incidents.
"In a lot of the environmental laws the difference between civil and criminal charges are whether it's a knowing violation," said Kelly Haragan, director of the environmental law clinic at the University of Texas at Austin. "Criminal charges are obviously really serious, and I think it shows that the county is taking these incidents seriously."
Haragan said the case also puts climate change on the table.
"The question is can industry put its head in the sand and ignore all of these studies about climate change? And then claim, we didn't know. We can't be responsible for anticipating that," she said. "I think that's kind of the crux of the arguments in the case; what they should have known and what they should have planned for."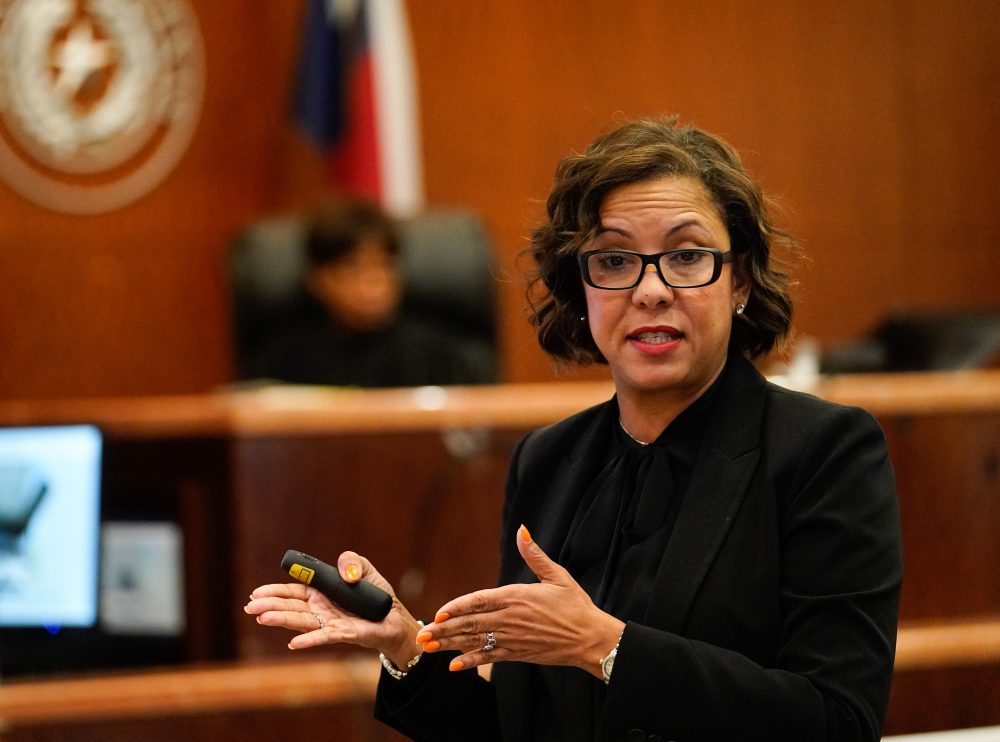 Lawyers already gave their opening statements back in February, with prosecutors arguing that Arkema has a history of recklessly leaving chemicals on-site in the face of a storm, despite being located in a floodplain. Special prosecutor Michael Doyle told jurors that given the plant's location, they should have known the risk and better prepared.
"The biggest storm ever is always going to be the next one," he said.
But defense lawyers painted a different picture. In her opening statement for Arkema, Letitia Quinones called Hurricane Harvey the most natural disaster. She said Arkema's preparation worked for past storms, and sw no need to change it.
"We've survived 20 storms by keeping the safeguards and utilizing the safety procedures that we had in place," she said.
The trial is expected to last two weeks.