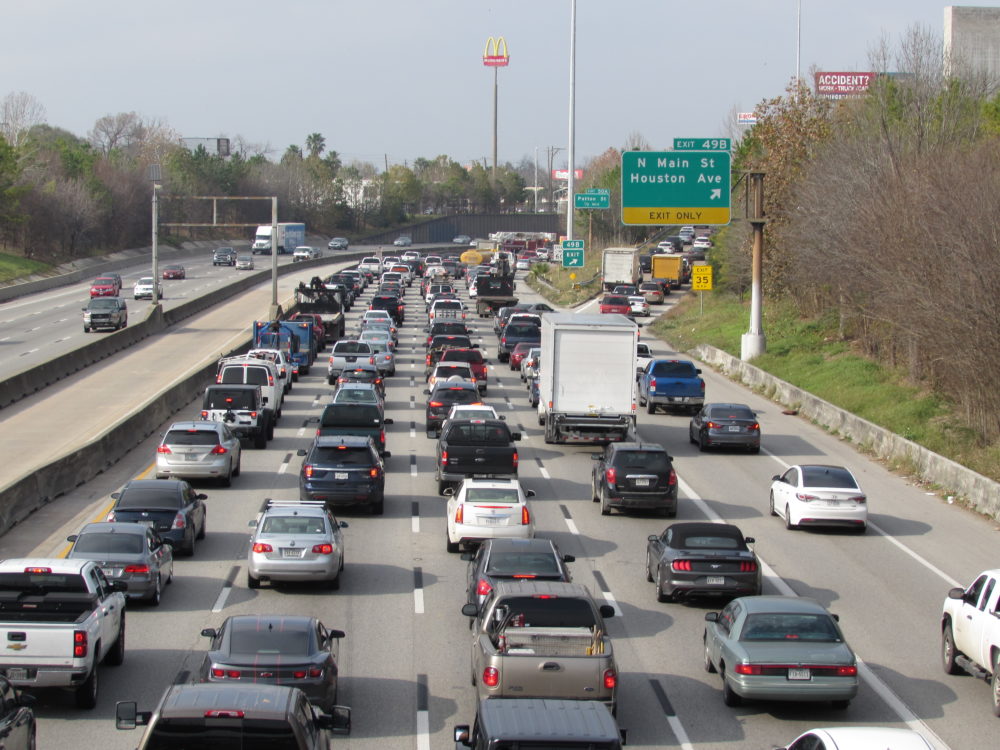 During the first four weeks of stay-at-home orders, ozone pollution across Texas dropped by an average of 18%, as people stayed at home and drove less, according to a study from the Houston Advanced Research Center in The Woodlands.
Researchers at HARC compared pollution levels from this year with average ozone levels during the same period over the past six years to account for factors like weather, which plays a role in forming ozone.
Research scientist Meredith Jennings said they also analyzed cellphone data showing how far people drove during the stay-at-home orders. By mid-April, Texans were already starting to drive more and reductions in ozone haven't been as dramatic since then.
"As more people are getting back on the road, we're seeing those transportation emissions increase. And the air quality — those improvements that we were seeing are starting to go away," she said. "We're still way below our normal levels of travel, but that peak in reductions, we've already seen that."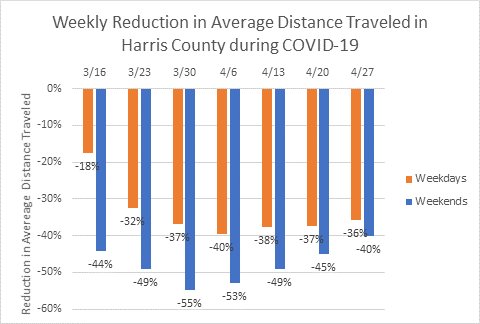 Though ozone pollution dropped nearly 20% during the first four weeks, over the entire period analyzed — March 11 through April 30 — pollution levels were down just 9% in Texas compared to the average for the same period over the past six years.
In Houston, the reduction in ozone mirrored the state trend, dropping 17% in the first four weeks, but just 7% over the entire March 11-April 30 time period, according to HARC's analysis.
"I think 7% is still a good drop," said Mustapha Beydoun, vice president and chief operating officer of HARC. "It's certainly not as high as it was during that first four weeks, where it was down 17%, but nevertheless, it's an improvement in our air quality with respect to ozone."
Ozone isn't directly emitted into the air. Instead, it's formed by chemical reactions between nitrogen oxides and other pollutants that occur when there's sunlight. Cars are one of the major sources of emissions of nitrogen oxides.
The researchers said that areas where transportation is a key factor in producing ozone saw the most dramatic improvements. Austin saw the largest decrease in ozone pollution — 16% — while El Paso had the smallest reduction at less than 1%.
"If you look at the analysis, especially the first four weeks after the stay-at-home orders, you get a glimpse of what things might be looking like if we do reduce our emissions in the transportation sector, whether it's getting people to drive less or getting people to drive cleaner electric vehicles powered by renewable power," Beydoun said.
The researchers said they plan to continue studying the trends as the state returns to normal. They're also analyzing data on the shutdown's impact on other pollutants such as particulate matter.