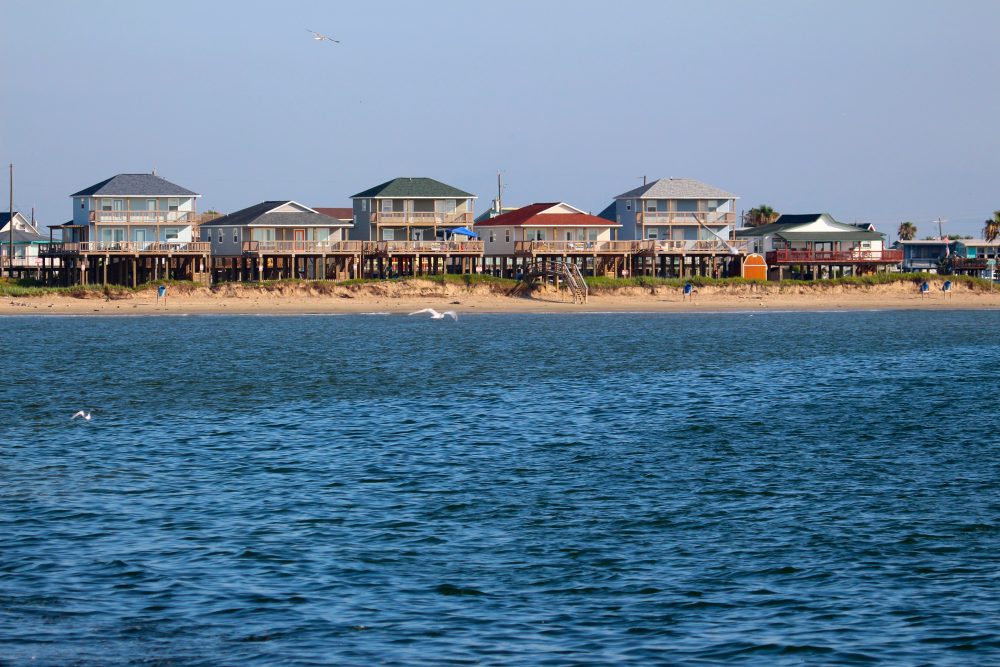 Surfside Beach sits about an hour south of Houston. With a population of roughly 600, the quiet beach town is surrounded by nature. It butts up against the Brazoria National Wildlife Refuge, home to more than 400 species of birds, and the endangered Kemp's Ridley sea turtles lay their eggs on its beaches.
"We have butterfly migrations that come through; every kind of coastal bird you can think of," said Donna Robinson, who has lived in Surfside for over 20 years. "It's just a very quaint, lovely, community with lovely people that live here."
Now, Surfside sits in the path of a major oil project from two midstream operators, Enterprise and Enbridge, who want to build a deepwater oil port 30 miles offshore. Called the Sea Port Oil Terminal, or SPOT, it would be able to load large tankers that can transport up to 2 million barrels of oil at a time.
Part of the project includes building new pipeline to transport crude from an existing terminal in Houston to the proposed deepwater port. That pipeline would cut through Surfside.
Robinson said one of her main fears is an oil spill like Deepwater Horizon, during which 210 million gallons of crude oil spilled into the Gulf of Mexico, killing marine life and blackening shorelines.
"If there was to be a spill or something it would affect me. It would affect the entire island," she said. "This is a very beautiful little community and we don't want [the pipeline] here."
Shelley Wallis, who owns a house right next to the proposed pipeline's path, echoed those concerns.
"I've never been around anything like this; it just scares me to death," she said. "To think, my daughter is downstairs swinging on the hammock and that thing fails, what happens? I don't think anybody can live there and not fear what will happen when that thing fails."
Similar projects have popped up since 2015 when the U.S. lifted its ban on exporting crude. Most of Texas' existing port infrastructure can't efficiently handle loading the largest oil tankers, leading to a rush to build deepwater ports. And as companies race to build these offshore export terminals, communities across the Gulf Coast are feeling anxious.
When it comes to the SPOT project, environmental groups — and even some Texas state agencies — say it would impact wetlands, the Gulf of Mexico and air quality.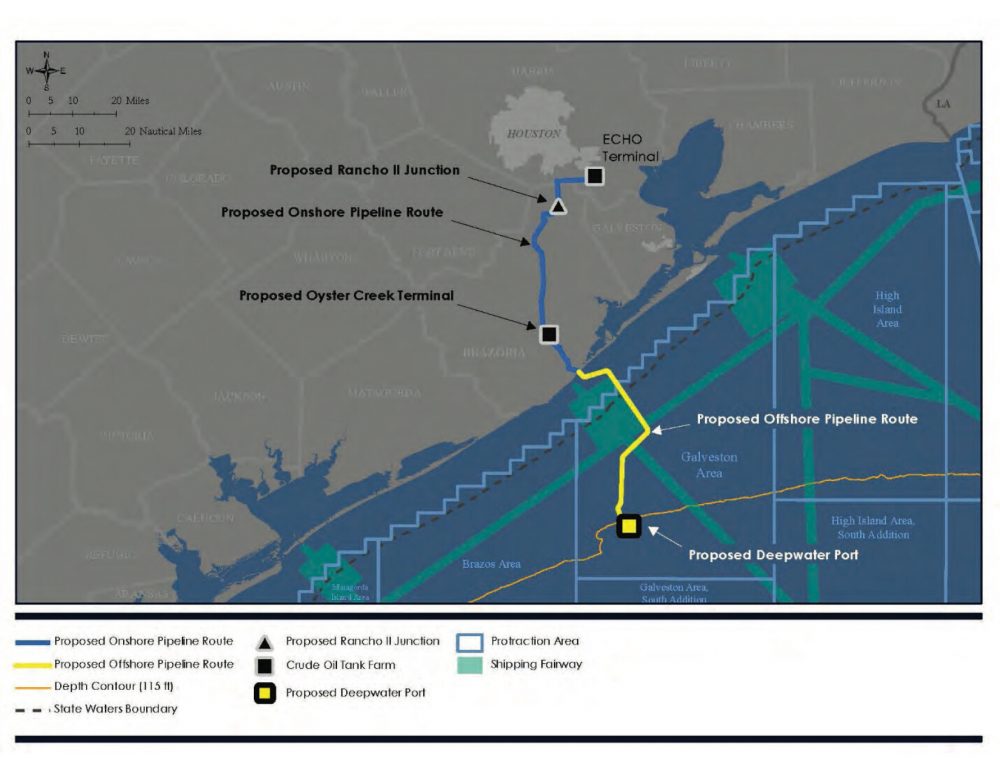 The project is expansive. "It would involve the construction and operation of a tremendous amount of infrastructure cutting through communities, coastal areas, and ecosystems between the Enterprise terminal in Houston all the way to Surfside Beach," said Ethan Buckner, with the environmental non-profit Earthworks.
The project includes an onshore, 3-foot-wide pipeline that would run 50 miles from Enterprise's crude terminal in Houston to a proposed storage tank area in Oyster Creek. That facility would have the capacity to store 4.8 million barrels of crude oil. From there, the pipeline would pass through Surfside and then extend about 30 miles offshore to the proposed deepwater port. One hundred acres of wetlands would be impacted.
"There are a number of profound and potentially unmitigable environmental risks associated with a project like this at each step of the way," said Buckner. "There are concerns about destruction of wetlands, the potential for spills, permanently damaging well water during pipeline construction."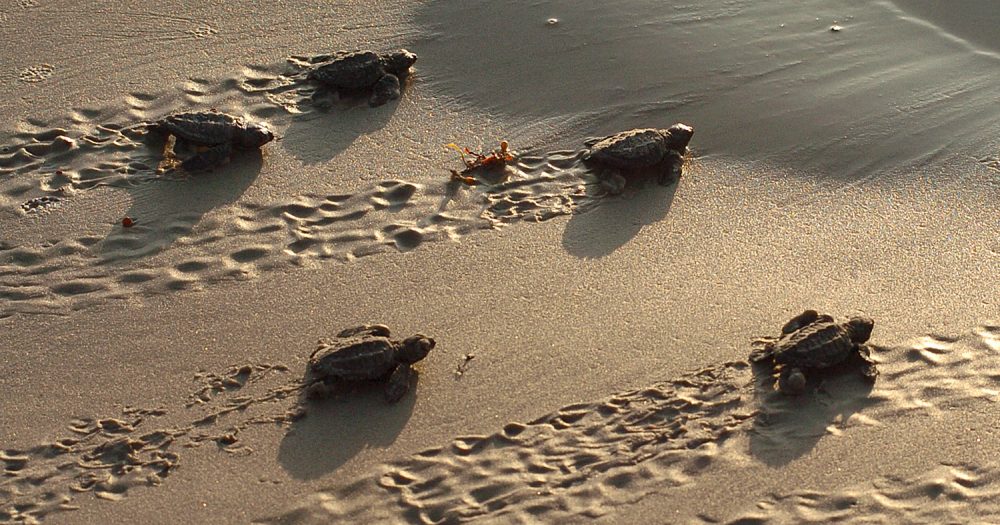 Another concern is how the project would impact the endangered Kemp's Ridley sea turtles, which nest in the area.
"We are the northernmost region for the Kemp's ridleys to nest," said Joanie Steinhaus, the Gulf of Mexico Program Director with Turtle Island Restoration Network. "They're critically endangered so every egg, every nest is extremely important to the population."
Steinhaus helps run a turtle patrol that looks for nests along the upper Texas coast. So far, this year, they've found two nests in Surfside. Since turtles usually return to the same place to lay eggs, Steinhaus said she worries how construction would affect their nesting.
"They may or may not try to come back to another area of the coast. And when they're ready they could potentially dump their eggs out in the Gulf of Mexico, if they're not comfortable," she said. "And that year or two of construction would have a huge impact on the population if these turtles aren't able to nest."
She said she doesn't think the danger stops with construction. "We would be concerned about the boat traffic; of course turtles get hit by boats all the time. Again, a potential for a spill would be huge," she said.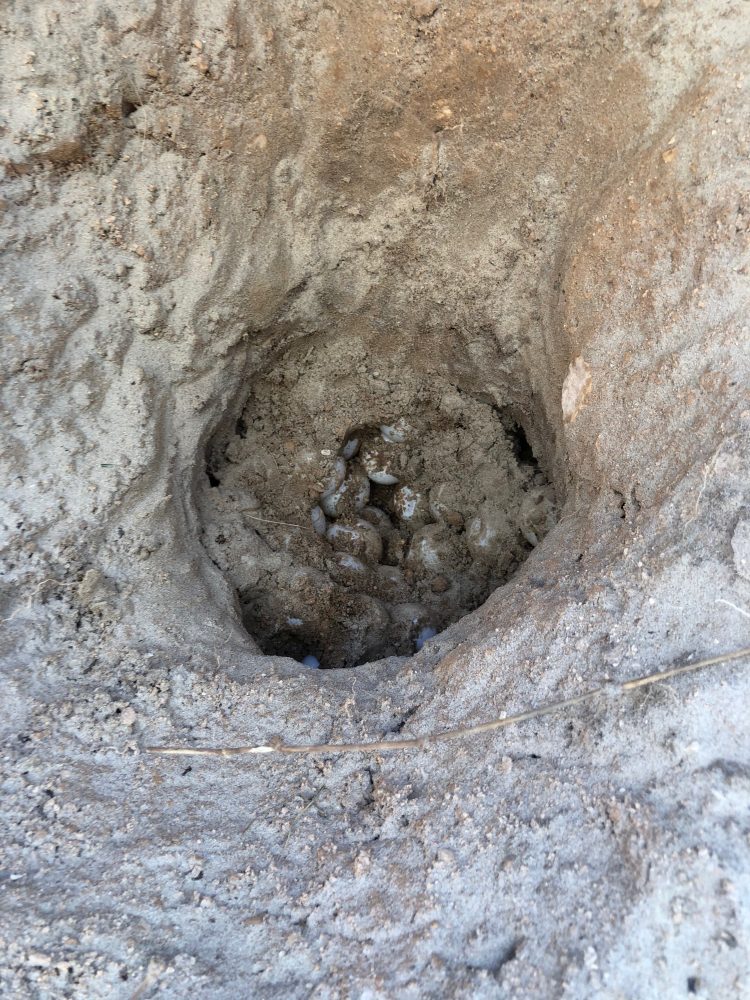 The project's draft environmental impact statement states it could affect at least one turtle nesting season, but downplayed any long term impact. It says risks from boat strikes and oil spills "are not quantifiable."
The nearly 1,000-page document was put together by the U.S. Coast Guard and the U.S. Maritime Administration, the federal agencies overseeing the permitting process. But some environmental lawyers and local agencies have pointed out what they view as shortcomings in the document's analysis of environmental risk.
The Texas General Land Office, for example, wrote in a letter that, unlike what the draft environmental impact statement says, it doesn't view the impacts to wetlands as short term: "Revegetation that takes years to naturally revegetate is not a temporary impact. Therefore, the GLO does not consider these impacts to be short term. These impacts should be mitigated or compensated for, as opposed to being left to reestablish on their own."
The Maritime Administration said in an emailed response that "the lead action agencies will work with state and federal agencies to resolve any errors that they found" prior to the publication of the final environmental impact statement.
A game of "wait and see"
Given the current oil downturn, some are wondering if the project is even needed.
Enterprise denied a request for an interview. But, a spokesperson confirmed the company is still pursuing the deepwater license.
Sandy Fielden, the Director of Oil and Products research at Morningstar, said it's a matter of "wait and see."
"We're in a situation where production is rapidly shrinking. And therefore, arguably, the need for those export facilities has certainly for the moment gone away," he said. "But the belief is that there will be sooner or later a recovery that will revitalize the requirement to build a more efficient offshore terminal to handle these larger tankers."
In the meantime, Fielden said the permitting process can take two years and it's not very expensive for companies. Plus, there's an incentive to be first to market.
"Why not just keep going through the regulatory process? Continue that investment on a fairly small scale, on the assumption that if and when the market recovers you'll then be in a much better position to immediately start construction," he said.
Details about the project are available on Regulations.gov. The deadline to submit comments on the draft environmental impact statement has been extended until May 31.
Stories like this are only possible because of your generosity. If you value our reporting, please consider supporting our work with a donation to Houston Public Media. Together we do it, for the love of Houston.