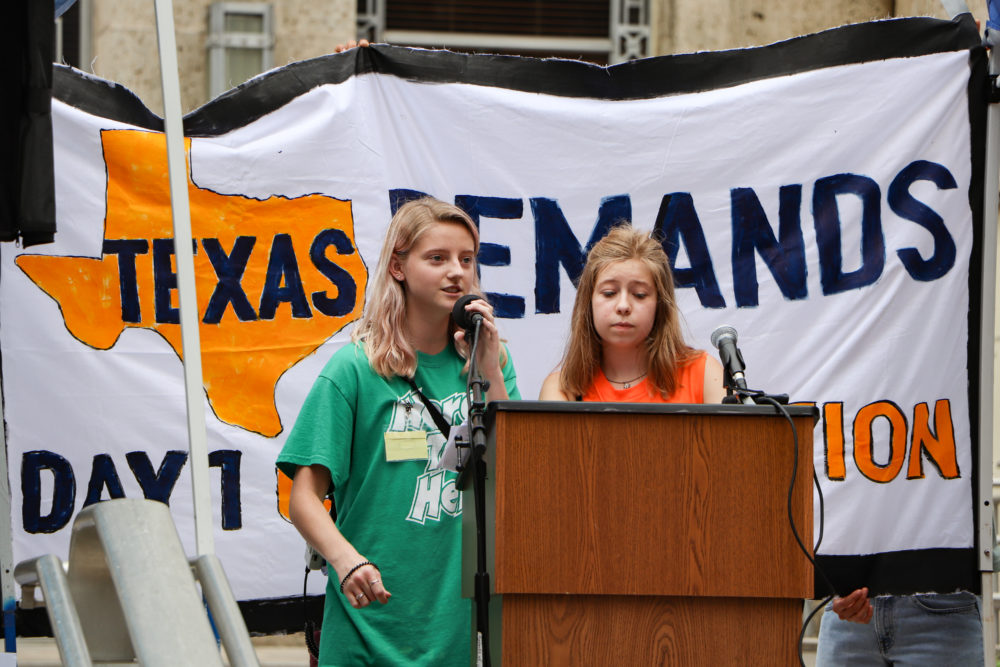 Planning around disasters is something the Houston Youth Climate Strike organizers have done before: Last September, Tropical Storm Imelda hit Houston the week of the globally coordinated youth climate strikes.
So when organizers realized this year's Earth Day climate strike also wouldn't go on as planned due to the coronavirus pandemic, they took it in stride.
"Being a young person in Houston particularly, being on the front lines of the climate crisis, we've had so many events in our lives that get in many ways rained out, that get changed at the last minute," said Madeline Canfield, a high school senior and the co-general coordinator for the Houston Climate Strike team.
But that doesn't mean the climate strike is canceled. This year, the Houston Climate Strike movement will join Earth Day live, a three-day livestream climate strike that features performances by celebrities like Jason Mraz and Chelsea Handler and talks by prominent environmentalists like Al Gore.
Locally, the Houston youth climate strike has its own virtual events taking place from Wednesday through Friday that mirror the national themes and that will be streamed on their social media platforms.
Here is our local schedule for #EarthDayLive! Remember that the National #EarthDayLive will have different events so find out more @ https://t.co/g9jedF9LxP. See you there!! pic.twitter.com/zglUyAuMFK

— Sunrise Houston 🌅 (@SunriseMvmtHTX) April 19, 2020
To some of the organizers, the shift in this year's event due to COVID-19 is a cautionary tale for how we're dealing with climate change.
"The response from our leaders and corporations for COVID has taught us what will happen when we don't heed the warnings of the scientific community to prepare for emergencies," said Julia Lewis, a sophomore and community outreach team lead for the Houston Climate Strike. "We're seeing firsthand what a global crisis can do to us, and I think it's safe to say nobody wants a repeat."
Each day of EarthDay Live has a theme: Wednesday is focused on youth climate strikes across the country and storytelling from communities impacted by climate change; Thursday centers on divesting from fossil fuels; and Friday features voter registration and political engagement. Woven throughout all three days are discussions on COVID-19 and the climate crisis.
"Although we have this huge pandemic happening, climate change hasn't stopped," said Lewis. "And so we want to take this time to look at solutions that will help both those who are impacted by the coronavirus and climate change as well."
Wednesday at 11 a.m. a slate of speakers and local performing arts groups will take Houston's virtual stage to share personal stories about dealing with the climate crisis through art, poetry and other performances.
"We're still really excited to see all that spirit and mobilization," said Vidya Muthupillai, a high school junior and the head of the regional leads team for Houston Climate Strike. "We're still bringing in those same elements of performance art, music, and dance through our livestream performances. We're still trying to see that same element of the community that comes together, united in change, even though we're divided physically."
The organizers said their goal was to preserve as much of the original plans and spirit of the strike as possible. One way they're doing that is through a virtual gallery project that will showcase artwork and strike signs.
Another key element is a virtual town hall on Friday with city leaders to discuss the Houston Climate Action Plan. Anyone can watch and post questions for officials on social media.
"Climate action is local," said Canfield. "And there is a local movement, but there's also local policy efforts, so we really want to use our Houston Climate Action Plan segment to spread awareness of the immediacy of this action."
The organizers hope a few hundred people tune into the local livestreams. And they think new innovation around using social media to organize could emerge from this experience.
But while the virtual strike gives the opportunity to get their message out into the world, organizers say there's no replacing the real thing.
"From a community engagement standpoint there's also the loss of the energy, the hype, the thrill of mobilizing in the streets," said Canfield. "You feel power and you feel connected. And we're trying to replicate that on video, but sometimes it's not the same."