Like other cities around the world, Houston's air quality has shown signs of improvement since a stay-at-home order went into effect March 24: Houston's air was 10-15% cleaner this March compared to a year ago, according to one analysis from Daniel Cohan, a professor of environmental engineering at Rice University.
It wasn't necessarily a dramatic improvement, and it may be a bit too early to know how much of that improvement is due to staying at home, and how much is due to favorable weather conditions, as hot, stagnant weather plays a role in forming ozone.
But, the change is there, Cohan said.
"We've seen no high-ozone days yet this year, whereas last year we saw four," he said. "And some other pollutants have come down a bit as well."
In addition to looking at ozone, Cohan also used satellite maps to look at levels of nitrogen dioxide, an air pollutant that reacts with other chemicals in the air to form ozone and particulate matter. Exposure to ozone and particulate matter can lead to a slew of health problems, including chest pain, coughing and decreased lung function. Nitrogen dioxide itself can irritate the respiratory system and aggravate asthma.
Striking reductions in satellite-observed tropospheric NO2, March 2020 vs March 2019. Plotted using NASA Giovanni https://t.co/Y31ajNXm9o pic.twitter.com/2b8g2eqp13

— Daniel Cohan (@cohan_ds) April 1, 2020
Maps showing China's nitrogen dioxide levels dropping when the country went into lockdown were shared by NASA and similar declines were also seen in northern Italy. Now, Cohan says a similar trend is being observed across the U.S.
"Over the past month we've been able to see over large parts of the U.S., especially over New York and Los Angeles, but even over Houston as well, we've seen the N02 levels decline," he said.
But even as Houston's air quality shows improvement, environmentalists are worried about pollution from industry, following recent EPA rollbacks for polluters.
EPA rollbacks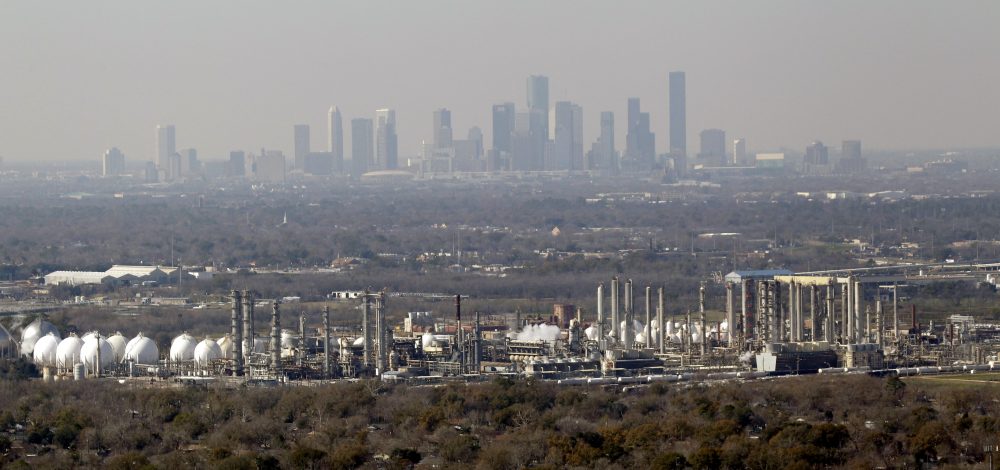 On March 26, the agency announced it wouldn't penalize facilities that aren't able to keep up with routine reporting of emissions due to potential staffing and other issues related to coronavirus. Typically facilities with air and water emissions permits are required to regularly monitor and report their pollution levels.
Now, not only do those facilities not have to report, but they're no longer required to self-monitor at all, according to Victor Flatt, an environmental law professor at the University of Houston.
"It does not actually suspend the law, it doesn't say that a company can just start polluting," Flatt said. "But the problem is if nobody's monitoring what's happened, nobody knows whether a company is polluting or not."
The suspension of reporting requirements doesn't currently have an end date, and was retroactive, beginning on March 13.
"There may be reasonable examples under limited circumstances where EPA could exercise discretion on a case by case basis," said Elena Craft, the senior director of climate and health at the Environmental Defense Fund. "But I think that's where this breaks down, is that this is not a case-by-case basis, this is an open-ended, no statutory authority mentioned, example of providing a seemingly free-for-all."
For its part, the Texas Commission on Environmental Quality, has said it will continue to enforce regulations, though it is offering regulatory relief on a case-by-case basis for companies that request it.
In a statement following the EPA rollbacks, Harris County Pollution Control Services also said its staff would continue enforcing regulations and would work with the County Attorney's Office if needed to address violations.
Though some companies may continue monitoring, experts fear what could go undetected at facilities that aren't.
"These aren't marshmallow factories. They're dealing with a lot of highly toxic chemicals, carcinogens, mutagens, things that you don't want released into a local community," said Corey Williams, the Research and Policy Director at Air Alliance. "Because of Houston's lax land-use policies there are a lot of communities that are located very near these facilities. So delaying repairs or delaying monitoring, not being aware of the chemicals that are being emitted, can pose a real danger to local residents."
Can air pollution make you more susceptible to COVID-19?
Breathing polluted air has long been associated with health risks like asthma, premature death and lung cancer.
But now, some public health experts say there may be a link between polluted air and a person's susceptibility to COVID-19.
Dr. Winifred Hamilton, the director of the Environmental Health Service at Baylor College of Medicine, said that generally speaking, when your lungs and heart are busy fighting off assaults from air pollution, it's hard for your immune system to focus on anything else.
Hamilton said there have been numerous studies that show that air pollution — both indoor and outdoor — is associated with increases in health risks like inflammation, arrhythmia and plaque in your arteries.
"There really isn't any question that exposure to air pollution can make you more susceptible to infection, that's been shown with a number of different infectious agents, as well as make the severity of any infection worse," she said. "Some of these mechanisms have been associated with increased mortality, in general, with COVID-19, so we would expect that exposure to pollution might also make you more vulnerable."
A recent, but yet-to-be peer reviewed study by the Harvard University T.H. Chan School of Public Health found that to be the case: Higher levels of pollution — in this instance, fine particulate matter — were associated with higher death rates from COVID-19 in the U.S. A 2018 study on the Spanish flu pandemic also found a similar association: more polluted cities had higher death rates.
Dr. George Delclos, a physician in pulmonary medicine at UT Health, said he's interested in seeing more research emerge on the topic.
"I sincerely doubt [air pollution's] going to be the only factor, but it might have played a role in at least predisposing individuals to coronavirus infections," Delclos said.
Looking ahead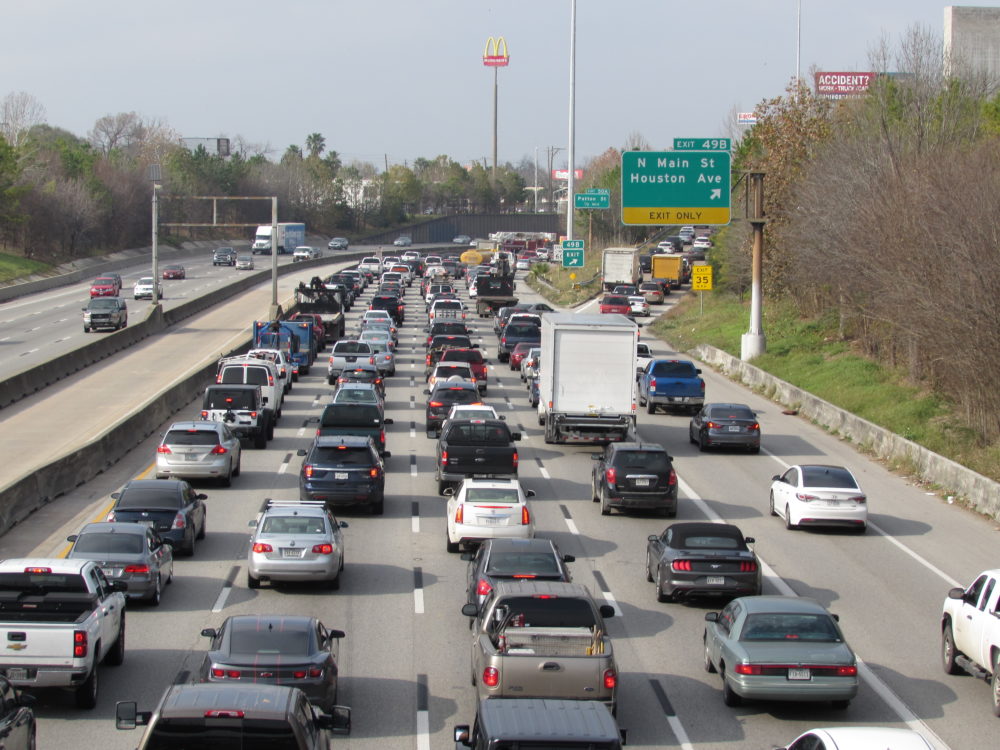 As coronavirus raises questions about air quality and pollution levels, experts now wonder what this could mean for the climate going forward.
Cohan, the Rice professor, said any long-term impacts are dependent on the decisions we make after the crisis.
"We'll only see a long-term improvement in our air quality if some of the actions that we're taking today lead to long-term improvements," he said. "If more of us decide that we can work from home sometimes, and we take a bit fewer flights or cruises, or if some of the manufacturing supply chains move to be a bit more local, those sorts of changes might lead to more durable improvements in air quality."