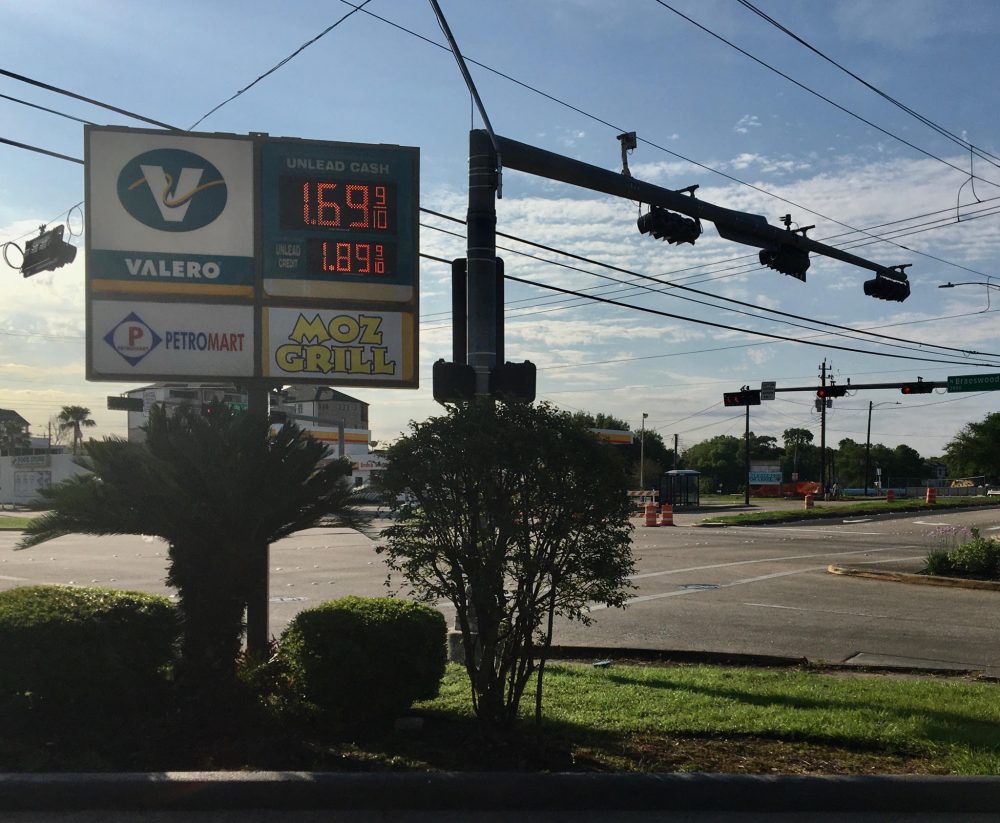 Updated 10:15 a.m. CT Tuesday: The Railroad Commission of Texas is holding a virtual public hearing about mandatory production caps. The Commissioners could vote on the idea as early as April 21.
Updated 5:53 p.m. CT March 30: Parsley Energy and Pioneer Natural Resources have filed an official motion with state regulators asking for an emergency hearing to put a cap on production. A spokesman for the Railroad Commission of Texas confirmed Monday afternoon that they're reviewing the request.
Texas oil and gas companies are trying to figure out how to stay financially afloat as the Coronavirus crisis and international price disputes are keeping oil prices low.
Many have already cut spending, some have furloughed workers, and most told the Dallas Fed Survey they wouldn't be able to make a profit if they started new drilling activity.
Some companies have even suggested to the state's oil and gas regulators they should put a cap on production, arguing it would make prices go up and save jobs.
But experts and industry trade groups don't agree.
"They've gone to the referee to ask for some sort of assistance in enforcing something that really is just nonsense on the rest of the Texas market," said University of Houston Energy Fellow Ed Hirs. "Even if they were able to reduce production in Texas, it would not have the desired impact of raising prices."
"These companies could themselves shut down production and reduce production, to—in their view—help alleviate the supply overhang in the market," Hirs said. "But they're unwilling to do this alone."
The suggestion to regulators to cap oil production came from exploration companies Pioneer Natural Resources and Parsley Energy, according to a Reuters report.
Parsley Energy told Reuters it wants a comprehensive solution that might also include tariffs on foreign oil in an effort to help domestic producers.
It's that foreign oil that Hirs said is hurting the Texas market the most. Saudi Arabia and Russia are in a price dispute, and it's unknown when or if they will come to an agreement—and that's something Texas state regulators have no control over.
So far there's no formal request to the Texas Railroad Commission, the state's oil and gas regulator, to limit production — just informal suggestions. And most commissioners have publicly indicated they don't like the idea.
"A couple of operators have suggested pro-rationing oil as a solution," RRC Chairman Wayne Christian said in a statement. "While I am open to any and all ideas to protect the Texas Miracle, as a free-market conservative I have a number of reservations about this approach."
Major trade groups like the American Petroleum Institute and the Texas Oil and Gas Association also said they favor free market solutions over a mandatory limit on production.
"The challenges we face today are unprecedented, but they are not an excuse to walk away from the free market principles that have guided this industry for more than a century," API's Frank Macchiarola said in a statement. "Make no mistake, production quotas would be a shortsighted, knee-jerk reaction with disastrous consequences for the future of U.S. energy leadership."
Hirs, from UH, agreed, and said limiting production would just put small producers at a greater risk.
"There's no question we were going to see bankruptcies over this season as the 2019 results came in and as banks pulled their lines of credit," Hirs said. "Now, of course, everything's going to be accelerated, and then if they were to limit production, it would just happen a heck of a lot faster."
There may be more to the request than just a hope to steady prices, Hirs added.
"The two producers who have asked for this are well suited to go around and pick up some of the pieces," Hirs says. "In many respects, you could look at this as a crass competitive play on their part to consolidate and expand their positions in the Permian Basin."