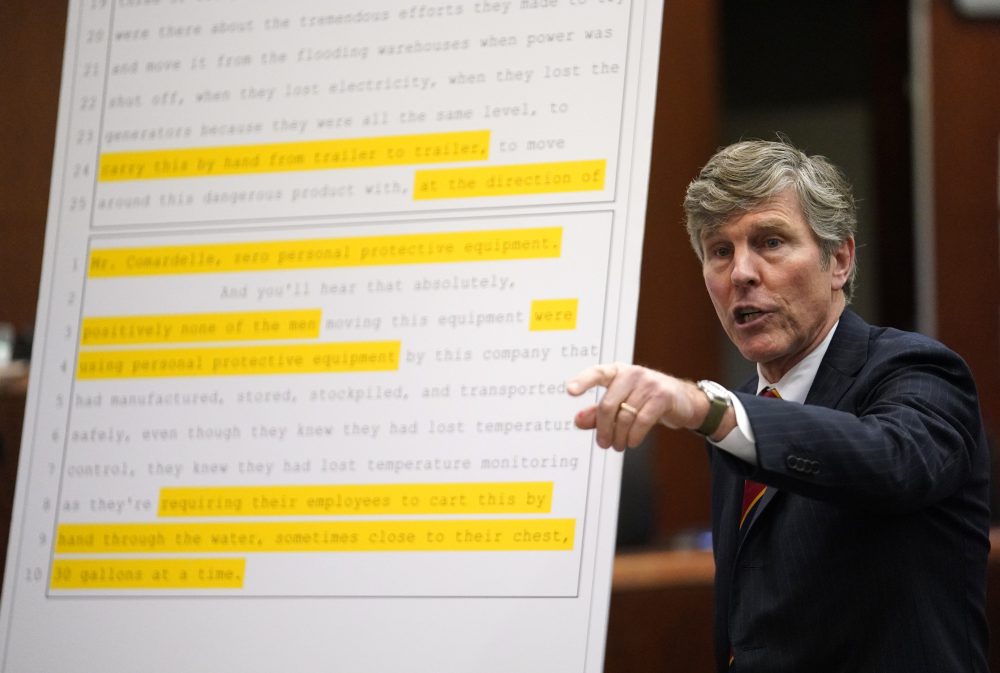 Opening statements in the criminal trial of chemical company Arkema and three of its employees finished Monday, after delays from the massive water main break that caused county buildings downtown to be evacuated.
Arkema and its employees face criminal charges over fires that broke out a Crosby plant during Hurricane Harvey, spewing hazardous chemicals into the air for days. Arkema and former VP of Logistics Michael Keough are charged with assault of a public servant, for allegedly endangering first responders by withholding critical information.
The company, its CEO Richard Rowe and former Crosby plant manager Leslie Comardelle, also face charges for reckless emission of pollutants.
Prosecutors on Thursday argued that the company and its employees were reckless in its handling of storm events, and that the Crosby fire was a direct result of that recklessness.
But lawyers for the defendants continued on Monday to paint a different picture. Attorney Paul Nugent, representing Comardelle, portrayed his client as a hardworking, blue-collar employee who did his best.
"Leslie Comardelle and the ride out crew heroically struggled day and night in the pouring rain to try to keep the product cold and protect the public," Nugent said. "Leslie is the opposite of reckless. He's conscientious. He's serious."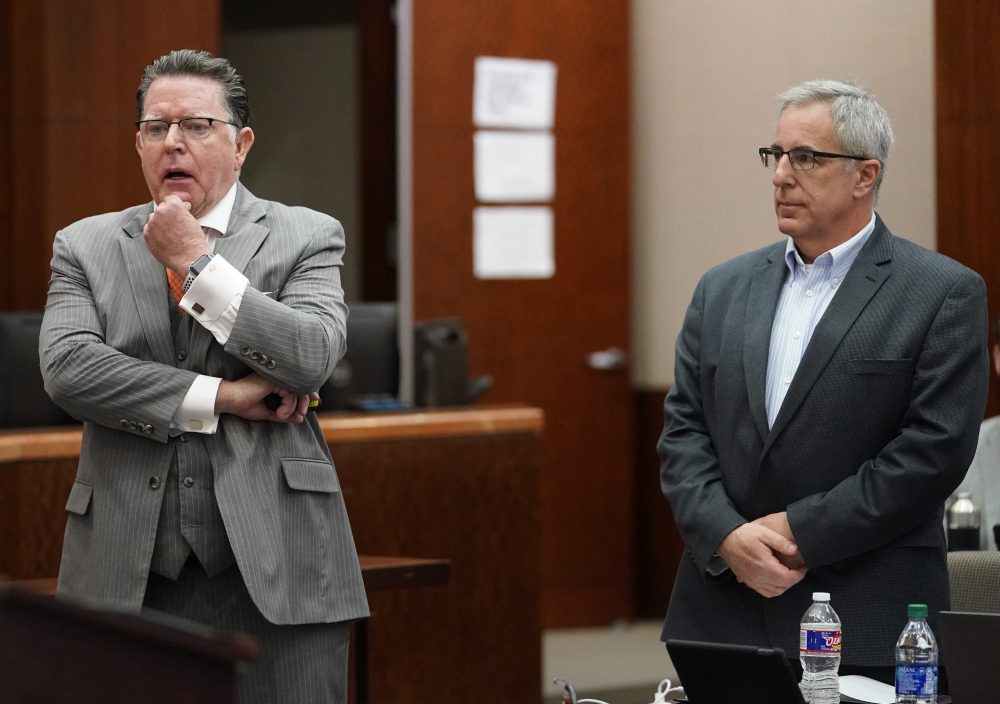 Prosecutors also said last week that Arkema didn't warn local officials that some of its trailers weren't being monitored until it was "too late," resulting in two first responders getting injured.
Keough's lawyer, Dan Cogdell, refuted this in his opening statement Monday, calling it a lie, and saying Keough was communicative from the beginning.
"By the time Keough got active, it was a question of when, not if, there would be an ignition," he said.
Cogdell said Keough, who was based at Arkema's U.S. headquarters in Pennsylvania during Harvey, was relying on information he received from others. He said that Keough didn't lie to anyone, didn't cause the injury and didn't even know the two responders who were injured were at the plant.
The defense maintains that Harvey was something the company could not plan for, despite hard work from Comardelle and others. Prosecutors meanwhile said that Arkema, which manufactures organic peroxides, has a track record dating back to the 1960s in which it has consistently left hazardous chemicals on-site during an approaching storm, despite being located in a floodplain.
Arkema attorneys have disputed that record, with defense lawyer Letitia Quinones saying last week that its response to storms over the years proved its preparedness plan worked.
The fire started after more than five feet of water flooded the plant during Harvey, causing the facility to lose power and trailers of organic peroxides to erupt into flames. The incident sent 21 people to the hospital for exposure to fumes, and another 200 were forced to evacuate their homes for a week.
The prosecution called its first witness Monday, and the trial could last up to six weeks.
Correction: This article has been updated to reflect that the first witness took the stand Monday.