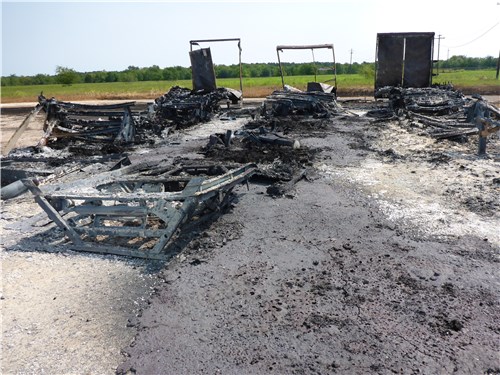 French multinational company Arkema and three of its employees face criminal charges in Houston this week, over fires that erupted at a Crosby plant during Hurricane Harvey.
When more than five feet of water flooded Arkema's Crosby plant during Harvey, the facility lost power and trailers of organic peroxides erupted into flames. The fire burned for days, sending thick plumes of hazardous smoke into the air. Twenty-one people sought medical attention after exposure to the fumes and 200 people in the surrounding area were evacuated from their homes for a week.
Now, Arkema, as well as its CEO Richard Rowe and former Crosby plant manager Leslie Comardelle, face state criminal charges for reckless emission of pollutants.
The Harris County District Attorney's Office also charged Arkema and its former VP of Logistics Michael Keough with assault of a public servant, for allegedly endangering first responders by misrepresenting the extent of the danger at the plant.
"In truth, what happened is the deputies unsuspectingly drove right into the middle of toxic fumes, and when mixed with the air, those toxic fumes became a cloud that exposed not just those first responders but the residents of Crosby," Ogg said when the charges were announced.
The defense has said that Hurricane Harvey was an Act of God and that Arkema behaved responsibly. They've also questioned how Keough could be charged with assault of a public servant when he was in Pennsylvania during the fires.
"Harris County prosecutors are making an unprecedented and outrageous attempt to criminalize a natural disaster," defense lawyer Rusty Hardin said in a statement. "They have filed charges trying to prosecute a company and its employees for the Act of God that was Hurricane Harvey. This is a political prosecution in search of a theory, and Harris County taxpayers will have to foot the bill for this very political attempt to stretch the meaning of our laws."
Opening arguments are expected to begin later this week.
The trial could have an impact on how companies are held responsible when disaster strikes, and University of Houston environmental law professor Tracy Hester said the industry is keeping a close eye on the outcome.
"If there's going to be a heightened risk of criminal liability for anticipating and responding to natural disasters or other types of events that can cause an industrial catastrophe, they're going to have to change the way they approach planning for these events and they're going to have to change the way they respond to them when they do happen," he said.
Hester also said this trial stands out because it's rooted in state environmental statutes.
"There are folks around the nation who are going to be watching what happens in this courtroom because it may be a signal of a more energetic and aggressive approach to criminal enforcement driven at state and local levels rather than federal," he said.
He pointed to recent lawsuits filed after the ITC and KMCO fires as evidence of a growing trend.
"This is not a solo incident," Hester said. "It seems to be more a signal that this is going to be a new approach going forward for other incidences in the Galveston-Houston area."