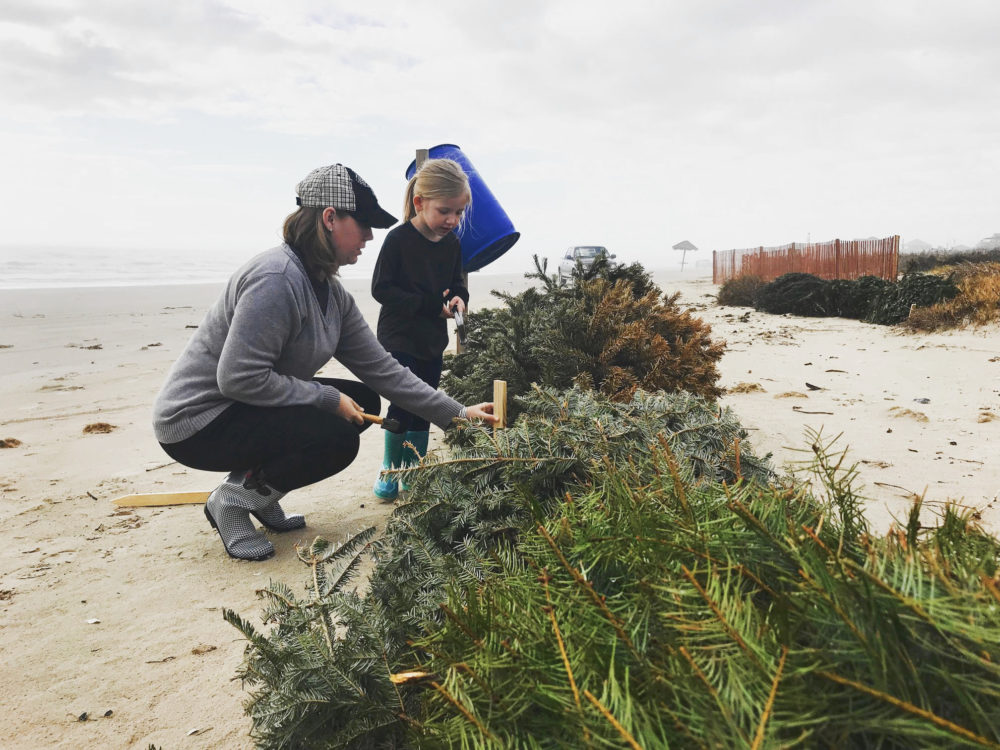 In Brazoria County, "Dunes Day" happens every year in January. It's the day when the Brazoria County Parks Department brings all of the recycled Christmas trees they've collected – usually between 2,000-3,000 trees – down to the beach, where they use them to restore sand dunes.
"Besides the initial benefit of not adding hundreds and thousands of Christmas trees to our already stressed landfills, what we do is actually turn those into a positive thing down here on the Texas coast," said Mike Mullenweg, the Lead Interpretive Ranger and Events Coordinator at the Brazoria County Parks Department.
Mullenweg said they line the trees up in front of the dunes and stake them to the ground. Then, the Christmas trees essentially act like sand fencing. "What it does is it slows down the wind and therefore the sand that would normally just blow right off the beach gets collected around these Christmas trees," he said.
Mullenweg said the trees also add nutrients to the ground when they rot, which in turn helps dune grasses grow. "The sand fencing kind of stops the sand from blowing — it's the dune grasses that actually keep the sand there in the future," he said.
According to The Texas General Land Office, the Texas coast erodes an average of 4.1 feet per year. Sand dunes play an important role in protecting the coast by acting as a first defense against storm-surge flooding and beach erosion.
"When the waves start coming in and they start crashing, when they hit the dunes they're really being able to protect our homes and our communities and our infrastructure from that storm surge," said Karina Erickson, the Communications Director at the Texas General Land Office. "In addition we've seen that dunes are able to provide a really great natural habitat and give back to the environment by allowing new critters and animals to come in. We've also seen them create migratory paths for birds."
But major hurricanes, in particular Hurricane Ike in 2008, destroyed much of the coast's sand dunes.
"There were times, certainly right after Ike, where Surfside Beach really was just flat as a pancake," Mullenweg said. "There were no dunes left, it was just a solid sheet of sand."
Though it's been 10 years since Hurricane Ike, Mullenweg said they are still restoring dunes that were destroyed during the storm.
Brazoria County has been doing Dunes Day since 1978.
"It's a neat ongoing process because of course between last year and now all the trees we put out last year, well they've rotted, they've been buried in sand and decomposed," Mullenweg said. "So it's really time to do it again and keep the process going."
While they usually receive several thousand trees between residents and Christmas tree suppliers that recycle their trees, Mullenweg said it only covers about a quarter of the dune line. "I would be pretty disappointed if we didn't get 2,000," he said. "But if we got three times that we'd still run out of trees before we ran out of places to put them."
How To Recycle Your Tree
This year Dunes Day will take place on January 19. Volunteers meet at Stahlman Park on Surfside Beach. More information on volunteering is available, here.
Brazoria County will be collecting trees for the Dunes Day project from December 26 to January 13. The trees must not be decorated or frosted.
Trees can be dropped off at the locations listed below and more information on recycling your tree is available, here.
Brazoria County Parks HQ
313 W. Mulberry St.
Angleton, TX
Surfside Beach Main Entrance
Surfside, TX
Manvel Substation
7313 Corporate Dr.
Manvel, Texas
Precinct 1 HQ
1432 Highland Park Drive
Clute, Texas
Precinct 2 HQ
21017 CR 171
Angleton, Texas
Precinct 3 HQ
2508 North Gordon Street
Alvin, Texas
Precinct 4 HQ
121 North 10th Street
West Columbia, Texas
Stella Roberts Recycling Center
5800 Magnolia, Pearland, TX