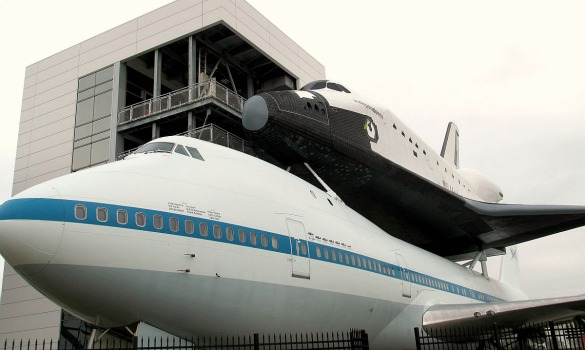 (Above: The Space Shuttle replica at Space Center Houston. Photo: Florian Martin, Houston Public Media)
A new piece of legislation aims to refocus NASA on human space exploration and landing on Mars. Pres. Donald Trump recently signed into law a bill that would require the space agency to develop plans for future human space exploration, including landing a person on Mars.
But wasn't NASA already doing that? Does the bill really change anything, and does it change anything about the space agency's funding to fulfill such a mandate?
On this edition of Houston Matters, we take a look at what the bill means for NASA and the prospects for the agency under the Trump Administration with Eric Berger, senior space editor at Ars Technica.
Also this hour…
"Permania" in West Texas Oil and Gas
A French energy company's partnering with companies in Canada and Austria to build chemical and plastic plant expansions in Port Arthur and Bayport. It's close to $2 billion dollars in investment, anticipating the opportunity to capitalize on more shale gas as a result of what's increasingly being called "Permania," the pursuit and production of natural gas in the Permian basin in West Texas and Eastern New Mexico.
Similar projects are being completed along the Texas Gulf Coast for Occidental Petroleum, Exxon Mobil, Chevron Phillips and Dow Chemical. We discuss what this means for Greater Houston's economy, with Loren Steffy, author and writer-at-large for Texas Monthly and managing director for the communications firm 30 Point Strategies.
Poet Gregory Pardlo
April is National Poetry Month, and tonight (April 3, 2017), poets Ada Limón and Gregory Pardlo will give a reading as a part of Inprint's Margarett Root Brown Reading Series. Houston Public Media's Catherine Lu recently spoke with Pardlo about his work and his collection of poetry called Digest, which won him the Pulitzer Prize in 2015. But long before that, publishers rejected it numerous times. Catherine asks him how that experience affected him, and he reads some of his work for us.
Monday Sports
The Astros open the 2017 season after improving significantly — at least on paper — during the offseason. And the Shell Houston Open brought pro golfers to Greater Houston. We discuss those and other developments in Houston sports with Jeff Balke, who writes for Houston Press and Houstonia Magazine.
Houston Matters offers a free daily, downloadable podcast here, on iTunes, Stitcher and various other podcasting apps.